Here is everything you should know about benefits of a Hotel Booking App. Times are changing and every industry is swiftly moving towards adopting new technology for their business. There is an app for almost everything these days. Shopping and service appointments are now available at a click of a button. Even the hotel industry is advancing to no bounds in terms of technology. These days even hotels have their own aps to give customers an easy and convenient booking experience.
Hotel websites are great and are always readily available. However, websites can normally only be accessed via computers and laptops. The hotel industry is mostly dealing with travellers who cannot possibly roam with such bulky devices. Apps solve this problem. With apps, travellers can get all hotel related information on the phone without the need to carry any additional bulky devices.
The number of mobile users is increasing each day. Websites do not have as much of a reach as apps do. If you are a hotelier, you should go for making an app for your hotel. This is because, with an app more people will know of your existence. The people who would be interested in your mobile app will also download your app to get regular updates regarding your hotel. The perks do not stop there! You can send personalised notifications to your customer, making sure you hold on to a loyal customer base.
Hotel booking apps also cut down the need to have high booking fee in the hotel booking process. Previously, the customer had to pay a booking fee in order to book rooms in a hotel. That is not the case now. The process has become a lot quicker and cost efficient. There is absolutely no need to pay a booking fee and increase costs for booking a hotel room via a hotel booking app.
If you are still looking for reasons to make an app for your hotel, we will walk you through few more benefits of having a hotel booking app for your hotel: –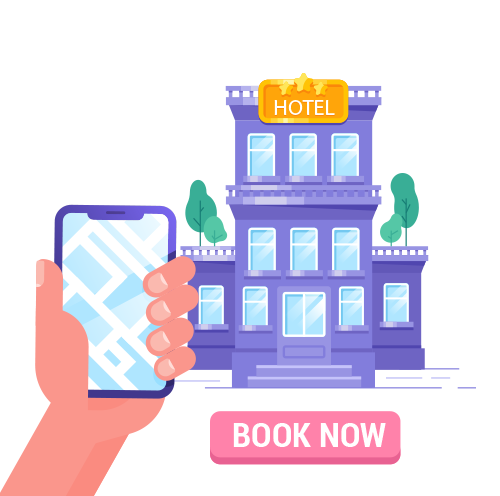 Convenience is one of the major benefits your hotel booking app will offer your customers. Customers can get on to the app and put in the dates they want to check in and check out from your hotel and they will get an entire quotation of how much their stay will cost. Your customer can then just click a button and confirm their stay at your hotel. It is just that easy.
This will also need less manpower since there will not be anybody required to conduct the coordination. The hotel booking app will notify the customer regarding their booking confirmations and check in and check out timings, services that will be offered to them, etc.
Apps have a great reach because of the massive number of mobile users that exist all around the world. You as a hotelier can take advantage of this fact and widen your reach by making a hotel booking app for your hotel. The more people get to know of your hotel and the services your hotel offers, the more they will be interested in visiting your hotel.
This will give you a higher revenue in return. You can also sell your rooms at a higher rate because of no booking fee ad increase your profits. Making a hotel booking app for your hotel is a wise decision you can make in order to increase your revenue.
You can send your customers personalised updates with an app. This will make your customers feel important and they will share a sense of trust with your hotel. Customer is king in the hotel business and a hotel booking app is going to make your customer feel just like one!
If you manage to make your customers feel special, they will always want to be serves by you each time. With hotel booking apps you can send personalised updates to your customers and notify them about special rebated and discounts. This will help you hold on to a loyal customer base.
A hotel booking app helps you give out hotel rooms to your customer without an additional booking fee. Previously, when technology had not advanced and people had to manually book hotels, there used to be a high booking fee a customer had to pay for. That is not the case anymore. Hotel booking apps have eliminated the need for an additional booking fee and made hotel booking highly cost efficient. This is profitable for the hotelier and the customer, both! The hotelier can earn a higher profit while the customer can get a hotel room for cheaper. 
5. Providing all information
A hotel booking app can help you provide your customers with all the information they need about your hotel. From how your hotel property looks to what services you offer; everything can be mentioned on the hotel booking app. Your customers can log in to your app and check out the interiors of the hotel room they are going to stay in along with the price quotation they will have to pay for it.
. Your customer will know everything they need to know about your hotel just by checking out your hotel booking app rather than having a person do it for. Customers also find apps a convenient option to check out hotel information instead of getting in touch with an executive. The process is instant and very helpful.