Marketing Importance for Mobile Apps have now become a necessity more than a want. The rise in the usage of smartphones has increased the need of good and useful applications. Most companies today are investing in developing their own apps because apps are doing so well on the web. Therefore, the development of an app is used to create a huge impact on mobile users and potential customers of the business since it is a great marketing tool for marketing your business
Marketing your business app on other social media platforms will help your business flourish greatly. A huge number of online users will get to know about your app. Your business will get a chance to cater to a larger audience considering the huge connectivity that social media applications hold.
Everybody today is usually glued to their phones at all times. They are either scrolling through their Instagram feed or messaging their buddies on WhatsApp but they are constantly using social media platforms to connect with people.
Imagine marketing your app on these social media platforms. The wide reach that social media has will give you a wide customer base of potential customers. It will work extremely well for your business in the longer run.
What is mobile app marketing?
Mobile app marketing is a strategy in which you have to interact with your users from the very beginning of their lifecycle. This basically means that you have to start getting involved in customer interaction from the time you customer first listens about your brand. This will help you promote your app and give you a higher number of downloads and KPIs.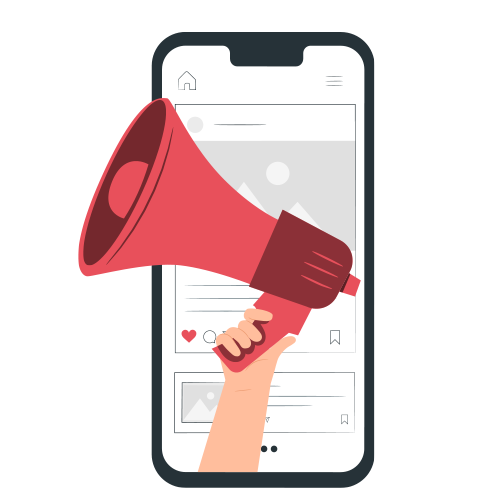 A large number of people will get to know about your app and the people who feel the need to use it will download it. Its just that simple!
Why is Marketing important for mobile apps?
The statistics of how marketing mobile apps have helped businesses: –
Nearly 98% of businesses get positive results after marketing their business apps.
90% of companies which have a running app claim that they have reaped a good amount of financial benefit from their app.
Updating is an essential part of running apps. Almost 38% of companies update their aps each month on an average.
As we can see the statistics, the mobile app market is getting more and more crowded by the day. Your apps need to stand out from its competitors in order to get noticed by your potential customers. Marketing can come very handy in doing so. Make sure you marketing your business app on all social media platforms a couple of times to see repeatedly reach out to a large number of people.
A modern-day businessman needs to make an app marketing strategy which helps the app rankings increase and yield more downloads from users. The more your users download your app, the more are the chances of you getting to make more money.
The main reason to enter the mobile marketing arena for your app is to reach out to your online customers and make them aware about your brand's app. With so many apps being readily available on the web, there is a high chance that they do not notice your app. You can combat this by strongly marketing your mobile app
Let us now go over the main reasons for mobile app marketing: –
1. Mobile app marketing boosts mobile commerce
Apps are taking over every other industry. Nearly everything needs an app to function today. From booking a salon appointment to a doctor's visit, everything can happen on your smartphone via an app. Your app just needs to reach the right audience. Marketing helps your app get the right reach by making your app reach a wider audience.
The people who will be interested in your app will download it instantly. With the right marketing, your app can reach a high number of downloads, boosting mobile commerce. Apps are playing a vital role in making businesses grow since they are actively boosting mobile ecommerce.
2. SMS vs Emails for better mobile marketing
Mobile users get plenty of emails and SMS each and every day. Their inboxes are flooded with promotional links and messages. Research says that sending mobile users promotional messages perform 50% better than sending them promotional emails. A potential customer using a smartphone is more likely to press an SMS link than a website link.
If you are looking to market your app, choose marketing it via SMS. A smartphone is using their phone for most of the day. If they get an SMS of your app's promotion, they might click on it if it interests them. On the other hand, sending a mail on their email id would not be as effective because users do not check their mail inbox much and might overlook your promotional mail.
3. Mobile apps are important for Ecommerce
We all would agree when we say that mobile apps are the backbone of ecommerce. There are other ways of getting on the internet and perform daily functions of placing orders and making payments but the most convenient of them all is doing it via mobile apps. Nobody wants to access the internet on their laptops and tablets in order to shop online.
These devices are bulky while a smartphone is concise. This adds on as an advantage for the massive demand of smartphone applications. Smartphone applications solve the convenience of fulfilling a task with the ease of convenience since it is so easy. This is why smart phone applications are so widely preferred.
Marketing Importance for Mobile Apps
You don't have an app yet and want to create your own app? With the ON AIR Appbuilder it's a breeze. And you don't have to be a programmer to do it. Whether it's a restaurant, hotel, or other business app, you'll find a wealth of options that will revolutionize the way you build an app. Get started now!