Promote mobile apps to get user attention on your app and increase the reach. Implementing marketing tactics is as important as building an app with excellent output. Also, even if you don't have enough resources to develop or improve your app, it is crucial to promote it.
Here are the top ideas you might want to investigate while improving your mobile app in the marketplace.
1. Mobile app optimization for app stores
Google Play or the Apple app store is a place where the majority of app hunts do happen. Just like Google has SEO, these stores have MAO (Mobile App Optimization). It is crucial to assure, that your app is easily discoverable. It's imperative for discoverability in an oversaturated market. 
Few things to improve mobile app optimization on the play store or apple store
The name should be proper and unique: Is it unique? Is it easy for your audience to find?

Enticing description including appropriate keywords: Include relevant keywords but be careful not to 'keyword stuff' Yes, you want to be found, but you also want to sound natural.

You need to upload 4-5 feature screenshots or a video tutorial outlining core app highlights. App screenshots are the first impression the viewer will get of your app so, make sure they are professional, easy to understand and showcase your app's primary function and purpose.

Your app description should clearly articulate your app's value and it should be frequently updated with app update description and release dates.

It all comes down to making an effort to gather positive and genuine reviews from your existing users, as this will likely improve the app's credibility and increase downloads.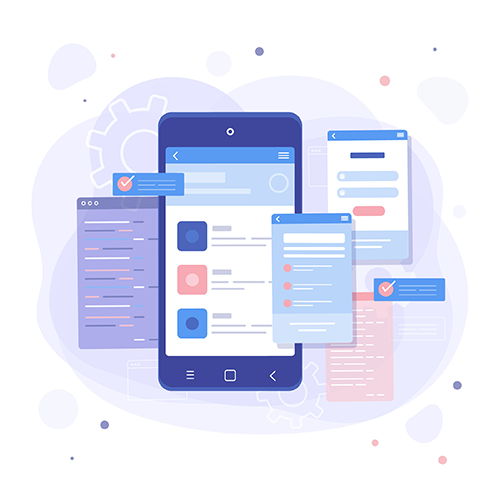 Having a dedicated landing page for your mobile app is a great idea, As it can be a place where you will describe all the features of your app. You can also direct user queries to this page. And provide recommendations that will advance your security in a better way. Growing a landing page can also support search engines to find your apps, which may be a great source of administrations.
3. Request customer for reviews
In the digital world, user reviews act as word-of-mouth marketing. So, every user must leave a review (Possibly a positive one). To expand confidence and belief in search results of the google play store, positive reviews are important. Positive reviews impact the purchase decision and mobile app optimization.
4. Novel Content Creation
Build content for your mobile app that you may post to your blog. Create blogs where you might discuss your industry or share insights on your app or you can also talk about features of your app. If you don't have one dedicated blog, Medium will serve. You can create short informative content on social media. Generating content is an outstanding way to enhance business to your website while also building brand identification and assurance.
Get higher specialist blogs in your domain and try to have an object posted on one of them. You will not only be available to submit your expertise, but you will also get a few backlinks. The more hyperlinks you have, the higher your Google ranking. It should assist you to produce leads in the long route. If have any connections in the tech world or within your respected industry that you can reach out to or are there any location or industry-specific influencers you can connect with. Having them promotes your app via their social channels and blog is a super-fire way to attract users to your app.
There are many groups on LinkedIn and Facebook where you can post information and therefore promote your mobile app without any cost. Keep a note, that it is not perpetually permitted to distribute promotional information within groups, so stick to informative stuff.
Organic promotion on social media comes in the form of having a presence. Create accounts and start following people from your target audience and industry. Don't spam your customers by being overly promotional. Instead, try to connect with your audience in a meaningful way. Post about the things they want to know or the things they care about or joining in the conversation related to your industry.
Building an exceptional mobile app does not ensure success. You must give time and effort to the app in exchange for success. Mostly, it should not consume all your making funds. Marketing tactics change every day. So, you have to stay updated. Also, some marketing techniques which worked for other businesses might not work for you. Marketing is all about experimenting. So, keep on trying new methods eventually success will be yours.
Ways to Promote Your Mobile App For Free
Having a fully functional and user-friendly app is important before you put it out in the market. So, create an app with ON AIR App Builder in 3 easy steps and enter the market to promote your app in no time. Start Now!