Your own app in only 3 steps
With your own app you show innovation and give a new spirit to your external presentation.
You do not need any programming knowledge. Win new customers with your own app, increase sales and achieve a high level of customer loyalty!
Be Creative
In the Designer you have many possibilities to design your app according to your taste.
Starting with the main menu and moving on to other app elements such as the navigation bar or buttons - everything can be designed comprehensively and professionally.
The direct connection
Send news and offers via push message directly to your customers' smartphones.

Push messages are noticed within an average of 30 seconds - and that wherever your customers are!
Change contents via CMS
Update the content that you want to appear in your App, simply in the ON AIR Appbuilder. Create e.g. news, pictures, videos or special offers - there are no limits to your imagination.
Your updates are immediately visible to your app users after you put them online. A separate update on the device of your app users is not necessary!

Create your own app - for your business, club, event and much more
Create your own app - for your business, club, event and much more
Create your own App in just 3 steps!
Create your own apps with the ON AIR appbuilder without
Programming knowledge – but with a lot of fun!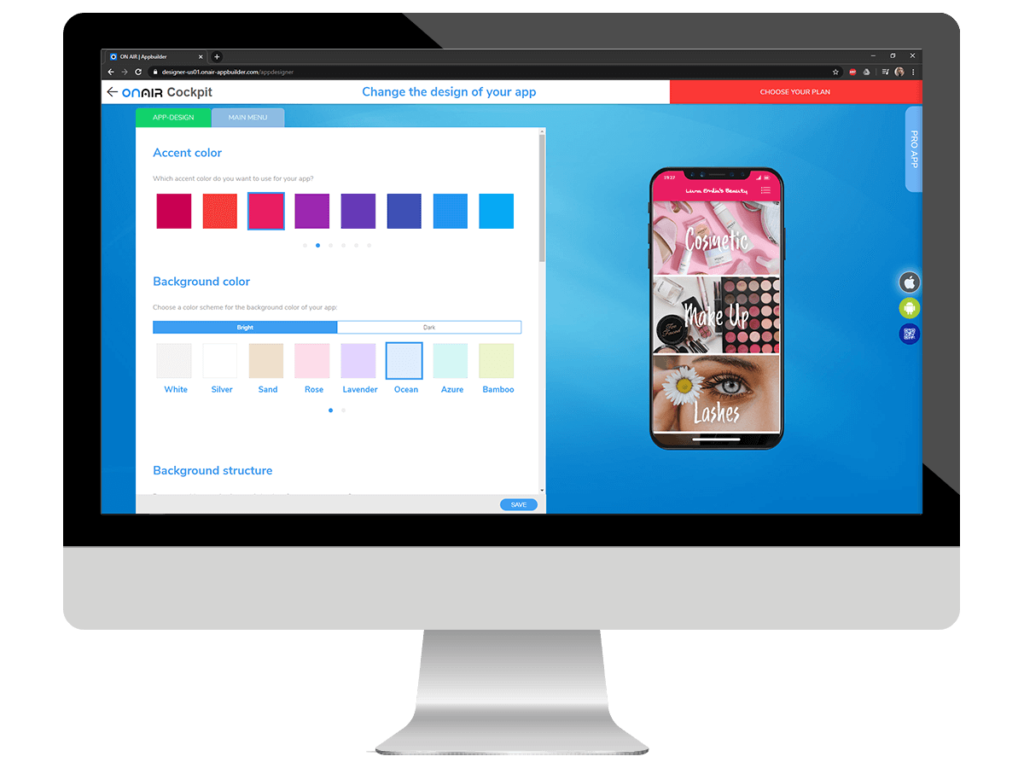 Choose a look for your App and create your own App completely individual in the ON AIR Appbuilder with your own modules, colors, pictures and fonts.
Add any app content – from texts, pictures, tables to videos, almost everything is possible with the ON AIR Appbuilder.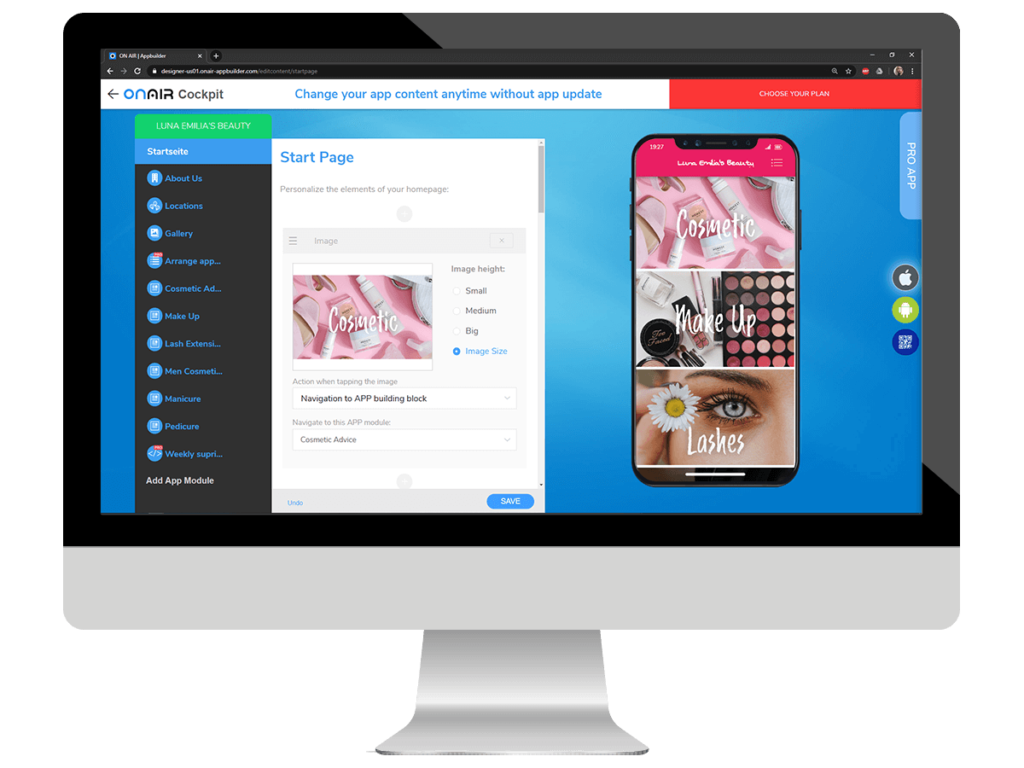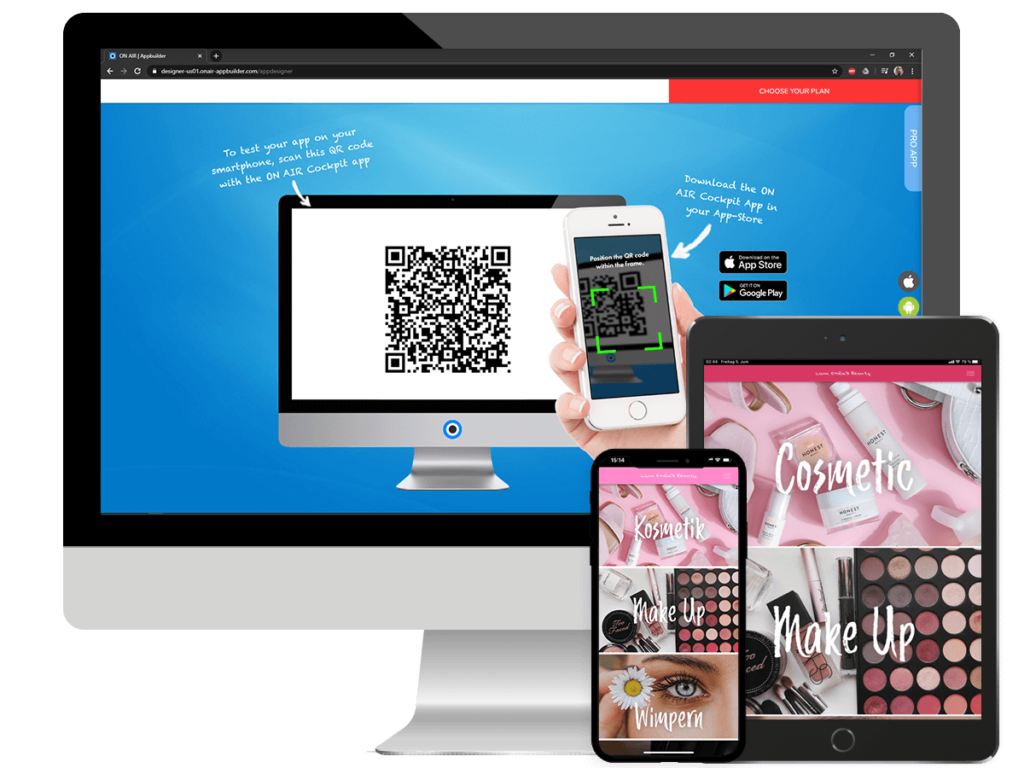 With the ON AIR Previewer App for iOS or Android you can test your app directly on your device at any time during the design process.
There are 1000+ application areas for creating your own app – and with the ON AIR App builder 1000+ possibilities to realize them!
Why should you create your own app?​
Be present where your target group is!
Create your own app without coding! You don't have to be a programmer or designer to create a great app, just assemble preconfigured modules from the ON AIR Appbuilder.
Numerous, great design possibilities
In the ON AIR Appbuilder you have an unbelievable amount of possibilities to design your app according to your taste.
Test your app anytime on your smartphone
Create your own app without coding and test your app on your smartphone anytime. Design your app, scan and test your app via QR code.
Create web apps and native apps for iOS & Android with the Appbuilder!
Addressing customers via push messages
Increase your customer loyalty with push messages: Send offers, new news or inform your customers about events directly on their smartphone.
Push messages have become established and are used by companies to reach their customers in a fast way.
More than 20.000 satisfied customers
have already created their own app!
High reach, modern appearance, more sales – these are only a few good arguments why you should create your own app!
Find sights
creation was super easy. I am curious how the app will be accepted by the visitors of our region
Super Appbuilder
For the free app there is also color selection and you can upload pictures. Really great.
Garden App
Now I can send push messages to my customers to notify them about due gardening work
Thanks.
An app for a one-time fee of 99 EUR - I haven't found that anywhere yet! And the functions are just great!
Hairdresser app
class so far, now I have my own app...hope it will appear in the App Store soon
Super easy to set up
Very good user interface and simple design make creating the app very easy. Also the help files are very helpful. Simply great!
Thanks a lot, Great tool
I am very pleased that you get something for free at the beginning. I will certainly book more features later on. :-).
Top!!
Very easy to create, but you can make everything very modern. Many details can be adjusted, I like this service!
Clear and comprehensible
Super provider to create an APP!
Super ingenious 5 of 5 stars
Hi there, creating the app was quick and easy. You can even put HTML code into it.
Thanks a lot
Thank you for providing an inexpensive App Creator. You can't imagine how happy I am.
Here you find the most frequently asked questions about the ON AIR Appbuilder
With annual or monthly subscriptions specially tailored to you.

Creating an app for your catering business will give you an edge over your competition in the catering business field. Read the article to know how an app for your catering business can help.
Read More »

A calendar app is a very useful tool for helping individuals plan their tasks well in advance. Here is a detailed article on how building a calendar app can help. Give it a read to know more.
Read More »

Creating content for your app is an essential part of the app marketing process. Read the article to know about the different ways to create engaging content for your app.
Read More »
Do you have any questions?
Simply use the following contact form to send your request to us.
We are always trying hard to reply as soon as possible.
Address
c/o Mindspace Hamburg
Rödingsmarkt 9
20459 Hamburg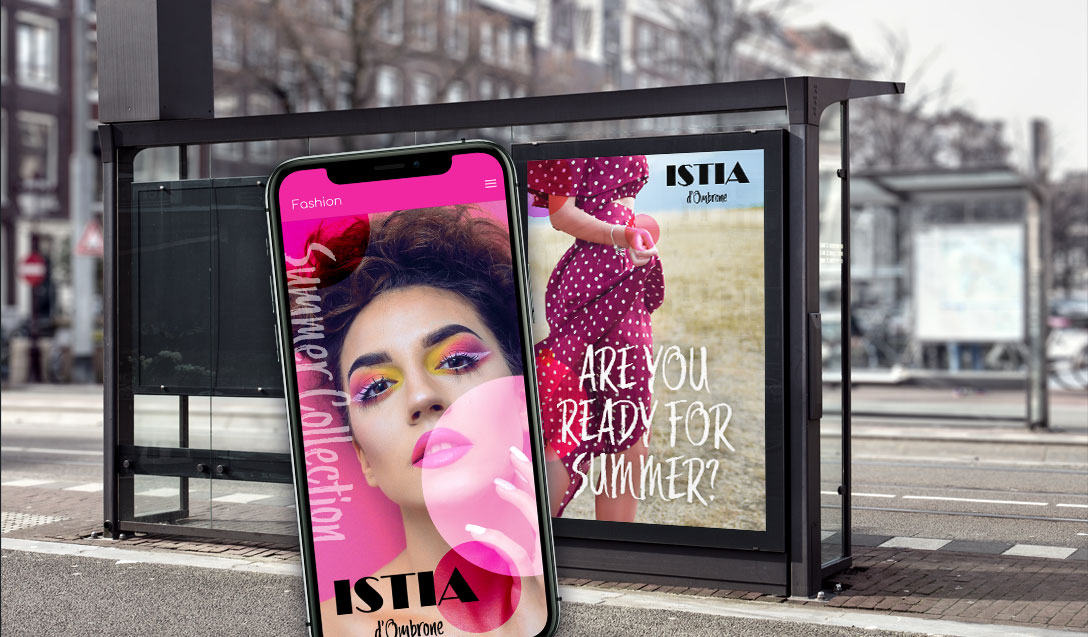 Your app as
marketing tool
Use your own app alongside classic advertising and expand your reach.