Mobile app development industry is continuously evolving. Technology advancements, consumer demands, and a wide range of other factors have a direct impact on mobile app trends. The most crucial aspect of success in this development space is about staying up to date with the latest trends.
Mobile app resellers need to keep up with new trends to better serve their clients. The same goes for content creators and producers ready to take their brands to the next level with mobile development. 
According to Statista, mobile apps are supposed to generate around $189 Billion US dollars in revenues next year. This number will keep on increasing as we move forward into technology development.
But you as an audience are prepared for mobile app development trends that will emerge in the coming years?
Let's see new types of trends in mobile app development that will dominate the world of mobile apps.
We all are aware about IoT and how it can play major role in advancement in many sectors. But the rise in mobile invasion across a broad range of sectors and categories has created seemingly endless opportunities for the Internet of Things.
With IoT app integration mobile apps can be used to control home appliances from a remote location. The global Internet of Things market is expected to reach $222 billion in 2021. $161 billion of that estimate will come from software, like mobile apps. Sectors like household devices, automobiles, and healthcare are going to see major advancement because of this IoT app integration.
Authentication and Security
Today, everyone and every app are suspectable when it comes to cybercrime. From singular content creators to multi-billion-dollar enterprises, nobody is immune. Hence, you can't afford to take any shortcuts when it comes to securing the app. App users are well aware of security risks. So, moving forward, people think twice about sharing passwords or providing the sensitive information to third parties, like app developers.
In order to provide protection against any threats app development companies should adopt authentication and security at a higher level. Protecting your user's account using two-factor authentication is a must when it comes to security.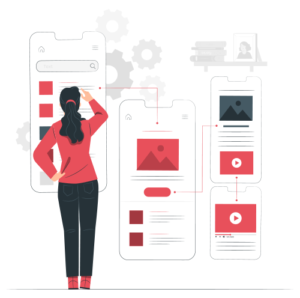 By leveraging technology for machine learning, AI, data mining, and modeling, predictive analytics can forecast events using data. 
Tech giants have been leveraging predictive analytics for years now. A simple example is Netflix. The platform offers TV show and movie recommendations based on what users have previously watched. 
In 2021, predictive analytics will be implemented on a more mainstream level, for a wide range of mobile apps. The primary purpose will be to enhance the UI/UX with an app.
Having the ability to connect with your clients 24/7 is the biggest advantage of enterprise apps. Enterprise apps that are dedicated to business and day-to-day activities have seen a sudden surge. CRM mobile Application that uses an active Enterprise is a fairly good example of it. It offers a real-time update to any changes that are being made and it also lets you have a look at the sales update.
App designing must be done in a way that appeals to the user to use it and further recommend it. The design must be tempting with a layout that is fluid and very easy to use. The current Nougat update from Android has introduced split screens and it opens up a lot of opportunities to the App development world. The other trends to watch out for are Micro Interactions, Grid-Based Interface Designing, Parallax Graphics, and Splash Screens Visuals.
Augmented reality (AR) holds a lot of potentials and could be a shape of the trends to come. Based on location-tracking functionality it offers you a lot of space to work and adds options that are sure to get users hooked for quite a long time.
Apps for foldable devices
Over the last couple of years, foldable devices have begun making a comeback. 2019 saw the release of foldable devices like the Samsung Galaxy Fold, the Huawei Mate X, and the new Motorola Razr. From an app development perspective, resellers and content creators need to account for these devices when building or updating an app. The idea is that an app should seamlessly adjust its display as the screen folds or unfolds. Right now, foldable devices are just a sliver of the overall smartphone market share. But this will change in the coming years.
The rollout of 5G will have a major impact on 2021 app trends. For developers, resellers, and creators, this technology is poised to change the way apps are used and created. Speed and efficiency will drastically improve. In fact, 5G is expected to deliver a 10x decrease in latency, while boosting network efficiency and traffic capacity. Compared to 4G, 5G will be up to 100 times faster, depending on the mobile network operator. The penetration of 5G will ultimately boost the functionality of mobile apps. This will allow developers to add new features to apps without negatively affecting the app's performance.
If you are building an app today but using past information your app won't survive the market of mobile apps. In order to gain an edge in your space, you should focus on all the mobile app development trends. You don't necessarily need to implement every single trend into every app you build. But you need to have a general understanding of how the market is shifting so you can adapt accordingly. 
New Types of Trends in Mobile Application Development
while it would be difficult to identify the exact benefits to your business of all these mobile app development trends, and if that's the case, just reach out to ON AIR App Builder. And using 3 simple steps create an app that will stand out in the market. Start Now!