ELearning app is something that we are adopting very quickly. Because with technological progressions and the current covid-19 situation, the way we learn or contemplate has changed. Today, education is not confined by any geological limits. All you need is a mobile phone and internet connection to attend classes, learn new things, and crack various courses from around the world.
It is safe to say that, ELearning app is the future. Many innovators, businesses are looking for ways to implement creative ELearning ideas.
Because of this intelligent-driven education industry is solving a wide range of educational issues. Be it easy access to online classes, study materials adaptive learning, or gamification. This feature helps in building student interest.
We also like to pinpoint here that, it does take innovative ideas in the ELearning industry to disrupt the market and present new arenas of growth.
Here, we will be sharing some relevant ELearning app ideas that have the potential to change the face of online training.
1. Platform for special kids
We have seen kinematics in games that work on motion sensor technology. But, using it to educate the kids is something new and fresh.
Bundling kinaesthetic with adaptive learning will be great for kids. Especially for those with conditions like dyslexia, autism, and ADHD. World over, every 1 in 160 children is a patient of autism. And by capitalizing on these ideas, you can bring the benefits of ELearning to special kids. And every kid is special so it is about time someone thinks from their perspective.
2. Studying with Augmented reality
AR technology is one of the great education business concepts. Because as per research 90% of what we do and see retains. So, you can build a start-up that uses AR to help people learn. Lessons that are prepared with AR are more immersive and talk about the concept in a detailed and interactive manner.
The idea of using AR inside the classroom is an innovative ELearning concept and will provide exponential benefits.
AR provides an in-depth learning experience. So, it helps improve study practices while the students become learning partners.
3. Teacher lessons marketplace
A platform that allows teachers to make their courses and share them with their peers. Such business ideas will be like Amazon for education but only for teachers and professionals. This will benefit the peer community of teachers to prepare better or learn new techniques better.
Every teacher wants to share their expertise outside of the institutional sphere. The only thing they need is good resources and suitable platforms.
4. Choosing a good school or university
The student spends a lot of money to ensure that they get admission to the right university. And one of the ideas that can transform into a lucrative business is helping students make that choice. Such an idea needs big data implementation and machine learning. The business will take details such as student's history, academic records, ideas, and other interests. A smart algorithm incorporated into the app will provide them with recommendations about different universities.
The Guardian reports that every 1 in 3 graduates ends up having mismatched jobs. Hence developing a credible education start-up with similar ideas can be profitable.
5. Subject-specific community education platforms
ELearning ideas that provide resources and training for a single subject matter is another good option. Because these platforms can enlist teachers and students from a similar field. Further, they enhance the learning experiences with the state of the art technology.
So, this kind of business idea flourishes if a large community of users needs education. Also, choosing the right subject is of great importance here. Some platforms resort to only teaching programming, AI, or Music to the students.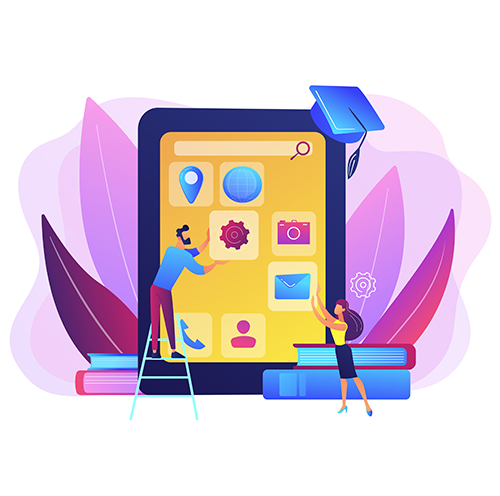 6. Gamification courses and classes
Gamification has become one of the most helpful ed-tech platform ideas today. It immerses the student into the subject matter. Also, it allows them to learn interactively. Even the most complex subject like maths is easier to understand with gamification. Gamifying activities like reading and reciting can increase the student's association with the subject matter. It is a useful concept and had proven results. Because they portray the efficiency of gamifying the course and helps students learn better. Gamified platforms are already very popular. Also, the goals-based approach triggers the best response in students when they win. This leads to better and more inclusive learning. As one of the innovative startup ideas, imparting education with gamification can turn out to be a profitable business.
Create App with the ON AIR Appbuilder
With advancement technology, the advancement in the education industry is also visible. There will be a day when the entire education system will be digital and more transparent. So, do you have one of your education business ideas and want to know how to build an Elearning app? ON AIR App Builder will help you develop your disruptive concept into an app. Start Now!