mobile app has become so common but most importantly a necessity. There is a good reason why nowadays everyone and everything has an app. Even if you don't think you will make many sales through an app, there are certain things that every company needs, and that can be delivered easily through an app.
For instance, Customer service! With an app, your customers can contact you directly. Also, you can automate many aspects of customer service. Customers now expect this level of service, and so the consequences of not providing it can be severe. If you are doing well, it is likely that your customers want to leave you positive reviews. If they have something to complain about, you should have a way of easily (and publically) responding to this. An app provides both.
Perhaps the most important that an app can help your business is by allowing you to build an image. The mere fact of having an app can help to distinguish your company in a crowded marketplace.
Let's see how an app can help you improve the image of your company.
The relationship between customers and companies was kind of distant. Customers were happy to buy goods and services from the cheapest or closest supplier and viewed this transaction strictly in economic terms. But today, customers expect a more personal relationship with companies they do business with.
Integrating your business into social networks might seem like an obscure way of boosting your sales, especially if you are in a well-established sector, but it is not. Even on the most basic level, allowing your customers to share positive experiences is one of the most effective marketing tools out there.
In terms of visibility, what could be better than having your company's logo on the home screen of the phones of your most valued customers 24*7?
You can inform about the sheer range of products you offer via the app. Encouraging your repeat customers to order services through an app not only saves you both time but can also provide an opportunity for these customers to explore services and products related to their core business.
Providing customers with a greater level of convenience in ordering goods and services, and will encourage brand loyalty.
Ultimately, what most customers want is an easy way of ordering the goods and services they need, and nothing can provide this better than an app.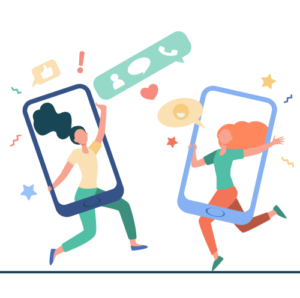 Reaching the next level of communication
The customer expects from a brand they should respond to their questions and needs as soon as possible. In addition, they also expect companies to be available via the platforms which are available within the reach of customers.
Having an app allows companies to highlight positive customer experiences, combat criticisms, and ultimately improve their communication with their customers. An app can be a very effective way of doing this, encouraging customers to share their thoughts.
Even if your company has happily existed for a hundred years without an app, today the consequences of not having one can be severe. No matter what sector you do business in, it is likely that your competitors are developing their apps, and so not doing the same runs the risk of you being left behind.
The process of developing an app might sound like a complex one, but it need not be. With online app maker services like ON AIR App builder you can create an app in 3 simple steps. You can develop an app that adds genuine value to your business.
A mobile app is the customer-engaging facet of your web presence. And once the customer is involved in your app- well, you have hit the market. While building a mobile app you should focus on speedy and robust delivery. Before you jump right into building an app you need to understand the practices for speedy mobile app development and thing to follow to ensure quality as per the industry.
At first, your app will not look beautiful but it is functional. As you gain confidence, you'll also be clearly able to define what to include in your product. There can always be feedback and an improvement based on what was done in the sprint, but always try to keep it to a minimum.
Embracing the concept of MVP, creating better designs by starting from wireframes, sticking to native designs, following agile development, and planning a design review are but some of the ways you can speed up your mobile development timeline.
Improve Your Company Image with an App
Creating an app allow your customers to interact with the brand virtually but in a very easy way. And helps in generating brand loyalty and awareness as you enter this market. Also, you don't have to worry about the creation of an app because with ON AIR App Builder it is as easy as it can get. Start Now!