Know everthing about How to Promote an App on Social Media. Creating an app and hoping that it gets a high number of downloads could seem like a daunting task. With over 5 million apps that are available on the internet, your app needs a boost of promotion to stand out. As an app creator, you would not want your hard work and efforts to go in vain if your app does not get popularised. Promoting your app on different social media platforms is a sure shot way of letting a huge number of people know about your app.
In the recent years, social media has played a vital role in changing the game for marketing products and services. E commerce businesses have come into existence only because online marketing is doing so well. Your app can also make the most of it. Promoting your app on different social media platforms will help you reach more people. People of different demographics and different geographical locations will become aware of your app and will want to download it.
People spend nearly more than half of their day browsing through different apps. They also spend their day scrolling through different social media platforms. You as an app creator can make the most of bringing the two together. Promoting a well-functioning app on various social media platforms is the correct formula to gain more downloads and revenue from your app.
Let's have a look at how you can use social media as a tool to make your app popular amongst the masses: –
1. Pump out user related content
Good content is king when it comes to promoting an app on social media platforms. A social media user heads on the platforms in order to consume content. Educational, informative content does good on the web. Most people also use social media to get to know about cool and trending stuff.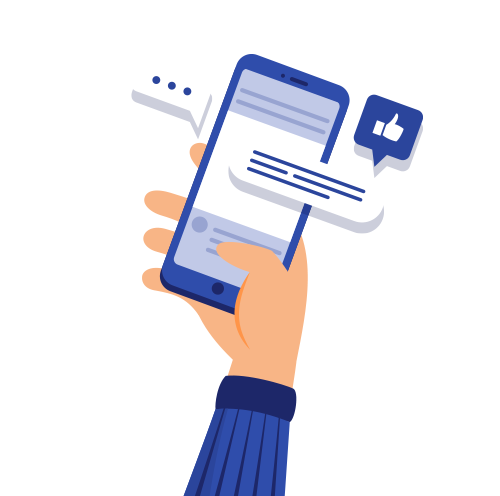 This is exactly why your app needs to come up with good content and keep your audience entertained. The more you entertain your audience, the more they will be intrigued to know what your app is all about. You and your app are the solution to all your user's problems is what you need to effectively communicate to your social media audience to attract them.
2. Paid Ads on social media
Paying for advertising your app on social media acts as an assurance that your ad will reach a certain set of people. When you post about your app on a social media platform, only your followers get to see it. When you promote a post about your app on social media, a large set of online users get to see it. Paid ads on social media widens your customer reach.
Organic reach is harder to reach. It is extremely important to increase your app visibility by paying for ads on social media. People need to be reminded about your existence time and again to get a higher number of downloads.
3. Using more of visual content
As a content creator for your app, you should always choose visual content over textual content on social media. Humans are visual creatures. Nearly over 90% of the information going to the human brain is visual. That stands true even for social media. When a user sees a lot of written content, they tend to skip the text.
A precise creative about your app can do wonders to attract your audience. Videos, graphics, infographics, are known to be great tools in increasing brand engagement on social media. The key to good visual content is to keep your graphics simple, interesting and emotionally engaging.
In the recent times, groups on social media have acted as an effective tool for promotion on social media. A group is a number of social media users with whom you can share online content with. When you post your app related content on a group of like-minded people, they will be interested in downloading your app. If not all, most of them present on the group. More downloads mean more revenue and that is what your end goal is for your application.
You can also use social media chatbots to give out promotional offers and make announcements on these groups.
Influencer market is a great way to reach potential customers You can strategically choose an influencer which belongs to the same niche. When they promote your app, like-minded people will be aware of it. Out of these people, the interested ones will eventually download your application and help you get revenue. This is how influencer marketing works. Your influencer has enough followers to make your app popular.
You can tie-up with an influencer and ask them to post a video or a post on their social media handle and a large crowd of people will get to know of your brand. This is an organic way of promoting your app.
6. User Generated Content
User generated content has the power to persuasively show the value of your app. In a recent research it was found that 90% of the people believe comments of their peers on products than getting influenced by brand ads. Content coming from your customers can be a great way to captivate potential customers into using your app.
You aim is to tell your online audience about how your app can better the life of the people using it. Encouraging user generated content is again a good way you can use social media to promote your app.
How to Promote an App on Social Media
Promoting an app on social media is no more a hassle with these 6 tips. Make your own app on ON AIR App Builder and get higher downloads by promoting your app on social media. Try Now!