Social media app(s) have taken up a great part of our lives and the market already. Opportunities for social networks with more advanced features increasing every day. Different Organizations can't help thinking about how to make social media apps that will help them in making enormous fortunes.
Of course, This segment is preoccupied with superior players, yet the quick advancement of innovation and technology is persistently opening up new ways for new ideas for social media apps.
Over the last decade, the smartphone industry has grown exponentially. By the end of 2012, one billion smartphones were in use worldwide, and in 2020 that number is 3.6 billion.
Judging by how lucrative the social media industry can be, its very natural to see all the businesses joining the fray. But the rapid growth in technology and innovation helps businesses to create social media apps easily.
The first social media app goes back to 1970, when PLATO system was developed. This social media app was mainly used for online forums, instant messaging. Fast forward to 2020, we have thousands of social media platforms to choose from.
Before building your own app understanding the niche is very important. So, let's define the categories of social media apps are divided into.
The basic idea is to offer users an opportunity to connect and interact with people online. Facebook and LinkedIn are the prime example of such social networking framework.
A social media app where user can interact with people by creating concise post for short audience interaction. Twitter can be the prime example of microblogging.
Most commonly used photo sharing apps among youth are Snapchat and Instagram. It helps connect users and let them share, edit and interact pictures.
Social app where people can start conversations on certain topics in the form of posted messages. These are different from your regular chatbox. Quora and Reddit are two prominent examples of this.
Be careful while choosing the niche as each defines the key characteristics when you are making social media apps. Apart from deciding category you also need to do the competitor analysis.
Now that you know all the categories of social media apps let's dig deep into how to make one:
Step1: Idea Analysis and Market Study
Like any other field, having complete idea about the current market situation is very important. Reviewing concept, conducting competitor analysis will help you find a specific niche for your social media app.
When you are building a any app conducting SWOT analysis will help you to consider strengths and weaknesses.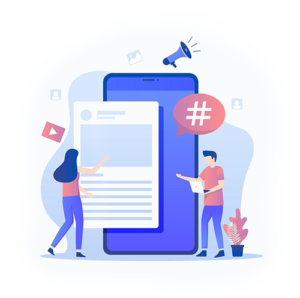 Step2: Strategy Formulation
You have to develop a strategic plan before you start creating an app. The Idea Analysis and Market study i.e., Step1 will help you in identifying Key Performance Indicator (KPI). The KPIs such as Lead Generation, user retention will be the basis for your strategy formulation.
Step3: Design Social Media App Workflow
This Step Consists of:
Sketching: To understand the potential logic of the social media app. Such as the number of screens and the interaction within the app.
Wireframing: This is the crucial step in the designing where we need to understand the structural framework of the application and also the interaction the end user receives.
Prototyping: Working model that provides better understanding of the app to both the customer and developer.
Design app skins: Turning wireframes into social media app design using UI/UX to provide best possible solution.
Step4: Development (MVP) & Quality Assurance for iOS and Android
Instead of releasing fully featured social app many businesses find MVP (Minimum Viable Product) as a smarter option. MVP is a digital product ready for use containing critical application functionality. Quality Assurance is done to check all the technical needs, guidelines and standards of iOS and Android is fulfilled.
Step5: Publishing & Marketing the App
When you make a social media app it is also very important to put the efforts for publishing and marketing it. This step will help you reach the right audience.
Step6: Maintenance & Support
Once the project is launched in app market maintenance and support is also very important to keep the quality of the app intact.
Now you know the basic steps to create your own app but it is also important to know why creating it makes most sense in today's time.
Today Social media might have become integral part of our lives but initially it was considered as a fad. Building social media app is lot more dynamic than what it was few years ago. Also, many organizations are leveraging this strategy to grow in the business. In addition to this, companies are creating long term relationships with existing and prospective customers by creating their social media network.
Create App with the ON AIR Appbuilder
Good ideas, proper knowledge and experience are enough to create a successful social media app that would reach your business goals and bring truly loyal users. Just get on to ON AIR App Builder and discover the easiest ways to create a flawless app for your business. Start now!