Marketplace app is the primary place for people to buy products. They're beneficial for everyone: sellers, buyers, and marketplace owners. It's easier to sell a product on a marketplace because the target audience is already there.
Buyers like to save time and money by buying products on the marketplace app. They enjoy having lots of options for different prices and the ability to compare products and buy everything in one place without having to browse dozens of separate eCommerce shops.
You, as the owner of a marketplace, have lots of effective ways to generate revenue. You can get money from advertising, and of course, you can charge a percentage for each deal. Another business model involves seller subscriptions, which allow merchants to post a limited number of goods on their profiles.
Marketplaces are currently the most profitable form of online retail business.
So, if you also want to create a marketplace app but don't know where to start or start, here's a complete guide for you.
Difference Between Marketplace Business Model and eCommerce Market
Even if you think that marketplace business and eCommerce market are just online buying selling platforms but there is a key difference to it. A marketplace business is an online platform where different vendors can sell the same range of products. And buyers get the option to select from the different vendors.
On the other hand, in the E-commerce market, the platform is a virtual store of a specific brand. Products and services provided here belong only to the company that owns the application. And the prices are fixed by the brand itself for example Zara, H&M, etc.
This little difference is what makes marketplace apps crucial in 2021. The main advantage with marketplace business is that; it has everything under one platform. The buyers can get options to select from different vendors and product types. This allows the buyers to select products or services as per their requirements and budget. Many eCommerce markets have a presence on these marketplace apps.
How to create a marketplace app?
With the below simple steps, you can create a marketplace app that is strong enough to compete in a market. 
Market Research
No matter what app you are creating market research is very important. Market research will help you understand who is your target audience. Information collected during this step will help you in a unique selling point for your marketplace app.
In short, market research will help you to stand out from the competition and build your marketing campaigns.
Deciding the niche
Here are the 5 most common categories of online marketplaces:
On-demand: This type of marketplace provides users with services that are in immediate demand by customers. For example, car rental or home delivery of groceries.
Managed: Managed marketplace always has an intermediary who intervenes to ensure the proper functioning of the marketplace. The intermediary provides support, logistical analysis, and maintenance.
Community-driven: Community-driven marketplaces gather independent retailers and brands on their platforms.
SaaS: A SaaS marketplace allows users to build their page within the marketplace network. However, it usually has sales commissions.
Decentralized: In a decentralized marketplace, all power is in the hands of the sellers. There's no operator to control the platform, it has a P2P system: anyone can enter to sell and buy.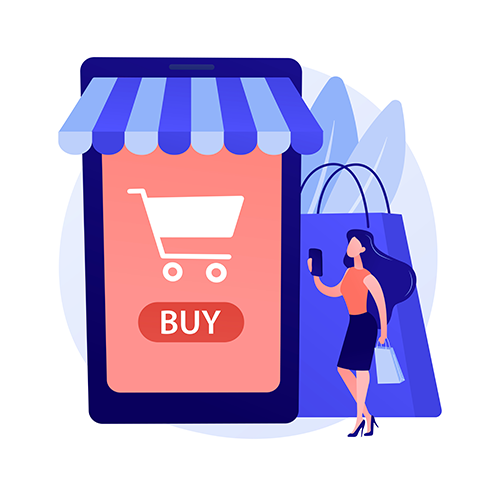 Create Prototype Marketplace
If you want to save a lot of your time and money prototype is very important. Suppose after creating a marketplace app you want to make changes in a certain module or you are not happy with the outcome. Making changes will take a lot of your time, money, and effort. But having a prototype beforehand will help you understand and change things during the first build. You can discuss with your team to make certain changes in functioning during this phase.
Marketplace App Development and Design
Now that you and your team are on the same page you can start creating an app. If you don't want to take the help of designers and developers to create a marketplace app you can use Marketplace mobile app builder. YES! Create an online marketplace app in just 3 steps this will help you save time, money, and man work.
A marketplace mobile app builder is a good option for an MVP model. And after you find out what the market wants, you can make changes in the app that will correspond to your business needs.
A first simple version will give you the ability to test your service and make sure it has potential in the niche you've chosen.
Launching your Marketplace app
To launch your app, you need the help of a well-experienced team of marketing experts. Your marketplace business app is based on an amazing idea, design, and features. But what is the point of all of this if your target audience didn't even know about the existence of your app? So you need a team that can create hype about the app before it's launching. As a result; you will get a good number of app downloads and users on the day of launch. Otherwise, you will have to wait the next few months to get a good number of app users.
A marketplace app is a big project that requires lots of attention before, during, and after the main development process. Before creating a marketplace app, decide on all the details: how you'll monetize your platform, what products or services it will feature, and how you'll make sure people trust you.
If you already have a marketplace website, don't just recreate it on mobile. Make sure to add mobile-specific features and build a marketplace mobile app that will bring value for your mobile users. You can add gamification and even augmented reality to get way ahead of your competitors.
How to Create a Marketplace App
Marketplace apps are becoming very popular among people and hence creating brand credibility. So, Get on with the journey of creating your own marketplace app with ON AIR App Builder in 3 steps and enter the market as soon as possible. Start Now!