The mobile app development market is flourishing with its optimum intensity. And every business is aiming to reach a broader customer base through mobile applications.
There are over 7 Billion mobile users scattered to form different user groups. Henceforth, your motive must be to identify your target audience and how your application can solve their problems.
So, mobile app development is way beyond integrating some user functionalities and launching it on app stores. Because many things go at the backend to effectively create a successful application.
However, the development cost cannot be accurately measured without hearing your application's features. Still, we can provide a range of minimum pricing that you will have to invest in during the process. This will help you define a minimum investment you need to keep in mind before moving forward.
In the following article, we have talked about different factors that will affect your mobile app's price. You can develop a 10-20% higher budget than expected in case of any fluctuation.
Average cost to build a mobile app
Launching an application can be categorized into three types-
App Development

Design

Startup cost
So, let's discuss each of the one in detail-
Building an application requires intensive research to bring each component together. You will need developers to take care of the application's front-end and back-end development. So, the front-end app development takes care of the visual appearance of the application. It defines a markup of all the elements placed on the screen.
In contrast, backend app development refers to the server's response to the coding inputs. It majorly focuses on the database, scripting, and application architecture.
This allows you to add multiple functionalities like creating backups, storing information on the cloud, integrating push notifications, and many more. Because these elements play a crucial role in building a user-friendly and robust application. Also. the costing can differ based on the developer's fee and the platform's complexity.
After this, it's time that you rigorously test your application for any flaws or bugs. Testing helps you minimize all extra costs that might occur otherwise in the future. It analyses the software and functionalities to offer performance reports. According to the application's complexity, the average price of app testing majorly ranges between 10-20% of the total cost or $5000-$25,000.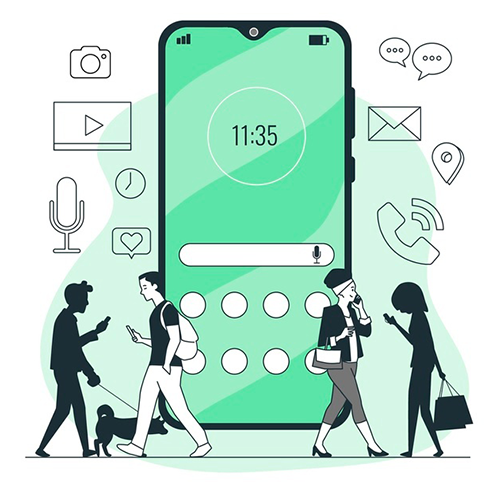 The mobile application design cost varies from $1500 to $30,00, depending upon the developer's h0urly rate and design complexity. There are three components that you will need to focus are
1. UX/UI
2. Visual design
3. Copywriting
The UX/UI determines the user's experience while surfing your mobile application. You might have observed some apps are very smooth to use, whereas few are real strugglers. So, it's crucial to build an application that offers the best UI for prolonged app use time.
Appointing visual designers will help you create artwork, layout, design concepts for the application. Their primary work is to improve your application looks and make it interactive.
Your mobile application will require a copy that excites the user and compels them to use the app. A copywriter has dedicated experience in highlighting top functionalities to make it look engaging and interactive.
The cost to hire a visual designer and copywriter purely depends on their origin country and years of experience.
After you have successfully built your application, it's crucial to create a channel that handles app maintenance and markets it to your target audience.
On average your, app maintenance cost could easily lie between 15-20% of the MVP (Minimum Viable Product) development cost. You must create a strong support team that will be available 24*7 to resolve your app's issue.
As much you require a robust mobile application structure, there is also a need for effective marketing campaigns that will attract genuine users. For this, you can either build an in-house digital marketing team or hire an agency, which can cost you between $1000- $25000. However, we have divided the marketing costing into further sub-categories discussed briefly in the following sections.
Total cost to develop a mobile application
After analyzing the cost structure of all the primary requirements, we have divided applications into four categories which are mentioned below-
Simple app- up to $80,000, which can take around 2-4 weeks to be made.
Database/API app- $100,000-$1,50,000, can be built in 2-3 months.
Multi-functional app-$150,000-$200,000, can take around 3-6 months.
High-definition apps/ Game- $100,000-$250,000. And the delivery time varies according to the app's quality and features.
Cost breakup as per the functionality
These are integrated into almost all mobile devices to keep the user updated with the latest information. Also, combining push notification varies from one application to another according to its intensity and the platform it is built on. And you will have to ask yourself many questions before adding this functionality. However, you can integrate basic push notifications for $1500-$2500.
Mobile users now prefer applications to collaborate with their friends and chat. Hence, integrating chat functionality is essential if you are targeting millennials. You can quickly build chat features using SDKs (Software Development Kit), costing you around $2,400-$12,000. In this, you can include group chat, one-to-one chat, send emojis, GIFs with media photos, and gallery.
3. Create a user profile and allow social login
Most of the application allows users to create profiles through their email or mobile number. Also, this offers the users an account where all the information is stored. Integrating a user profile will cost you over $2400. You can also establish social login for $500 per platform. For additional customized functionalities like full-featured login, authorization, or custom notification, you can be charged over $1800.
While building the application, you need to decide whether your app would work offline or online. Because most of the application uses the internet to run smoothly whereas many basic applications and games can be surfed offline. So, these apps are more complex to build as they require cross-device sync and local cache. So, you can build an offline application within $8,000-$12,000.
If you are offering any paid program in your app, you must integrate a payment channel and provide secure transactions. But this functionality can cost you over $2,600 to add or remove Credit card information.
Integrating the search functionality in your application promotes navigation. Because it allows people to access information without wasting their time. Hence, this improves user retention and user app time. You can easily integrate search functionality within $450-$600.
This is majorly for app owners who want to keep track of their user's activity and look for improvement areas. It shows the total number of app users with definite characteristics. Because the analytics helps you analyze the users' actions and measure in-app payments. Adding user analytics will increase your overall app development cost by $2000.
Marketing cost to advertise your mobile application
It's crucial to make your target audience aware of your application over other competitors. To measure the marketing cost-effectively, we have divided it into three phrases-
Pre-launch
Launch
Post-launch
This phase helps you analyze the market before launching the application. It pre-markets your mobile application to create hype and increases app downloads after release. Here are some of the marketing tools used in this phase-
1. Market research- Before launching your application, you need to have a fair view of the market and your competitors. It is to measure the expected results and apply methodologies according to the outcome. Conducting intensive marketing research can cost you around $5,000-$15,000.
2. App store optimization- ASO works similar to SEO; both follow identical tactics to rank applications or content on search engines. There are millions of apps on iOS and Android, and 65% of the time, users only download an app that comes first on their search.
So, the ASO ensures that your app ranks on the first page of the search results by embedding an application title, appropriate keywords, description, application ratings and reviews, application logo, and category. It helps the app store platform recognize its basic functionality and rank. 
Mostly ASO comes as a service in the app marketing package, costing around $1,000-$25,000.
3. Influencer marketing- Through this, you can appoint agencies that will directly consult influencers with the same domain to talk about the product on the social media handles. This can cost you around $10,000-$18,000 every month.
4. Mobile application press release outreach- Another marketing tactic would be to collaborate with a PR agency and ask them to advertise your application through direct communications or press release. You can easily do this with a minimum of $100-$300.
Launch and post-launch period
Adopting this methodology has already given a massive push to the number of people waiting for your app to be launched. However, this doesn't end here; you need to carry forward extra-marketing tactics to maintain that hype and increase downloads.
1. Cost-per-install- This refers to the cost you incur after a user installs your app using a paid advertisement. The cost depends on your number of installs; for instance, if you spend $300 and got 150 installs, you are paying $2 for every installation.
2. Cost-per-action- As the name suggests, cost-per-action means paying according to the user's action in the app. For instance, if you run a marketing campaign, you can easily define the user's activities within the application through the paid channel. It is highly cost-effective and will only cost $4.4 for iOS applications $2.9 for Android.
Different app types of building your application
1. Native app- These applications are primarily built on a specific operating system, whether iOS, Android, or Windows. To create an iOS application, the programmers will use Objective C or Swift, whereas, for Android, it will be framed using Kotlin or Java. Building a native app is comparatively expensive as compared to others.
2. Cross-platform/Hybrid apps- Developing a cross-platform application implies a balance between a native app and a web app. They run on a WebView and can be easily created using Javascript, HTML, or CSS. The cost of building a cross-platform is less due to its limited functionalities.
Platform cost to build your application
One of the most critical elements while building an application is deciding a platform for its launch. This will adversely affect the overall app development cost and all the promotional strategies that depend on your application's basic framework.
Android and iOS conquer the app markets, and most of the applications are built on either of the applications. For starting, you can choose a reliable platform to build your app. After analyzing its growth possibilities, you can develop the app for the other app store, like Instagram, which was first launched on iOS in 2012 but further extend to Android in 2014.
Here are some of the factors that will help you in deciding which platform to choose-
1. Market share- It's no doubt that Android has a more significant market share than iOS. By 2022, Android will be expected to capture approx. 86.2% of the market share, whereas iOS will stand at 13.8%. And this means for every 7-android user, you can get only one if you choose iOS.
2. Revenue- Even when Android captures most of the app market, iOS still earns double its revenue. Android mostly offers free applications and makes through third-party advertisements. However, iOS users are most likely to pay for the paid applications and generate high revenue.
3. Development complexity – The third most crucial element to consider before choosing an application platform is to determine how simple or complex is its development process. Also, iOS can only run on specific devices, making the app development process more manageable. In contrast, Android has many screen size variations, app devices, and aspect ratios, making it extremely difficult and costly to come up with an app that is compatible with all circumstances.
1. How much does it cost to make an app for your business?
As we mentioned above, the total can fluctuate between $80k-$250k according to the app's complexity. Because the minimum balance can quickly salvage simple application costs, whereas high functionality gaming apps might require the latter.
2. How long does it take to build an app?
A basic application can be easily built within 2-3 weeks; however, a complex mobile app might require over six months. So, a deadline can be given after analyzing the client's requirements.
Create App with the ON AIR Appbuilder
Launching an application is not easy; and it requires a pre-research on all the topics mentioned above to ensure that you don't regret any of it after the launch. You can establish a budget for each component that will avoid any over-spending or learn about ON AIR App Builder pricing for building a no-code app. Start Now!