Could you imagine your life without mobile apps? No Right! Whether it's our workspace or home, technological advancements have changed the way we function and communicate. Today, we just hit the send button to start the conversation with people.
In building an incredible work culture and boosting efficiency, communication plays very important role. With the advancements made in smart phones or mobile apps, communication has become more timely, personalized.
Well, mobile apps are a fantastic solution if you want to enhance internal processes and communication style at work.
Let's see how mobile apps can enhance the working environment for your employees.
Due to Covid-19 crisis remote working has become new normal. Several employees are working remotely; however, the engagement levels are not high due to the feeling of isolation. Humans are social animals, and we need a sense of connectivity.
Working from home does have its advantages. However, remote work is still problematic. Employees are deprived of having colleagues around them, and there are no fun talks during lunchtime due to working from home. You can still make your employees feel connected within your company network through a custom mobile app despite working remotely. A customized mobile app calls for effective communication and will support your team.
Employees are leaning towards internal communication apart from using smartphones at work. Using WhatsApp, slack etc. is more convenient than an Email. Businesses can create their own custom app that provides features like prompt messaging. Prompt messaging enables users' access from any location via the internet.
Peer-to-peer communication can be more efficient than interaction from top to bottom management. Employees can do their daily work much faster through these messages.
Announcements can be made quicker and easier with these communication apps. Hence, using mobile apps for communication can help in improving company culture and employee relationship.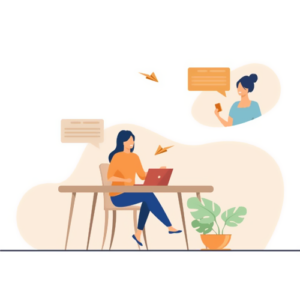 By creating a space on mobile apps for employees to interact and perform effective teamwork can help establish company culture. A custom app can create a culture even while working remotely. It is a chance for the human resource and leadership team to interact with your employees and manage their safety or grievances on the job site. It's an incredible way to build loyalty among existing staff by displaying them you care about what matters the most.
Modern workspaces need prompt communication. Without relying on phone calls and emails employees should have the abilities to communicate easily. Mobile apps and communication channels like Slack and immediate messaging from one device to another have become possible. It's clearer than ever why these intranet communications have become famous during these days when everyone wants prompt responses.
If you want to boost the employee engagement and want to feel more connected with your employee then videos are super cool way to do it. This concept can make workers feel better about not communicating face-to-face every day, which would boost efficiency levels.
This will also provide the opportunities for learning new skills, creating fun elements and others. There are so many mobile apps available that provides us with video features. This feature can be used at work for safety training programs, consulting services, and much more.
If you want to add fun and creative elements in training your employees then implementing gamification is best way to do it. businesses like Starbucks, Walmart, and McDonald's use this technique stimulate their employees.
A company culture built on fun will go a long way in starting new initiatives but, more significantly, create innate motivation which lasts longer than external rewards such as games. That's when mobile apps come in play.
You can create onboarding process more interesting with gamification. These apps can also track tasks that staff has finished with a progress bar to display what they have accomplished.
Apart from bringing a lot of transparency concerning the process it also makes employees informed about their leaves and every single detail concerning their attendance, taxation and pay slips. Most important of all, such an app allows everyone to access the pay slip instantly.
When talking about the enterprise app success tips, most developers refer to the unique user experience and easy interface that help to complete the tasks faster. No wonder, improved efficiency of the employees is the biggest consideration for the vast majority of organisations when they opt for enterprise apps. In a typical mobile app driven workplace, the most important thing to consider is to get things done faster and easier.
Boosting Employee anatomy
Thanks to mobile apps organizational work culture now continues to be more flexible and accommodating than ever before. Mobile apps for employees allow delivering more flexibility either for workplace roles or field tasks. For example, an employee now can see the available duty shifts and choose the suitable one right through the mobile app.
Business organizations thrive and grow practically on the contributions of employees. As mobile apps already proved to be a crucial tool to keep people connected, linked and performance focused, HR strategists of companies cannot leave mobile apps out of their consideration anymore.
How Can Mobile Apps Help Boost Employee Engagement & Cultivate Internal Communication?
Are you ready to take your organization to the next level? If yes, Create an app on ON AIR App Builder today and build a successful mobile app for your business. Start now!