Here is everything you should know about Apps vs Websites. Today, technology has helped evolve the world so much that we do not even have to move from our couch to get things done. From booking doctor appointments to finding love, everything is available in the online world. Most of the tasks these days have an online app for it.
The number of mobile users around the world are increasing exponentially. This is making business owners fall into a dilemma of whether to make a mobile app or a website for their business. As much as we love apps, do you think businessmen love apps too? Businessmen are using obsolete means of technology and do not realise what updated technology can do for their business. Apps can transform their revenue scales to a great extent.
Every businessman man wants higher conversion rates for earning more revenue. The question is, which of the two technologies will help them achieve it. Let's break it down further.
Why mobile devices are getting popular?
There are millions of people all over the world using internet today. These numbers are just increasing everyday because technology has made the internet an integral part of our lives. The interesting thing is, out of these huge numbers, 48% of the people using the internet are mobile users.
People are switching to using compact and handy smart mobile devices instead of using bulky computers and laptops. The amount of mobile ecommerce businesses is also increasing each day. All this makes one thing clear that people prefer technology that is accessible on their phones.
Bit by bit, every business is trying to get a slice of the digital pie. The first question that arises in the process is whether to make an app for a business or a website?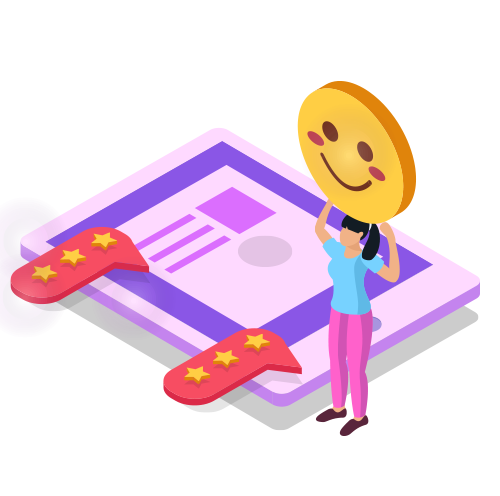 Big corporate giants usually use both of the options in order to widen their reach to its maximum potential. Small businesses and entrepreneurs do not have that kind of budgets and therefore have to choose one of the two. If you are someone who can't decide between the two, we are here to help you.
The decision of whether an app will do better for your business or a website is a very crucial one to make. The choice depends on a number of factors such as cost, target audience, convenience, features, reach and a lot more. You as a business owner should be well versed with both the options and need to choose what works best for your business. A website and an app, both have an array of advantages because of which making a choice between the two gets a little difficult.
Don't fret, we are here to help you further. Here are a few reasons why an app can give small to large businesses a higher conversion rate than websites: –
1. Higher Customer Engagement
To engage with customer, a company needs to get in touch with their customers. An app allows you to send push notifications to your client base and help get in touch with them.
The entire process gets a lot more personal than just sending in Emails to them. With push notifications, the click through rates go higher and customers tend to engage more with a brand. Push notifications available on apps are preferred way more than cold calls by customers. Thanks to the great features an app allows because of which a brand can get in touch with their customers without getting too intrusive.
An app helps the brand get more personal with their customers. With an app, a brand can understand its consumer's likes and preferences. A brand can also notify their customers personally about the discounts and offers that they planning to give out in the near future.
Apps also allow features like tap to call and start email updates which a consumer can opt for. Post that, the brand can regularly communicate with their customers via email and inform them about all that is coming up.
An app offers offline services to its customers. This means that a customer can browse through the app even when their devices are not connection to the internet. This is one of the main points of distinction between an app and a website. It is not possible to use a website when you are offline whereas with apps that is not the case.
Although, apps require the internet to get done with the crucial tasks such as placing an order but they can still offer basic functionalities to their users even when they are offline. This keeps customers at ease since they can operate even without the internet.
Apps functions way more smoothly than website. This is because apps save their data locally on mobile devices compare websites which save their data on web servers. This is why apps take lesser time to deliver a task than websites.
Data retrieval happens instantly on apps as compared to websites which take a few seconds to produce previous data. Apps can provide a smooth functioning experience to their users because they are super quick and easy to access.
5. Higher Conversion rates
When a brand makes an app for themselves, they get more connected with their existing and potential customers. Since conversations between the brand and their consumers get better, a brand can enjoy higher conversion rates.
When internet users download the brand's app, they already seem interested in buying the products sold by the brand. The constant brand logo display on their phone screens keeps on reminding your app users about your existence which eventually brings up the conversion rates.