Here is everything you should know about Apps for Insurance companies. These days people prefer to spend their time on their mobile phones. So if you're running an insurance company, why don't you open up online channels to meet the lifestyle of your potential customers? It will exceed your reach and give you more business too.
In the past few years, the advancements in technology in terms of mobile technology has changed the way insurance providers function. Owing to the convenience and portability that mobile apps offer to insurance service providers, mobile apps have gained a lot of popularity. From mobile insurance apps that allow consumers claim damages instantly to business productivity apps that keep insurance agents connected to their offices round the clock, an app solves a lot many purposes
Mobile insurance apps are playing an important role in raising the bar of customer service with each passing day. Customers can quickly get in touch with insurance agents just at a click of a button if they need to claim any damages.
Insurance apps also provide user friendly features such as push notifications and support centres where customers can resolve their issues if they have any. Mobile apps for insurance purposes has made the entire process way easier. Previously, people had to wait for days in order to claim insurance which is not the case anymore.
If you have users who need to set up alarms for regular and constant reminders about taking medicines, or customers who are always worrying about the way their insurance claims are handled by your agents, we have the right answer for you.
Jump on the bandwagon of mobile solutions and it will ensure that you help your customers through everything keeping in mind their needs and wants with respect to your insurance policies.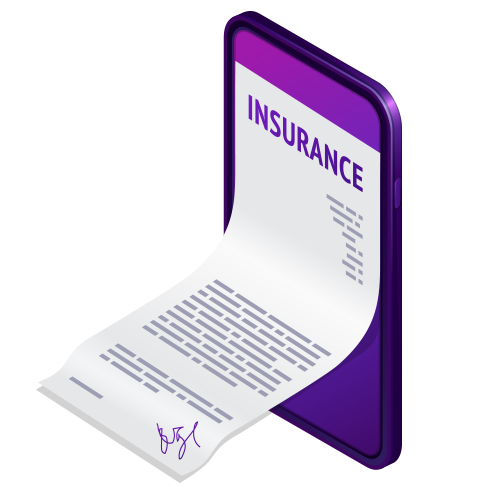 Why apps for Insurance Companies?
In such times where everything is uncertain in the global economy, players in the insurance industry are bound to face a lot many risks compared to the previous times. In order to assuage the worries of customers and have an edge over competitors, it has become necessary for insurance providers to bring something new to the table and offer a new range of products with their customers' needs kept in mind.
Therefore, mobile solutions have become a natural choice for insurance companies and insurance providers in order to improve their functioning. These steps are also being taken to gain their customers' trust.
Mobile apps have now become a convenient solution to every other field. The portability and functionality of a mobile app gives better results than most other online tools which make them a top choice even for insurance providers
 Customers feel the ease to use apps because it is readily available on the phone at al times. When a customer feels comfortable to use a certain thing, they recommend it to their acquaintances too, giving insurance companies a wider reach.
Insurance apps on mobiles are making the process of making claims very easy and hassle free. It does not only aid in making the life of an insured individual easier, but also lessens the work pressure off employees working at the insurance company. This is done by reducing certain tasks and freeing their time, which can be used better in acquiring and engaging new consumers.
Inventory management apps are also being used extensively as they allow consumers to take pictures of their assets and a create catalogue containing product details and prices of the products that are available. These act as records which can be used to claim insurance in case the assets get stolen or damaged.
Insurance mobile apps are sure to make you stand out from your current competitors. If you can provide your customers with necessary information regarding their claims directly their smartphones, you have gained an edge over competitors by winning a loyal customer.
Involving employees in customer-engagement activities and improving the heir productivity at work will increase your chances at being successful and ahead of other companies. The other tactics that you can employ include consistent app experience for users, reduced cost per transaction which can be achieved by providing efficient services, and improvement in user base and loyalty, among others.
A smartphone or tablet can be conveniently used as an educational tool for insurance agents. It can be used to impart training to them which will yield better results in the near future. Training material can be uploaded online from where it can be easily accessed by the insurance agent depending on the area of interest
Insurance agents can then use their smart devices and to go through the training material or to watch training videos during their commute or in spare time. This practice will help insurance agents remain up to date with the current insurance norms. Updated insurance providers will reflect the goodwill of the company too.
Catering to Customer needs
The thing about insurance apps is not all apps created in the insurance industry are for customers alone. Although, it is good to have more consumer-oriented apps in place. When a customer gets exactly what they want from an app, they love the experience of using it. A good insurance app will be able to give the customers exactly what they want regarding insurance policies
Quick Finalizing of Deals
Considering the hardcore competition prevailing in the insurance industry, insurance agents cannot afford to miss a chance to finalize a deal at the first meeting itself. They need to speed up the process or else another insurance company might take it.
A mobile insurance app can help insurance agents to get quotes instantly and in case the buyer is willing to buy the policy they can sign the documents digitally via insurance agent's mobile device and make the final payment via online payment methods.
Apps for Insurance Companies
Make an app for your insurance company and redeem all the benefits mentioned above. If you are looking for a place to create your app, try ON AIR App Builder. Start Now!