Review for app has become crucial for businesses. As the competition has increased in-app world. We come from a generation where before even deciding to watch a movie, we search for its reviews. People don't want to waste their time. The same is the case with apps. Before downloading any app, people will look into the reviews or play store rankings.
90% of consumers trust online reviews as much as they do personal recommendations. So, customer feedback has never been more important.
In today's crowded app marketplace – there are more than two million apps on both the App Store and Google Play Store. You'll need to do everything in your power to stand out from your competitors. And one of the best ways of doing so is by encouraging user reviews for app.
For example, suppose you are searching for a particular app and you are presented with 2 options. One with dozens of reviews and one with no reviews, then you're likely to choose the one with the most interactions.
App reviews can build trust, increase your app's visibility, and encourage people to download and interact with your content. App reviews are also a great source of customer feedback. If your users download your app and delete it without leaving comments, and then you'll never improve. Reviews, whether they're good or bad, allow you to enhance your user experience and fix any bugs or problems.
Let's see some ideas with which you can encourage your audience for reviews.
1. Prompt users in your app
One of the most effective ways of encouraging people to give reviews on your app is by sending a prompt when users are engaged in your app. Google & Apple both offer the prompt API. Although Apple's prompt API can only be used 3 times a year to avoid spam.
Although prompts are a great way to encourage users to leave a review. Be mindful of your user experience, and don't interfere with users unnecessarily.
Some developers make the mistake of asking for app reviews as soon as the app opens, but it's not good for users. because they've just opened the app to engage with your content and features – not to be asked a favor right away.
Don't interrupt the normal user flow, and consider A/B testing to time it just right.
2. Offer incentives for app reviews
Note before we proceed: "developers who attempt to manipulate or cheat the user reviews or chart ranking in the App Store with fake or paid reviews, or inappropriate methods will be removed from the iOS Developer Program" Same policy is followed by Google Play Store.
The truth is that consumers don't like popups for a review. So, one way that you can eliminate the nagging is to incentivize reviews. By offering users who write a review a gift, upgrade, or entry into a prize draw.
Again, you should be careful about how you word this, and you shouldn't encourage users to share anything but their honest opinion.
It's perfectly acceptable to incentivize users to write reviews. But offering rewards for positive reviews is where you may fall foul. "Leave a review and get a free premium subscription" is fine, but "Leave a five-star review and get a premium subscription on us" is against the rules.
Want as many reviews for your app as possible? then make it convenient for your users to leave one. Put a button that directs users to your app listing so they can leave a review. And consider placing reminders at the end of tasks, like if a user ticks everything off their checklist or finishes a conversation with your support team via live chat.
The process of leaving a review should be simple & easy. And it is advisable to let the users put reviews on their terms, rather than prompting them regularly.
At the same time, you do not want to disturb their user experience, as they'll become frustrated and will either delete your app or head to the App Store to write a bad review – both things you don't want to happen.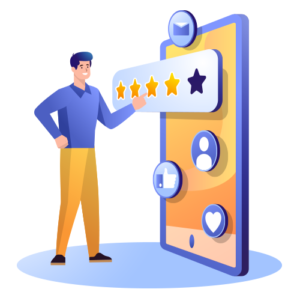 Make sure you take the time to respond to feedback or review in the App Store and Google Play Store and accept that you're not going to make everyone happy with your app.
By responding to both positive and negative comments, you'll show potential users that you're passionate about their opinions and experiences and that you're listening to what they have to say.
If you've released an early beta of your app and want to gather feedback and suggestions, consider adding a feedback feature inside your app rather than asking users to head to the App Store.
That way, you'll be able to collate ideas and feedback without the worry of attracting negative or critical reviews that could damage your app store optimization.
4 ways to encourage users to review your app
Here are some of the ways in which you can improve your App Store ratings and get more reviews from your customers. Above all else, focus on building an application that solves a problem and offers great user experience with ON AIR App Builder. Start Now!