In this unpredictable economy, companies are constantly trying to find new ways to generate revenues and stay relevant. It's becoming more and more difficult for modern businesses to keep up with the fast-paced, agile environment and lifestyles.
The most obvious solution is to focus on digitization, mobile technology, and e-commerce and communicate to your audience digitally.
According to Statista, the e-commerce market is expected to exceed the $6 trillion mark by 2023. On the other hand, customers prefer companies that make their lives easier and provide a convenient form of service.
Gone are the days when having a website was enough to interact with customers and provide them with the necessary assistance. With the ever-growing competition in the market, you need to go the extra mile and stand out from the crowd.
This is where mobile apps come in. Building a mobile app is the hottest trend that several businesses are trying to hop on. Apps are fantastic! They're available 24/7 at our fingertips and can solve a problem or provide a solution within a few minutes or even seconds.
But have you considered an app for your business? if you're looking to adapt to the current digital landscape, you'll have to tap into new channels and apps are the way to go. It's high time you create your own app otherwise you'll fall behind.
If you're still not convinced, take a look at the 3 signs that indicate that your business needs a mobile app.
Websites do not provide complete solution
Websites are still one of the best ways to build an online presence and reach out to new customers. But there are certain limitations to what a website can do to solve a customer's problem. Apps, on the other hand, are amazing at solving problems. They can provide solutions to a multitude of challenges within modern business.
For instance, booking and managing appointments, reserving tables, seats or tickets, etc. can be efficiently maneuvered by an app, more efficiently than websites. Moreover, apps can provide a smoother experience that customers prefer.
While you can try to achieve a smooth experience by optimizing your website for mobile phones, it won't be as desirable as an app. Also, fiddling with software can pose UI and UX issues that can be easily avoided if you opt for an app. As long as they're maintained with regular updates and bug fixes, apps offer a solid opportunity to solve tricky problems in a sleek manner.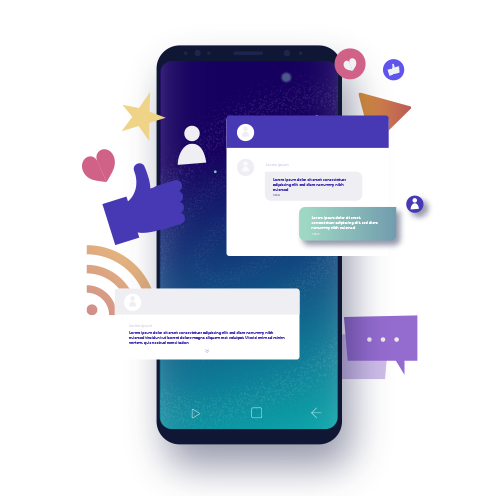 The audience prefers a more personalized experience
According to Forbes, 71% of consumers get frustrated when a shopping experience isn't personalized or requires additional efforts, while 80% of consumers are willing to purchase from brands that provide harmonious personalized products and services.
With the help of a mobile app, you can furnish a one-to-one personalized environment where users can enjoy a hassle-free browsing experience. By letting the customers set up accounts, providing browsing recommendations and personalized content, you can establish a personal rapport with your customers that'll offer you repeat customers.
According to Cognitive SEO, mobile apps proved to generate greater ROI than mobile-optimized websites. The mobile apps providing a crystal-clear, reliable functionality with a smooth UX are the key factors that contribute to apps yielding greater ROI. Also, apps have fewer distractions than websites, allowing you to display your products and services in all their glory.
Apps allow you to connect with your audience in a better way and make a real difference in their lives. For instance, check out this: mobile apps making healthcare management easy.
The interaction is way easier
In this fast-paced urban lifestyle, it has become difficult for customers to interact with a business or brand on the go. The websites are slow and require a lot of effort from the customer. This experience often overwhelms them. Apps, on the other hand, are a great way to capture their attention even when they're busy in the hustle and bustle of their life.
If you analyzed your website traffic and social media stats, you can get a clearer picture of how much traffic is generated from mobile alone. Needless to say, the findings will cement the notion that your audience is ready and willing to give your mobile app a go whenever you release it.
Once you decide to create your own app using a mobile app builder, do not forget to promote it on social media and make people aware of the app's existence. You can also promote the unique features that your app offers on your social media pages so people are more inclined to use it.
3 signs that your business needs an app
If you are convinced and are willing to create your own app to grow your business, get on to ON AIR App Builder and begin building. Start now!