The development of an app provides a whole new channel that allows you to connect with existing and prospective consumers. A sanctuary in which you always have access to your devoted audience with a single click. Your app is a place entirely tailored to your requirements. In most cases, the issue is not the app itself but the critical step that is frequently overlooked once it is developed – the promotion part.
Building a fantastic mobile application does not ensure success. You must devote time and resources to marketing and developing it. Fortunately, it does not have to burden your marketing budget since there are many free app promotion strategies that you can use. When it comes to app stores, one of the most effective strategies is to optimize your app. Since the vast majority of customers look for applications on Google Play and the App Store. But there are other innovative ways in which you can promote your app as well. Let us understand them in this article.
Innovative ways to Promote your App for free
Answering questions on sites such as Quora, producing material relevant to your industry, and sharing it on social media are all ways to demonstrate what you have built. . Receiving good client feedback and entering your app into awards competitions will benefit your brand's image as well since they will increase your reputation.
The simpler and faster the procedure is, the more you market your material. We realize that small companies have no big budget for marketing or promotional events. Even those with the money may only be able to advertise their material on a few channels. So, let's have a look at the 15 ways to promote apps for free-
1. Learn all you can about your customers
Even though this step must be completed before the app is released, there is no harm in doing it immediately. While developing an application, it is critical that you understand the intended audience and that the application meets their needs and requirements. There are many factors to consider when it comes to offering your consumers the finest solutions and services possible. If this is not the case, your app most likely needs to be updated.
Blogging is one of the most efficient app marketing strategies available, and it may help you build a devoted following of consumers. The explanation for this is straightforward. Your readers' trust may be earned via the creation of high-quality and helpful content. There are many factors to consider while blogging
Increased readership will result from creating a blog to publish frequent updates or articles on the current developments. You will also become a niche expert if the content of your blog articles is centered on your expertise and primary offering, as explained above.
Consequently, individuals would be interested in downloading and reading your most recent blog articles on their mobile phones via your app. While serving as a guest blogger, you may also advertise your application.
Your goal should be to attract subscribers interested in using your app whenever it becomes available. Remember that guest blog articles should not be commercial. As a result, write your piece so that visitors will be compelled to download the mobile application. You can even add a call to action tab which can lead customers directly to your app's webpage.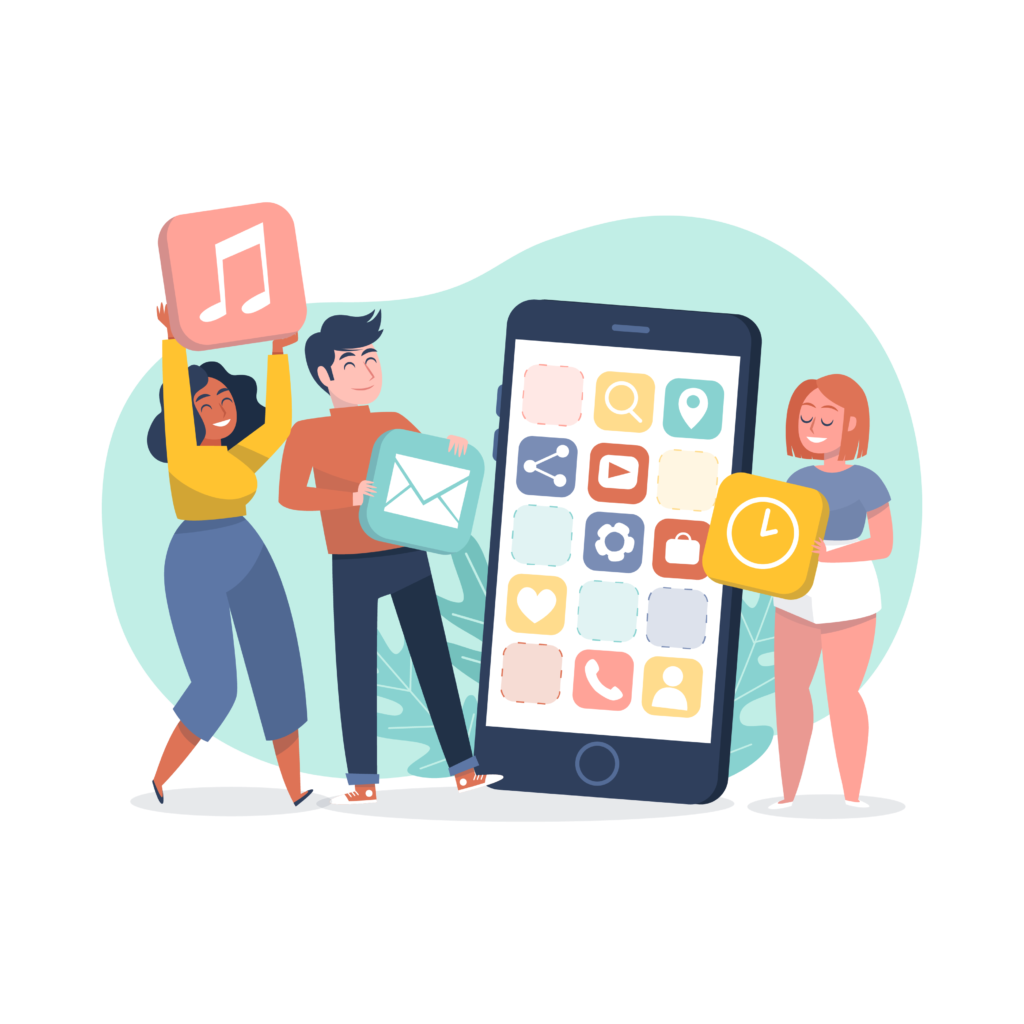 3. Join Developers & Entrepreneurs Groups on Social Media
Be more obvious in Facebook groups and forums, especially in Linkedin, and Twitter, to become more recognised among entrepreneurs and creators of mobile apps in general. In exchange for their comments on your app, you may provide them with free promotional coupons to use to test it out.
Discuss current features, problem fixes, and future upgrades with them, and listen to what they have to say. You may establish excellent working connections with them, which may lead to the possibility of cross-promoting each other's applications without paying a single penny.
The marketing of your app may also go outside your normal area of influence, and frequently these external links are precisely what your business needs. Developing honest, genuine, and mutually beneficial connections with influencers can help market your app.
Individuals having the ability to affect a particular group's purchasing and engagement choices are influencers. Company owners targeting influencers or bloggers need only be cautious to provide relevant material to influencers and their target audience. Although some marketers frequently offer monetary incentives to promote influencers, we suggest that you identify influencers who appreciate your business.
Genuine sponsorships will much more help and strengthen your company's follow-up. Let influencers know that you're developing or building an app. Ask if you can spend time talking with them about developing applications or gathering feedback. If you truly want them on board, offer them their area or try to create an app that meets your requirements.
5. Create a video introduction for your application
This is something that you should exercise caution with. You should only consider a video for your application if you have shown the feasibility of your app's concept, have gained particular traction, and are confident you have a winner on hand. To create a video for an app that has changed three times since its debut, you wouldn't want to spend a lot of money.
6. Make a pitch to tech bloggers
This is a difficult question. While you may believe you have the most fantastic software released tomorrow, others may be less enthusiastic. Don't give up hope. List all your connections, send them an email with your flawless pitch, and hope for the best. Please do not follow or harass these editors. They regularly get many angles and will contact you if they are interested.
7. Get in touch with people
Mobile app marketing begins long before you put it on the market. Before you start instructing your development staff to create your app with a million different features, go out and speak to your consumers. After all, you want to ensure that anything you create is appropriate for you.
You may start reaching your customers by building a list of all the people you've ever sold to and even the ones who simply signed up for your newsletter. Send them an email and ask for 5 or 10 minutes.
Your clients are very busy, therefore, attempt to offer your clients something to assist you. Encourage your clients with a unique discount or some kind of instructional material. After your attention, ask them a few questions to understand what they may be looking for in an app.
With your app, you should understand your existing and prospective consumers' expectations. You will begin to discover holes that you have never noticed before and successfully make a bridge between yourself and your consumers.
Because your client is your company's backbone, therefore keep them involved throughout every development phase.
Keep your consumers aware of your app's concept and ask them what they genuinely want to see in it. How can you make the app more knowledgeable and valuable? Remember that your client has its public and you'll take all the appropriate notes to enhance your success and strength if you can persuade them.
8. Communicate and apply for prizes
This is critical to understand. User retention, rather than user acquisition, should be your main objective in the early stages of your project. Suppose you can manage to create a small group of users who will give critical input to assist you in intensely remembering verifying the objective of your app and who will also stay loyal to your brand. In that case, you will shine and overcome the most challenging obstacle.
In general, no matter what level of the process you are in, try to discuss with a customer directly. Ask them questions, pay attention to their criticism, provide assistance, and make them happy. There is no more significant kind of marketing than word-of-mouth advertising.
Many organisations give awards to new and creative apps for their usefulness, design, and other characteristics. Investigate these competitions on the internet and submit applications to those you believe you are a strong candidate for.
Try to have an article published on one of the high authority blogs in your field related to your business or niche market. You may not only provide your knowledge, but you can also get a little website traffic. The more hyperlinks you have, the better your Google ranking. In the longer term, this should benefit your attempts to generate leadership.
10. Form a group of people
Sites like Facebook (for online groups) and Meetup.com (for local meetups) are excellent locations to accomplish this (for local groups). Surround yourself with individuals who share your passion for the things that matter to you.
11. Create a video channel on YouTube and try guerilla marketing
Remember to regularly produce interesting stuff, whether it is the finest "best" series, development updates, news bursts, user surveys, or user contributions. Always add your main handle as well as any descriptive hashtags to make social media the most visible.
Please keep in mind that these campaigns will be most successful in regions with an intense concentration of your target audience. The following are the foundations of a guerilla marketing campaign:
1. Emerge
2. Perplexed
3. Clarified
Your campaign's explanation must be the most brilliant element of it.
Nowadays, video is king when it comes to marketing. Creating a 30-second video demonstrating how users may benefit from your app and promoting it on your social media channels. Remember to add descriptive hashtags, and including them on your website, can help you get more attention.
13. Include a link to the app in your emails
Every element of your marketing, including your emails, should be centered around your new application. As a company, you will send out many intense, intense emails, and failing to include your app in each of them is a lost chance to increase your revenue.
A one-line footer to promote the app should be shown after every email received, whether from company tech support, business newsletter, or even an e-mail confirmation of payment. Include details like what could be done through the application and a link to the application download page.
Emails have their allure as long as they are utilized in the appropriate conditions. 91 percent of individuals read their email daily. Make the most of your app links by including them in newsletters and customer support communications, and make it a habit to have them in email signatures.
14. Advertise at retail establishments to spread the word about your app
Retail establishments are unquestionably one of the most popular destinations in a community. Whether they are shopping for groceries or last-minute goods, people frequent retail establishments regularly. You may advertise your app by placing a standee or a tiny billboard in a prominent location. Make sure that your promotional poster or standee is displayed in one of the most central locations of the establishment.
15. Alternative App Stores should be considered
Many different app shops are available on the internet market to publish your program, so don't limit yourself to only Google Play and the App Store. According to the One Platform Foundation, suppose an app is uploaded to other stores that are less popular than Google Play. In that case, it will boost the number of anticipated downloads by 200 percent compared to Google Play.
Here are some excellent app shops that you should take into consideration:
1. GetJar
2. SlideMe
3. Opera Mobile Store
4. AppsLib
5. Amazon Appstore
15 Innovative ways to Promote your App for Free
While the methods discussed here will work for most apps, enhancing user experience is the most important thing you can do for your business. If a user is pleased and content with your software, they will not only return to it again and again, but they may also recommend it to their friends. A satisfied consumer is the best kind of marketing there is. The rest of these suggestions are all you'll need to start and grow a profitable company around your app concept. Also, you don't have to be a programmer to do it. Whether it's a restaurant, hotel, or other business app, with ON AIR App Builder you'll find a wealth of options that will revolutionize the way you build an app. Get started now!