App categories are important before you start creating the app. Recent global events have changed the way businesses operate – some short-term, and some forever.
As an entrepreneur or business owner, you need to recognize these trends and adapt accordingly. Some of you might own a business in an app category that didn't require an app in the past. But based on the circumstances out of your control, consumers now expect to see apps in that category. Other entrepreneurs might be looking for an edge in a new industry or business venture, and certain types of apps are better than others.
We created this guide to show you the types of apps that make money based on recent and future trends. You can use this guide to brainstorm app ideas and take your business to the next level by creating a new app in a popular category.
There's a significant demand for mobile apps with a wide range of use cases in this category. Doctors and physicians can use apps for scheduling appointments, check-ins, appointment reminders, and more. Apps great for post-appointment surveys as well.
For example, you could create a symptom checklist for various illnesses. You can also provide useful resources on what patients should do if they're experiencing certain symptoms. Apps can also serve as a resource for doctor information, addresses, phone numbers, and even doctor bios.
According to a recent study, 90% of us adults use at least one digital health tool. Statista estimates the mobile health market to reach $189 billion by 2025. That's not all. A whopping 93% of doctors believe that mobile health apps can improve patient health.
2. Health and wellness apps
Beyond medical apps for doctors, several other types of businesses can dominate the health and wellness space. Anyone running a fitness business should be looking to go mobile. The possibilities here in the health and fitness space are seemingly endless. Use cases and examples in this app category include:
– Gym Apps
– Personal training apps
– Cooking apps
– Apps for dietitians and nutritionists
– Weight loss apps
– Meditation apps
– Yoga apps
This list goes on and on. There are countless ways to expand your fitness business and make money in this app category.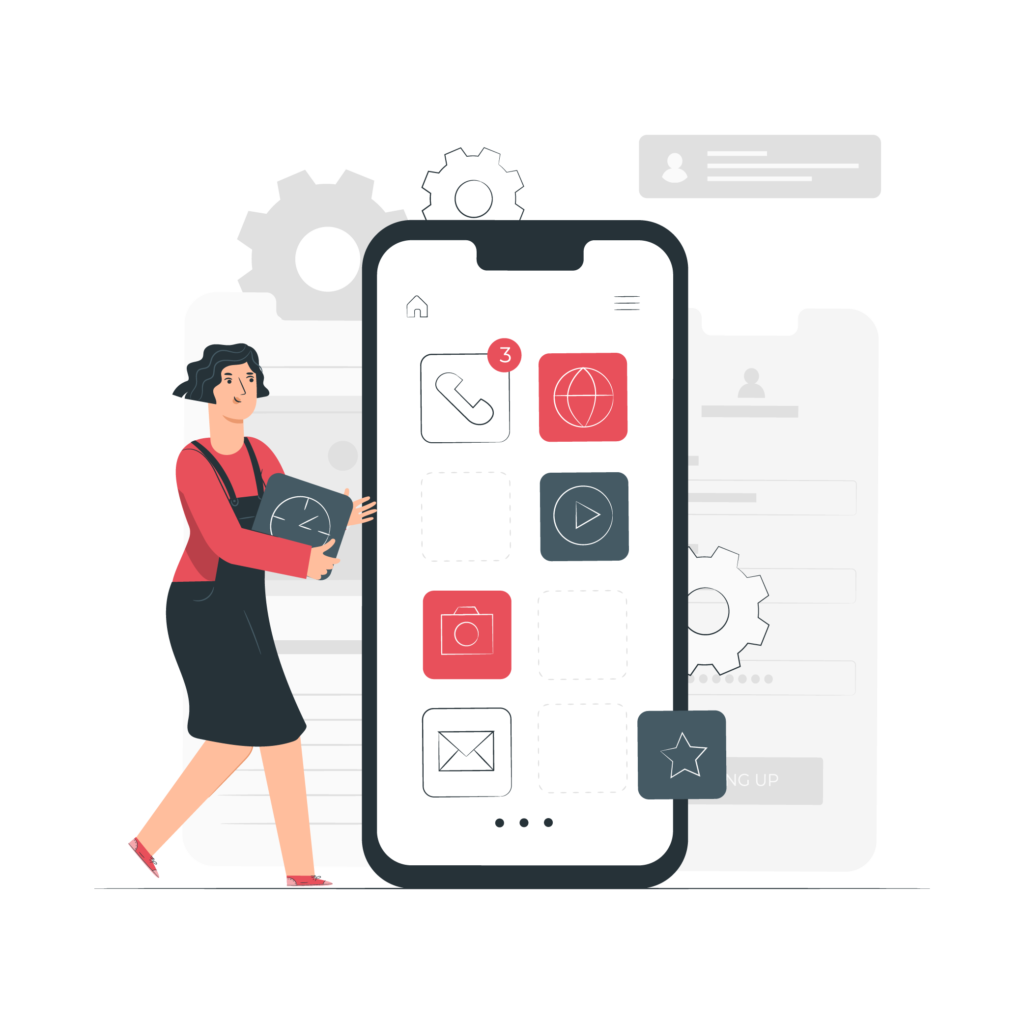 Years ago, ordering groceries online was a pretty niche category. But that's no longer the case. As big players like Amazon, Walmart, and target have started offering grocery delivery and grocery pick-up services, consumers have quickly adapted.

Today, anyone with a grocery store should be developing a mobile app. From large chains to small mom-and-pop shops, specialty stores, and everything in between. Mobile apps have given businesses a significant advantage in this space.
4. Education and e-learning app
Remote learning trends are on the rise. And this has increased the demand for education and e-learning apps. Beyond traditional schools and universities, there are lots of use cases for educational apps.
Because tons of people are using e-learning apps to attain new skills or credentials. There are even lots of new educational and e-learning apps on the market targeted towards children. With so many possibilities in the online learning space, we've just barely scratched the surface in terms of potential for educational apps. Expect a significant spike in the release and user adoption for these apps in the coming years.
5. Restaurant and food delivery apps
The food and drink industry has been faced with significant challenges over the last year or so. Most of this is the aftermath of lockdowns, government regulations, and consumer behavior. But the restaurant that has adapted will continue to strive and thrive moving forward. This is great news for restaurant owners nationwide. It gives you full control over your margins, as you won't have to pay the fees associated with third-party services.
Also a dedicated restaurant app also allows you to manage reservations, send targeted photos, set up a customer loyalty program, and more. Customers can keep their payment information and address on file for quick checkouts and as well.
Also, according to Statista, there are 44.2 million online dating users in the United States. This app category generates $602 million per year. There's lots of money to be made in this lifestyle app category. So, even beyond the big players like Tinder, Bumble, Hinge, and OkCupid, and more, there's plenty of room for smaller niche dating apps as well.
The demand for finance apps is skyrocketing. Over the last several years, the overall fintech market has been trending up. Mobile banking apps, Mobile payments apps, asset management apps, personal finance apps – All of these are seeing a rise in user adoption and usage. According to Google, 73% of smartphone users have used a mobile app to manage their finances within the last month. Investment and stock trading mobile app searches are growing 115% Year–over–year.

From android apps on the Google play store and iOS apps on the Apple app store – finance apps and subcategories in this space are popular on every operating system.
There's more awareness around pet health and quality foods. The days of dogs and cats eating bulk, cheap foods stored in the closet are slowly moving behind us.
Between pet grooming, pet food delivery, dog walking, pet insurance, and more, there are countless ways to make money with a pet app.
Believe it or not, 45% of pet owners in the US spend the same or more on pet healthcare than their healthcare in a given year.
It should come as no surprise to see eCommerce apps on our list. This is a category that has been growing exponentially for years now, with no sign of slowing down.
Compared to online shopping from a mobile site or desktop browser, an app offers significantly more advantages for users and businesses alike. Just look at the CTR between mobile browsers and mobile apps in the eCommerce space.
10. Internal Communication and employer apps
Beyond apps for general consumers, we're seeing a huge spike in demand for internal business apps and workforce apps. HR apps and employee communication apps have become the new normal for the modern workforce. With so many remote employees and field service workers out there, apps make it easy for businesses to stay in constant communication with their employees from anywhere.
10 app categories that will dominate 2022 and beyond
There are tons of ways to make money with apps. But targeting app categories that are trending up is the best place to start. With ON AIR App Builder you can create an app in 3 simple steps. Start Now!