The difference between a good app and a great app has to be the app reviewing process. It is this difference that wins a battle for many online companies and online marketing channels. The key to your great app is reviewing your app constantly.
If you want your app to be the best and live up to its potential, you need to make sure you get constant feedback and improvements. This won't be too difficult. It is similar to the pre-launch phase of the app. In most cases, after the testing and launching of the app, app owners leave the app alone. This is where they go wrong. Soon enough, the app gets outdated and not user optimized. Hence, slacking on its performance and optimization.
Reviewing your app is so essential because it's very important to keep your app optimized and updated with the latest design or features. Your app might start crashing or get bugs, but reviewing the app will prevent all of that. Or even the design and layout of the app may be difficult to use or navigate. Hence, the only way to counter all these issues is to listen to the feedback and keep the app ever changing and ever adapting.
Even though you may have a large number of downloads, it can never hurt you to get more. Many app users don't re-use the app if they find it difficult to understand, leading to a poor review or rating which make the number of downloads reduce.
Hence, the app making process does not end at launching it! You have to keep reviewing and making improvements to make your app better and more user friendly. There is no single way to approach this but a combination of various methods and techniques depending on the app and the current situation. But most importantly is the timing which plays the key role. A few of the best techniques are as below: –
1. Using Social Media Channels
Social media is one of the prime and trending ways to get in touch with the people on large scale. People are more active on social media platforms like Facebook, Instagram and Twitter above other communication channels. There are billions of active users at a time. Hence, as an app maker you must communicate and engage your customers on a daily basis.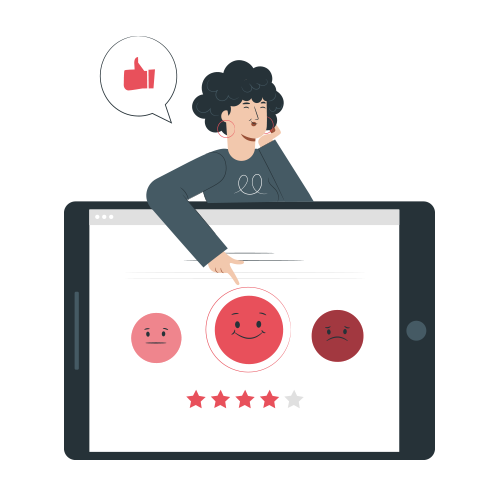 Social media platforms have many methods to collect feedback and keep the users engaged. Feedback should be regularly viewed, reviewed and encouraged. How will you get a feedback from your online customers?
The one single answer is to stay active on social media. Make sure your brand's page is always active and is communicating content to its online followers every day. Post lots of pictures, videos, business related content on your social media page and watch people engage with your brand. Asking your online customers direct questions will also do the job.
You can urge people to give you a feedback about your app on your website. A 'Feedback' section on your website will help your online customers to write their feedback about your app. This will help you communicate with your online audience better. Your audience will start taking out time to give your app a feedback if you implement a necessary review action upon it.
Online app users will also be able to share pictures, videos and reviews as a feedback on your website. You can also allow online app users to leave comments and reviews on your website by keeping their name anonymous. Not everybody is okay with keeping their identity in the open.
If you want, you can hide the reviews by creating a submission box on your website and not let other online users read it. However, you must implement it while reviewing your app. Also, make sure you ask your user to leave behind their contact details. When their feedback is reviewed and resolved, you can let them know immediately.
Focus groups are the go-to if you want to receive massive feedbacks on your app. App developers always avoid using focus groups since they find it expensive. That is not the case at all! Focus groups for reviewing apps is not very expensive if you do it the right way. If you reach out to local college students, you can do it for free or at least at a minimal cost. College students is a good focus group for reviewing you app. They are young people who know a lot about technology and will give you an honest feedback on your app. Once you implement their feedback and review your app, we are sure it will do wonders!
4. Promote in app reviews
Make sure your app users feel that their feedback is important. Encourage your online users to review your app every now and then. If they are facing an issue with your app, urge them to write to you and assure them that you will resolve the issue. The 'contact us' option on your app interface should be clearly visible to your user and they should easily be able to navigate it. Allow them to call, text or email you their issue. By doing this, a lot of online customers would willingly want to review your app.
You can always reach out to people who belong to the same industry to review your app. They will have the best knowledge of what you must review in your app for better results. Reaching you to people for feedback in the same industry is always a good practice because people can help you better your app knowing the markets fully. A person not belonging to your field might think your app runs smoothly but someone with a technical background might think otherwise.