The big giants in the taxi service industry have made a solid mark and tempted new entrants to start with something just as big. These giants are growing each day with the popularity of these services. The newbies in the cab service business are also trying to combat the challenges and make a place amongst the already recognised brands.
The one factor that has surely helped taxi services like Uber and Ola to reach where they are today has to be the use of an app. Big taxi services in the market always have an app attached to their services. Customers have to book a cab on the app and only then will they be entitled to get the services. This is how apps have made a prominent impact on big taxi service brands. In this article, we will learn some more about Why to create an app for taxi service.
Creating an app for taxi services can help your taxi service business immensely. You can cater to more customers, get people connected and also help people commute with ease. You can offer an array of services to your app users with a taxi service mobile app and help your customers receive a wonderful customer experience.
Providing your customers with the best service will give you a pool of loyal customers from whom you can make more sales and higher revenues.
Most people today use their smartphones all day long. By creating an app for your taxi services, your taxi service business will get exposed to a high number of people who will be wiling to take your services. This is a smart move and will help your profits go sky high.
If you are still not convinced, we have mentioned a few reasons why to create an app for taxi service: –
An app for your taxi service business can do wonders in order to create a pool of loyal customers. Your brand can get a lot of recognition with an app since it will be exposed to a huge number of people on the internet. The people who will be interested in booing a taxi service, will go ahead and download your app. These users will have an intend o use your services which ticks the list to be a loyal customer of a brand.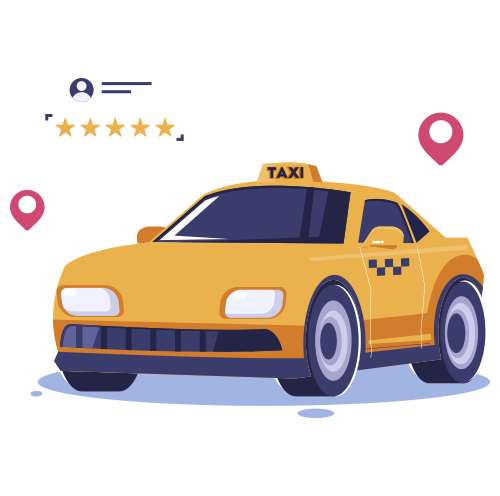 For converting your customers into loyal customers, you can do a set of loyalty programs on your taxi service app. This will make your customers will a sense of importance and whenever they are in need of a taxi service, they will choose your brand without looking any further.
Having a set of loyal customers is very important for any and every business. They will give you higher sales and help your taxi service brand get recognised.
The concept is gaining major traction in the taxi industry because the daily commuters and office-goers who are going to the same destination can share a ride with other riders that ultimately reduce the amount to half or less than that.
The idea of carpooling will work in the best interest of both, your taxi service and the environment as a whole. It is very important to give your customers the right USPs of your brand and car pooling is just one of them.
The carpooling option on your taxi service app will help you cut down on your costs while you will make massive profits for the same. This method is highly advantageous for passengers as well as your taxi service company.
3. Advanced Payment Options
Adding advanced payment options to your taxi service is extremely important in today's world. People are going cashless trying to combat the need of paper money. A taxi service app allows your company to allow your customers a few advanced payment options with which they do not have to worry about paying after their ride is done.
There are times when passengers forget their wallets at home and have an issue with paying their cabs due to limited paying options. That is where your taxi service app can make a difference. It does not matter whether your passenger has carried cash or not, they can simply pay the fare via their smartphones due to the advanced features in a taxi service app.
A customer is always entitled to making a choice or a preference when they are booking a cab on a taxi service app. Value to preference is one of the key points upon which a taxi service app works. Customers can choose a lot of things when they are riding in a cab booked on a taxi service app. They can have a preference in choosing the driver they want to drive with, the car they want to be picked up in and the routes they would like to take to reach their destination. A customer's preference is given great regard.
5. Consideration of Feedback
App users fell a sense of importance when their feedback is taken into consideration. A taxi Service app allows app users to leave back a comment or a feedback on the experience they had while interacting with your taxi service. If they feel the need to make any changes or suggestions about your taxi services, they can leave a feedback behind on your taxi service app. This makes the process interactive and gives the ap user a sense of importance.
Why to Create an App for Taxi Service
A taxi service app can surely escalate your taxi service sales to a whole new level. Want to give it a shot? Make a taxi service app today on ON AIR App Builder. Start now!