Why is self App Builder the next revolution?
An important factor contributing to the rise of no-code app builder is the demand to generate more and more software for a limited number of software developers / engineers. With this platform, we can bridge the gap by enabling every user with little or no technical knowledge at all to develop software to create app without code. Learning to code is a difficult skill and it takes time to be an expert. Whereas, without code tools, it is much easier to produce software without going through extensive coding practice.
Why should you choose no-code development on self app builder platforms like ON AIR?
Self app builders are a tool for creating websites or applications without having to write a line of code using mainly a visual editor which is used to create, edit and organize its visual interface.
No-code app builder development platforms work in a way that eliminates almost all code whether it's front-end (user-visible) or back-end, instead you just edit and create blocks and models and you publish them. The platform can provide predefined templates for some common tasks, just add your requirements, this approach saves users time and money, making creation even easier.
42.6% – acceleration in digital transformation
34% – reduced IT backlog
23.5% – reduced dependency on hiring exclusive and hard to find talent
Reasons for choosing self app builder platforms
Agility: The level of automation provided by no-code app builder platforms is impeccable. To create app without code, just drag and drop using the app builder, introduce required functionalities and your bot is ready. With no coding, these self app builders offer a seamless workflow.
Quick integration: Besides offering a no-code platform for building apps, self app builder platforms also offer quick integration of your mobile apps. You can create an automated workflow to integrate two apps or even convert a fully functional website to an app without the need of any code.
Easy navigation: If no code was not enough, self app builders provide an ease of workflow too. The inbuilt templates and chatbots assist you on each step to create app without code. It is so easy, even a person with on technical knowledge can build it. The designs and templates help translate your ideas to visuals in the perfect way and give your app a professional look and feel.  
Compatibility: You no more need to worry about finding different platforms to launch your Android and iOS apps. The self app builder platforms are compatible with different operating systems as well as devices including desktop, iPad, tablets and smartphones. The UI design of the templates offers a native feel on each platform and adjusts smoothly to the specifications when you create app without code.
Easy sync-up: Your app can be synced up with your email and personal communication software. With this feature, it is easy for the team to get frequent updates and notifications from the app without manually checking the status. Apps build through no-code app builder platforms ensure that you don't miss a single update.
No hiring hassles: Hiring a developer or coder can be very expensive for you. If your business is new, you may not have the budget to hire professional developers. Therefore, self app builders can save your life. By using platforms without code, you can reduce the cost of hiring developers.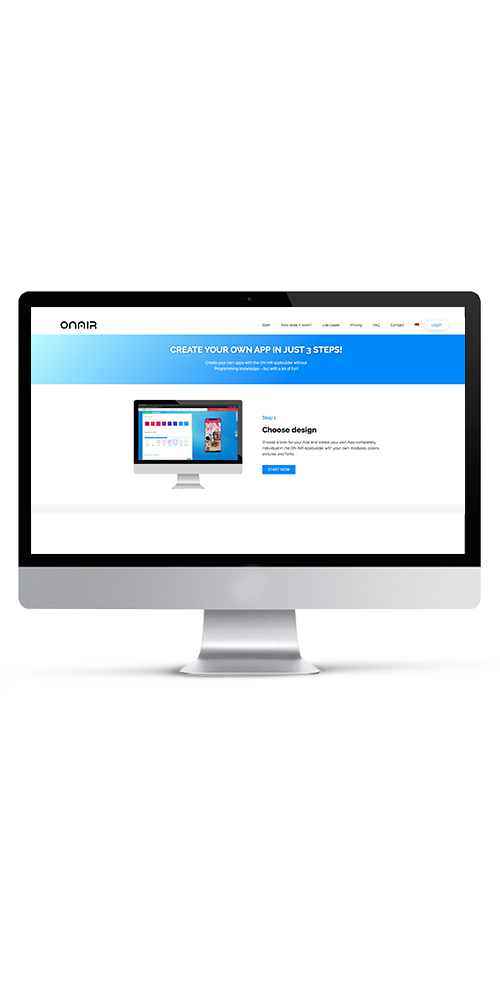 Create App with the ON AIR Appbuilder
According to industry experts, ON AIR Appbuilder like ON AIR will derive from the future of software development. It is an emerging technology that addresses the need for rapid application development and provides the sustainable solution to survive in this era of rapid digital transformation. Are you ready to get onboard? Start building your app with us now!