Pharmacy apps are growing nowadays. And with Covid-19 hitting the world ordering medicines online has a trend and safe option for many of us. Because it is not only useful for patients but also for pharmacists. But with nobody wants to go out and shop for medicines converting your pharmacy store into the app is the right choice!
So, let's see how and why you should turn your pharmacy store into an app.
As per the report of statista.com, In 2014, the global online pharmacy market was estimated to be worth some 29 billion U.S. dollars. By 2023, it is predicted that the market will grow to reach around 128 billion dollars. These statistics show how well the online pharmacy app will grow in the upcoming years.
With a change in the consumer thinking process providing everything at consumers' doorstep without any delay is the identity of a successful business app. And why not? because IT technologies can provide us with a decent level of comfort. In particular, we, people, can buy online whatever we want, and pharmacy products are no exception.
Benefits of having a pharmacy mobile app
1. Innovative Marketing and promotional tool
You'll be able to find out what your customers really like and dislike when it comes to your drugstore. Because such information will help you improve your product/app. Effective marketing and promotion are the main reason to order medical mobile app development. Because you get a platform allowing you to successfully advertise your own pharmacy.
2. Gaining more customers
You don't just meet their needs and satisfy their desires, but you become closer and clearer to them, you are always "at hand." Use your pharmacy app to the maximum by interacting with the client through push notifications and timely informing him about discounts and promotions.
3. Improved competitive ability
pharmacy apps are the best way to increase your competitiveness. There is nothing surprising since your own mobile platform allows you to stay in touch with the client 24/7, regardless of his and her location.
4. Recognizable corporate brand
It is necessary to create a recognizable pharmacy brand to embody the company's image. And the mobile application with a cool interface design might help to implement the idea by becoming a logical continuation of the pharmacy chain brand.
Be sure to add an analytical tool to your pharmacy drug app to carefully study user behavior. The data obtained will be a great help to constantly work on improving your application and bettering the level of customer service in the pharmacy.
6. Online sales and medicines
The possibility of online sales will please both you, the owner of the pharmacy, and your customers. And the reasons are simple; your customers would be able to order medicine wherever and whenever they want; you'll increase the number of sales, which means your profit growth.
Steps for creating pharmacy app
Step1: Plan your pharmacy app business
As an entrepreneur coherent plan is necessary for success. It will assist you in mapping out the particulars of your business.
Step2: structure legal entity
Having a legal business entity such as LLC will safeguard you from being individually liable if your online pharmacy app is challenged in court. And there are many other business structures to pick from which include Corporations, DBA's as well as LLC's.
You should also hire a registered agent service to aid you in protecting your privacy and remain compliant in different scenarios.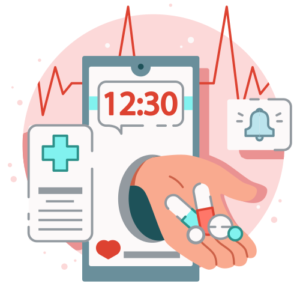 Step3: Define your Business Brand
Your business brand is what your company gets to your feet for, as well as how your business is supposed by the general public and professionals in the marketplaces. A well-built brand will lend a hand to your business stand out from different rival companies and industry competitors.
Step4: Create an app
Now that everything legal procedure for setting up your pharmacy app is done. Use ON AIR App Builder to create a pharmacy app. Creating an app using an online app maker will help you with man effort and time otherwise required to create an app. With ON AIR App Builder you can create an app for your pharmacy business in 3 simple steps.
Step5: Set up your app presence
You can also take help and utilize social media platforms to draw new customers. The doctor or pharmacist should have admirable people skills and the aptitude to build up relationships with their patients swiftly. They should also be conversant and ready to find solutions if they are unsure of the current trends in the healthcare domains. Apart from promoting the only app, it is also very important to start a conversation or build a community around the health sector on social media.
This business is well-matched for entrepreneurial doctors and pharmacists who can partner with other medical stakeholders. However, they need to follow many trends in the insurance sector, patient care, and customer preferences. And the growth perspective is massive for online pharmacies. Based on the latest statistics, it is predicted that this business will gain momentum shortly.
Turn Your Offline Pharmacy into A Mobile App
As you see, pharmacy app development requires a highly qualified approach. You're unlikely to cope with the difficulties you may face on your own. The best way is to create your pharmacy app with ON AIR App builder in 3 simple steps. Start Now!