Starting a business of your own and watch it grow is a thrill of kind. Here are few trending mobile app ideas to consider for your start-ups in 2021.
In this digital evolution, mobile app ideas have changed the technological world. New app ideas for an app are making the genre more popular with a successful development like apps for booking cabs, dating or listening to music. Mobile app development is a great way to help your business shoot. If you are someone looking for mobile app ideas, we have curated a list of one of the best mobile app ideas for start-ups who want to conquer the app world.
Mobile devices change our lives every day, for better or worse. A mobile App makes us faster and more efficient at completing tasks, freeing time — to fit in more tasks. From basic communication to business, from dealing with finances to managing health, mobile apps assist us with anything and everything. Which makes the mobile app market a very profitable place.
The mobile market is loaded with a variety of mobile apps. As of now, there are more than 5 million apps present in different market places. These apps have transformed the entire human life. We are using mobile apps to perform one or the other task.
Considering the above facts, various start-ups and businesses are looking forward to entering into the digital space by developing mobile apps.
However, after deciding to develop a mobile app, they struggle to find the best mobile app idea that can take their business to the next level.
In this article, we will be talking about few of the best mobile app development ideas through which you can make engaging apps to entice your audience.
Mobile App for Health check-up and food planner
This app checks your health day by day and suggests you proper meals that you should consume in order to remain healthy. It connects you to the numerous healthy-recipes that are provided by professional chef-bloggers. You can set your content to be provided as per your health situation, for example, if you are heart patient, you'll be recommended recipes made of ingredients that are heart-healthy. Mobile app development in this sector can partner with groceries to deliver healthy items online directly from the app. This idea will also promote engagement through apps and help the business grow.
There's always been a solution for short-distance traveling in form of numerous cabs booking apps. However, people often found trouble when it came to long-distance traveling. A mobile app development for renting care could help the situation. Create a car rental app on mobile app builder and give access of eased out travels to your audience. There were lots of challenges with traditional car rental agencies like confusing pricing and add-ons, no confirmation of the specific car to be delivered, and limited pick-up locations. Now, a car rental app can solve all these issues and provide a peer-to-peer car-sharing service.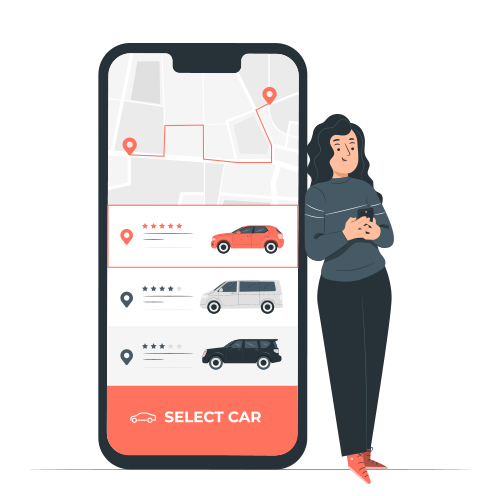 Managing and paying taxes is the curse of growing up. After a whole weekend spent calculating the amount due, anyone will gladly switch to an automated solution. A tax management mobile app is a good option for a start-up. It's not the hardest idea to bring to life, and it has a high chance of being successful due to high demand. You can enhance your app by integrating a payment getaway. Users can not only get their taxes in order but pay them on time. Mobile app development for tax management is very necessary.
One more trending app idea for travel industry is tour guide finder app that allows all the travellers to check profiles of various popular tour guides in a particular city or country.
It also enables users to connect with tour guides through different mediums, hire them, and also make instant payment via the app itself. Tour guide mobile app development will save the day for most travellers!
Augmented reality app that helps you design your room
One of the concerns while buying furniture or any interior decoration item is whether the product will suit your room and where would it look the best. An AR app helps you style your room by permitting you to use your camera and place 3D models of various items and furniture in the virtual space on your phone and see how it would look. The app can even partner with various shopping sites and facilitate user to order it directly from the app. Isn't that a great idea for mobile app development It will also increase user engagement through apps.
Mobile App for

Tutor Connect
Using a tutor connect app, students will be able to find the best tutors online for a specific subject or a topic. Here, students can find tutors by applying different filters, such as location, experience, rating, etc.
After finding a tutor, they can understand any topic in detail. Moreover, they can post questions in the comment section. Later, the tutor will reply to their question as soon as possible. Mobile app development for a tutor connect app is a must for schools.
Mobile app development of a fitness app helps fitness individuals to monitor their activities with the aid of a certified diet. It lowers the risk of lifestyle disorders. Built-in fitness app features also offer additional informative data such as pulse rate, oxygen level, and heart rate. This encourages fitness fans to compare their performances to a baseline and aspire to enhance their fitness. So, if you are one of those belonging to the fitness industry, you can't miss trying this app idea.
Create App with the ON AIR Appbuilder
Are you someone who wants to create a a trending and user-friendly app for your audience with your trendy start-up idea? Get on to ON AIR App Builder and create an app for your business today! Start now!