Mobile apps are becoming an essential need for most businesses today. Big giants in the business industry ae creating an app for their business because apps have resulted in a hike in sales and revenue for businesses. It is very important to have an app for your business or your startup today if you want to be in the public eye. Mobile app start up can change the game for your business and give you a solid run for your money if you create a well-functioning app on ON AIR App Builder for your business. Read this article further to know the top ways to build a successful mobile app startup.
The app market is crowded with a very high number of apps. Your business app needs to have the X factor for people to feel the need to download the app. It is very important for you're a business owner to create an app which is user-friendly and highly engaging. your mobile app development strategy must feature the delivery of an exquisite and effortless experience on each aspect of the mobile app's building blocks.
Mobile app start up needs to have an extra oomph to it to get people to download it. The app must add value to a user's life or else they will not want to take out time and download your mobile app start up. There are a lot of factors one needs to keep in mind before creating an app for their business. There are many things that work for your business app o the internet while there a lot many things that one must avoid while creating an app for their business. In this article we will talk about just that.
Factors to focus on while building a successful mobile app start-up.
App design is an important aspect to focus on while you are creating an app for your business. Knowing who you are catering to is something that is extremely essential while choosing an apt app design.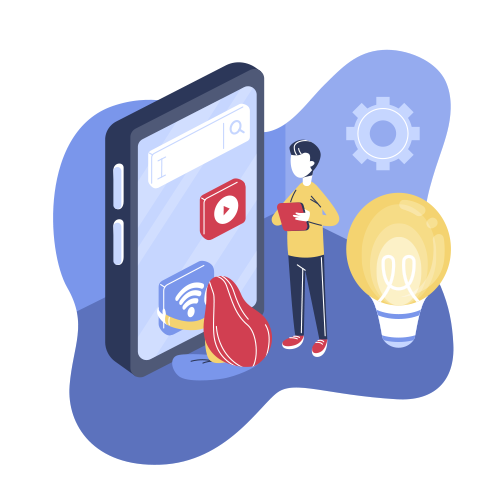 An App design should be created keeping in mind what purpose the app serves. The colours, features, placing that goes into deigning an app should be made in such a way that the app design of the app looks evoking instead of looking dull and plain.
When designing the mobile app, ensure that it features the form and function component. As much as possible, make it easy for users to learn how to navigate the app from one feature to the next seamlessly. The user needs to know exactly what to do next on your app instead of being clueless. That is the mark of a good app design while you are creating a mobile app start up.
The success of an app depends on the number of app downloads it gets. An app for your business will help you reach out to a huge number of people. Mobile app start up will help you widen your reach to a great extent. A lot of users across the internet will know about your brand. Apps help every business widen their reach to a large level because more and more people on the internet get familiar with the brand. This way, your business will get a higher footfall at its physical store along with high sales and revenue.
3. Calculating Scalability
During your app development, ensure that it's based on a platform that allows for modification. The app's flexibility and adaptability are essential since your development strategy should envision tailor-making the app based on customers suggestions. The product is intended for their use and it is a wise move to make them your highest regarded resource. From this, better features will be added to the app offering enhanced user experience.
Advisably, start off with a small group, probably your family and friends; the importance of being that you will be able to correct mistakes within no time. Having appealed to this manageable segment of customers, you will have the requisite know-how and confidence to approach an even more diverse demographic.
App Mistake that you must avoid to build a successful mobile app startup
Change is constant and you must keep changing and upgrading your app every once in a while. App users will get bored with the same old features and the same features will eventually get obsolete.
Regularly updating your business app will help a user get a better user experience . Rechecking and updating the app system is an essential for building a successful mobile app start up. If you are planning to make a business app anytime soon, we suggest you to take regular app updates very seriously. This also ensures that your app has active app users who are interested in using your business app.
2. Failing to build apps natively
UI, performance and functionality are metrics whose success is dependent on the platform which the app is built on; needless to say, they directly influence the app's success. To avoid all these, it's advisable to go all the way rather than swallow the cross-platform bait that's so enticing to start ups.
For every OS, develop the app separately. It may be expensive and time consuming but it surely pay off. Cross-platform is a long way from being appealing.
Create App with the ON AIR Appbuilder