The coronavirus pandemic hit the world recently and everyone's life changed towards an advancing digital front. Economies have crashed, hospitals have overflowed and countries have been brought to a standstill. Life, as we knew it has changed forever. Gone are the days when markets would be buzzing with activity, food stalls would line the streets and people would spend their evenings at swanky bars or pubs that played their favorite music. People now are ordering food only via food delivery apps. In this article we will be talking about the top benefits of having a food delivery app for restaurants. Read further to know more.
The food industry is up and booming again with the support of technology. There is a massive development of technology which aids the restaurants and food delivery businesses alike. This is why it is very important for restaurant businesses to have an engaging food delivery app to attract more customers.
The food sector has managed to appear as a highly profitable industry due to its broad potential and due to insanely growing demand for restaurants of different food themes in various cities. Making a food delivery app for your restaurant business shall potentially increase the profits of your business in no time.
As time is a bonus commodity for all of us, when it comes to dining out in hotels and restaurants, a few things are experiencing the change. Many people do not like to fumble with orders over phone calls. People are also expecting better customer services instead of getting treated shabbily at the reception. Moreover, during the weekends and the holiday seasons, the crowd is considerably dense, and customers may have to stand in queue for hours at length. This is how a food delivery app can save the day for your restaurant business.
In this article, we will talk about a few top benefits of having a food delivery app for your restaurant business.
1. Sending updates via push notifications
If you create your food delivery app on ON AIR App Builder, you can add the push notifications feature Push notification is like a double-edged sword. It can make or break your app. Your app will be successful if you use it in a sophisticated and subtle manner.
Even though push notifications on your food delivery app is the way ahead, make sure to not overdo it. That will result in irritating your users and they will eventually uninstall your app. While you overuse or abuse it then push notifications can annoy your users resulting in a subsequent loss.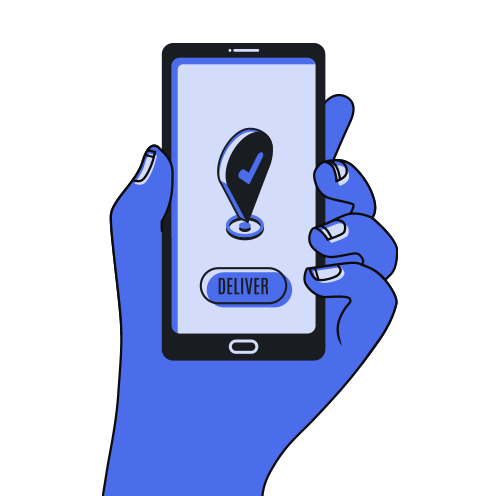 Push notifications must be managed smartly and carefully. Sending an alert in the middle of the night is never a good thing to do. Send push notifications at a time when most of your users are awake. Ask your customers about the medium in which they want notifications also ask them the specific time.
One more thing which you must ensure is that your notifications adds some value to your users and is not only for advertising your restaurant's brand.
2. Digital Menu Cards to Choose From
A food delivery app allows restaurant businesses to operate remotely while they can have a large customer reach. With a digital menu card on your app, customers can place an order for they food instantly. It provides end users with a highly convenient experience. Many restaurants already have the same facility for their mobile applications, but few of the restaurants have their digital menu cards uploaded on a mobile application.
It allows customers to choose the food item with the click of a button. Also, you can choose a restaurant according to your budget and preferences in terms of food items.
3. Providing Services All Day
Hunger is never avoided. So, be it in the daytime or be it at night, you should never let your customers go hungry. Being available 24/7 is a great option for you to build your business and that will be possible with a food delivery app.
Food delivery apps have effortless management options since you can post pre-clicked food photos and post on your food delivery app. There is no hassle of updating the price, supplementary Items and other cases. Buyers can analyze the price and services proposed by the different food points.
Food delivery apps can bring up sales immensely for your restaurant business. A higher number of people will get to know about your restaurant business with a food delivery app. This will eventually create a higher rate of profits and sales. Food delivery apps online are doing very well since they have the ability to attract a larger crowd. This drives sales and profits to a great extent. People scrolling on the internet can randomly see your restaurant food delivery app and order food from your restaurant. This will eventually give you higher sales and profits. Isn't that amazing?
5. Better Customer Interaction
Many eatery owners feel that if they switch over to app-based food ordering and delivery systems. They could end up missing human communication as far as the customers and staff is concerned. Nevertheless, this is more of a misunderstanding and myth rather than anything else. Though your employees will not be talking to the customers over the phone, the customers need to discuss with someone regularly. Therefore, it would be incorrect to state that there would not be any individual interaction at all. However, lesser human interaction can be better compensated by efficiency and speed.
Top Benefits of Having Food Delivery app for the Restaurant