Mobile apps can bring benefits to an eCommerce business. It's been evident that everything has a mobile version these days including retail business. Retail app development is growing. And the main reason behind it is the popularity of online apps in the younger generation.
With mobile apps, communication strategy between customers and retail business has improved. Retail mobile apps are opening new avenues for customers across the globe. With new technologies and innovations to attract customers and make them loyal patrons retail businesses are using mobile apps.
With the advent of the internet and other technological advancements, retailers have shifted to online interfaces to conduct their businesses and have created applications to make their presence felt in virtual space.
How significant are mobile applications for the retail business?
Growth in mobile apps has impacted customers' buying experience, patterns, and habits. Today there is no need to depend on billboards or prints to advertise discounts and offers. All you want to do is promote it on mobile apps.
For a retail business, mobile apps had encompassed an impressive growth of 81%. So, if your goal is to keep your retail business up to date then you must consider creating a mobile app.
Benefits and Opportunities of Mobile Apps in Retail business
In order to create brand value, retail mobile apps help to bring the audience/customers closer to the brand. According to data provided by Adobe, 67% of online shoppers use their mobile devices for purchases through applications provided by their favorite companies and brand. It is also a task to encourage people to download and install the app, which can be done through exclusive offers, limited discounts, etc. at the time of installation. 
Gamification is quite a trend in app development as it provides for more polished and demurred interactivity and engagement on the part of the users. With different features available on the online app creator, it is possible to load heavy animation and high-definition images fast. Building a mobile app with online app builder help you create an aesthetically pleasing with stylish look, modern and bright retail app.
In today's digital age, having a retail mobile app for a retailer is to have a huge competitive advantage. Without it, the e-commerce site is at a huge disadvantage. Customers would rather shop from mobile apps or not buy anything at all. If a customer is indecisive between a shopping website or an online shopping application, he/she will choose the latter. So it is a huge competitive advantage and can be proven to be an incredible business strategy.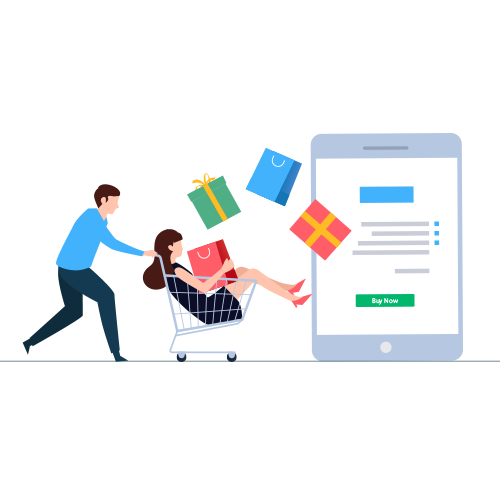 Retail mobile apps are superior to browsers; in the current pretext.78% of users surveyed claimed they would rather use a mobile app than accessing a store via a mobile browser. Better security and speed, as opposed to a mobile browser, is also another cherry on the cake for the preference quotient. People want things quick and easy and this aspect should be the key focus for your retail app.
"The first impression is the last impression" this quote applies to retail mobile apps. How your online store is presented to your customers can really make or break your sales. In order to provide hassle-free online services, your app should be easy to navigate. Make your store a coveted one for the customers with precise and simple designs, filters being listed discretely, and accessibility.
Increased Conversion Rate
Simple UX, usability, and navigation lead to an increment in conversion rate. So, build a mobile app using ON AIR App builder to create your first user-friendly retail app. And having a mobile app for your retail business really gives you better results compared to the website.
Higher average order value
Statistics have shown that mobile shopping apps generate 140% more revenue than mobile sites and 130% more than desktop sites. And the reason for this is creating higher engaging content and putting less/simple navigation options. Also, having a simple return policy and a simple path to checkout can really help in increasing order value.
Retail mobile apps allow choosing from different payment options. Gone are the days when you have to carry a wallet to purchase your favorite clothing item. With covid-19 cashless payment became a trend and hence increasing the online retail app revenue. They also eliminate the redundant procedure of entering information in every step, which in turn discourages any buyer from making purchases. 
Productivity improvement and cost reduction
With mobile apps, retail business expands their audience reach with fewer efforts on marketing. So, they tend to increase productivity by 20% to 40% with readily available charts and reporting tools with accumulated customer data. Having a mobile app reduces the marketing cost to a great extent.
Build a mobile app so data retrieval happens in the blink of an eye, and that becomes very intriguing for the customers. Also, mobile sites use java scripts to run functions and apps run on frameworks, which can be five times faster. As all of these happen at the back end, users get to act much faster in the front end, thus rejoicing over a seamless shopping experience. 
By adding all the facts and figures and looking at all the benefits, one should take into consideration creating a retail mobile app. These platforms truly aid in successful project development for retailers in the field of businesses.
Scope of Mobile Apps in the Retail Business sector
With so many opportunities available for retail mobile apps, if you want a mobile app for your retail business right away, ON AIR App Builder will help you create it in just 3 steps. Start Now!