Building an app is the new trend. and have taken the market by storm. From small-scale business houses to the leaders in the market, everyone is using mobile apps to gain a lead in the market. Entrepreneurs are seeking start-ups that are ready to build them an app, which is going to help them scale their business to new heights.
But before designing and developing a mobile application, many ideas and brainstorming go into the session, as it is far more than just developing something and giving it to people for a download.
Let's see the essential points that every start-up needs to answer before they gear up for building an app. 
Determination and inclination towards building an app
The first question every start-up should ask is what motivates them to build this application. Most of the start-ups are doing the development of various apps, just because they are getting paid well for it. App development requires you to have a passion for it that not only gives you a clear start but also lets you see its future that what it'll accomplish in the near time. A company faces a lot of challenges during app development, and your passion must be strong enough to endure all the hurdles associated with it.
Before zeroing in to a plan of action you must share the initial stage of the design idea with your team members to see how they respond to it. See whether they want to join you in your effort and want to be a part of it, as they too see the potential, as you see it.
There's no denying the fact that the market is already filled up with many applications and this means that when you are going to come up with another, it is going to face a lot of heat from the competition and you also need to have an idea that is going to validate it already.
You have to consider all those points from the start that is going to make your application stand out from the rest and will make people buy it; ignoring thousands of options that they already have in the market.
Remember, its chartered territory, and you have to validate the need for the product, you are coming up with a right way.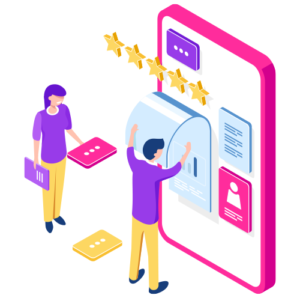 Is Your Idea Creating Questions, Follow-Ups, Or Curiosity?
There are particularly two responses when come up with new business ideas. Either it develops the buzz or you get cold response from your team members, friends.  If your idea creates a lot of curiosity and people ask you details and your plan for it, then consider that you have thought of something that is undoubtedly going to attract a lot of attention when it is at its final stage. Always take the remarks and feedback of people in a very positive way, as it helps you make the right changes to the app and this could save you a lot of money to refine its features afterward.
Do You Have A Plan To Unveil It? What Are Your Options?
When it comes to launching an application that you have created, it needs to be done in a way that garners it a lot of attention, so that you get the right share in the market. Start with smaller plans! See how you can get first 100 customers free on your website. You must have a plan ready to advertise and market the app to develop a right following for it. Once you start achieving your smaller plans/targets then move on to bigger plans.
What Is Going To Make Your App Stand Out? What Are Its Special Features?
With thousands of free application available on android and apple play store; having an app with features that makes it stand out is important. Have the clear idea about the differentiation points that are going to make your user experience different. Think geographically to get the various product directions about your target market.
List of competitors having similar app
It is always a good idea to keep your cards ready before entering the market with a new application. Make sure that you have studied all the pros and cons of the similar apps the marketplace is flooded with and also take a detailed note about the marketing strategy they have used. This schedule would help you to hatch a marketing plan that would make your app stand out.
Questions Start-ups Need To Answer Before Building an App
Having everything planned and strategized is going to work wonders for your idea. App acts as great platform to create a mission and have right start for your company. Once ideation for your business is ready create an app using ON AIR App Builder. Start Now!