Have you ever created an app for your business? If you have, you might know how important it is to promote your app on social media for it to get recognised by a large number of people. The more the people will know about your app, the more downloads and revenue your app will be able to achieve. Marketing and promoting an app are a daunting task in itself. You need a solid strategy in order to go over the process of promoting your app.
The app market these days is extremely saturated. Every function has more than one app on the app store to fulfil it. While creating an app, you need to also be sure about ways to promote your ap. Your app needs to stand out from the rest which in order to grab the user's attention and that is only possible if you promote your app well using the power of social media.
Social Media is an effective tool for app promotion. Marketing an app on social media is not a difficult task at all. To promote your app on social media, you need to increase your app's visibility. But, if you have no idea about app promotion on social media, just go ahead with the blog. In the end, you will be equipped with several ways of promoting your app on social media.
Promoting app on social media has a lot of perks in terms of getting higher downloads and revenue. However, there are a few basic things that you need to do to promote your app on social media. The first thing being, make a business account on all social media platforms.
Let's talk about a few effective ways of promoting app on social media: –
Promo videos can be used to promote app on social media. Promo videos do very well all across social media platforms. You can have a a promo video based upon how to use your app, the features of the app and the idea behind creating the app and post it on social media. This way, your business app will get a lot of recognition since social media has a very large audience.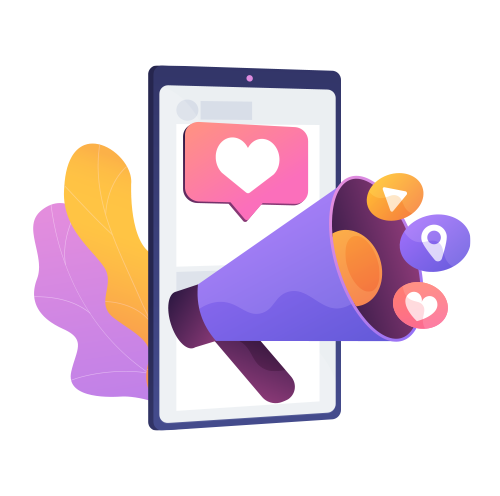 A recent study suggests that video content does way better than static content on social media platforms. Promo videos will give your business app a good boost and will help in promoting your business app massively.
Captivating imagery is another way you can promote your app on social media. A good set of images which do justice to your business app can be uploaded on your app's social media page to give it massive recognition.
An image speaks louder than words. You can have a good image uploaded on your business social media platform and bring out the essence of your brand in a single, static image.
To diversify your user base and promote your app in a better way, you can post a daily "tip or trick", famous quote, memes, anything related to ongoing trend, etc. in the form of image with your app logo on every image.
Showcase app ratings in social media. This will help in promoting your app on social media and bring in a high in flow of sales. When app users give a rating and you post honest ratings on your social media page, users can relate to it even better. This will drive traffic towards your app and earn you a great number of downloads. You must showcase ratings on your social media page because it is an essential step in promoting app on social media. Showcasing ratings on social media platforms also acts a proof that your app is phenomenal.
In order to retain your customers which already exist, you must indulge in answering reviews on your social media handles. A set of users will appreciate your business app while the others will criticize it. However, you do not have to get bothered by criticism and answer these reviews very calmly. Your business app will form a strong loyal group of customers because you as a brand owner will be responding to them patiently. Every review is worth answering. Other people on social media may get influence by the value you give to your users by looking at your quick response mechanism.
5. Social Media Post Features
Social media posts can be anything from simply an image, gif, screenshots, quoted text to blog posts. Schedule and publish regular social media posts to promote your app. Feature your mobile app in every social post. You can also add Call-to-Action buttons to your post so that users can conveniently download your app.
Keep uploading posts and videos about your business app and its functioning. That is a great way of promoting app in social media.
If you can incentivize your users to donate for social causes, it can indirectly promote your app on social media. Social cause campaigns can not only raise money for the cause but improve your users' engagement across social media channels. Before promoting any social cause, you must carefully think about how it can help you in highlighting your mobile app and involve a large audience.
A good campaign can always make your app stand out on social media and help you promote app on social media.
Promoting app on social media