Here is all you need to know about Benefits of offline mode in apps. We love to be as productive as we can in the entire day. In this world, where the internet and the web are very important tools to sustain, we are always planning are professional as well as personal work around it. When we are highly dependant on our internet connections, we are left with loads of pending work on the days we do not have access to the internet.
. Such cases might be rare but we all face it. During these times our work suffers heavily. There are times when our internet goes off and we are stuck with very important work to do or deadlines to match, the situation can get very out of hand. At times like these, our only saviour can be working on offline mode.
With offline mode you can always continue working without being bothered about the availability of the internet. Users these days are opting for apps which work with offline mode. The unpredictability of the internet and internet providers have compelled users to use offline mode and given it immense popularity.
With a poor internet connection, the apps that work only on internet perform very badly. According to research, if a user does not get quick results from an app, they tend to stop using it and install it within a few minutes of downloading it. This is where offline mode can save you a user.
There are a few apps for which the offline mode is very beneficial. Delivery apps, restaurant apps, event organising apps, and many more, can make very good use of offline mode. Features like GPS navigation and ticket proof can easily be used when the user does not have an internet connection on offline mode.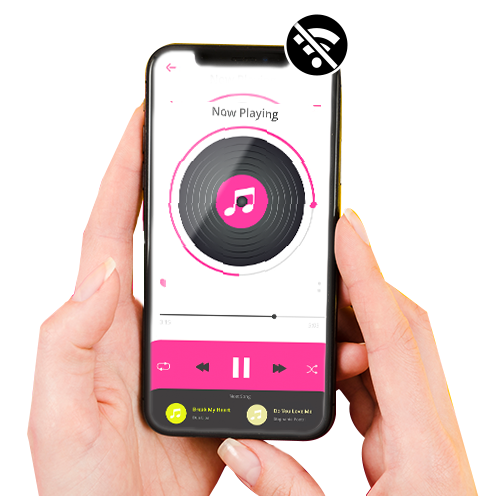 We all know that apps need an internet connection to run. Apps like Facebook Messenger, WhatsApp, Instagram, Twitter and many other apps, require the internet to fulfil their functions of sending and receiving messages, photos and videos. On apps with an internet connection we can also make voice and video calls.
Offline mode on the other hand, provides access to users with which they can operate the app even without an internet connection. The main objective to create offline mode is to allow people access to a spectacular mobile app experience even without the need of the internet. The idea is to let an app function on its own and not rely on a subsidiary source like an internet connection.
If you are still not convinced, we have a few more reasons as to why you should opt for an app with offline mode for your business.
An offline mode will give your users a great user experience. These users will recommend your app to their friends and family and you will end up getting a larger customer base.
If your business is about medial help, an offline mode in your app will help your users reach out to you well in time instead of waiting for an internet connection and losing time.
It gives users an incredible UX even after having network issues.
Offline mode is an absolute boon for people who are trying to access your app while travelling. Your users may not have an internet connection during their travel but they will have access to your app which will get the job done.
Benefits of Offline Mode in Apps
One of the best features of the offline feature of your app is the amount of battery it manages to save. Users complain of battery drainage after using the smartphone for a while because of the heavy internet load that apps require in order to function.
If you are a user using an app while travelling, too much battery consumption is an absolute bummer. With offline mode in apps, that is not the case. This feature will save the battery of the user instead of draining it.
Usually apps need the internet to function. When you introduce the offline mode feature on your app, you cut down the dependency of your app on the internet. Previously users had to necessarily have a subsidiary, the internet, in order to make any app work. That is no more the case. Your user only needs to have your app downloaded to independently use it.
Without the need of the internet, your user does not have to face a slow app interface which takes time to load. This offline feature not only helps you save your money and data but also your time.
Now that there is not much that can slower the process, the loading time is bound to speed up. The offline feature renders a swift loading time despite having a poor connection giving the user access to use all the app features.
Every app has a massive number of competitors these days since the app market is free to enter and exit. The benefits of being in the market are huge while the investments are hardly anything.  With such a high competition rate, if a business needs to do well, they need to add unique features to the app to make it stand out
Depending on user preferences, some users like an appealing app design while some prefer the performance of the app. Launching an offline app over an online app is an advantageous choice you can make for your business. Adding an offline feature in your app can give you a competitive edge over your competition. 
Users will find an app with offline mode handier and more convenient than an app which only runs on the internet. The offline mode is very new and is sure to entice customers because it is very useful.
Users will want to become your customers and from the customer stage they will eventually become loyal customers just with an additional feature on your app. This will give your business a lot more sales in the longer run.
HR-Employee engagement is one of the most important aspects of running a firm or a company. When an employee engages with the company, that shows their emotion towards the goals and work of the company. If an employee works very hard and wants the company to succeed, they have a very high engagement with the company. Likewise, when an employee is not very highly engaged with the company, they do not feel the need to perform extremely well and excel.