Why Healthcare apps is necessary in today's healthcare sector? Healthcare services are always at a high but considering the current scenario, they are even more in demand than usual. Today, the medical industry has become more of a trend than a need due to which there is a high competition in the field. This is exactly why; clinics are doing beyond necessary in order to attract and satisfy the needs of their patients. Indulging into creative and technological methods for the medical industry came into existence because of over-compensating for the needs of the customers.
The ever-evolving world of apps has changed a lot of things in the world, the Medical Industry being one of them. Technology is rapidly pacing towards making basic functionsa lot easier and convenient than before. The way apps are constantly benefitting the world is not only impressive but also unmeasurable. Things can now happen at a click of a button than waiting for hours together to get a single task done. Now that the big industries around the world are using technology for the better, the health and medical industry too can make the most of it. From keeping records of various medicine to managing patients and knowing their histories, apps can be of great help in getting things in order.
With the changing times, all medical companies and institutions need apps. The need to get an edge over their customers and combat the barrier of technology making best use of it. Not only are apps beneficial for the fighting competition, it also helps the medical industry manage their operations better. Technology has given the world an array of benefits and management is just one aspect of it. With apps, the over saturated and mismanaged medical industry can get super organized. Apps have important features such as data collection and data retention which can be very beneficial for medical institutions.
Yes, every medical institution and hospital needs an app. If you are not someone who belongs to team pacesetters, this article will tell you exactly why your healthcare institution needs one. Read on to know further about healthcare apps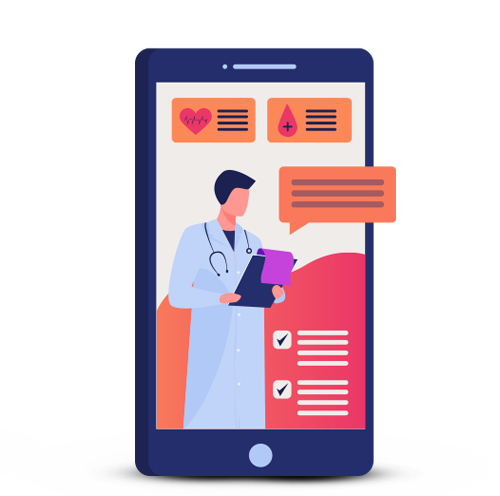 Loyalty from customers and loyalty towards customers is a very important aspect in every business. This is exactly what is needed even in the healthcare system. Making functions convenient for your customers is going to help you make them stick to your services. Giving them all necessary information, making appointments with doctors just a click away and giving them options to feed in their medical histories as a part of their app identity will help create a strong loyal customer base. Not only will your customers want to come to you for the treatment you offer, they will also choose to come to you for the convenience your app offers.
Let's not deny that technology advancements are made only to make functions more convenient. When healthcare institutions have an app, they can also manage their work better. Apps are great with collecting and retaining data. If a patient who has used your services before, punches in necessary information of their medical history  medicine can be use for what can help patients get a quick fix for their basic medical conditions. Managing appointments, assigning medical staff and giving proper treatment to patients is all a part of a properly managed health care institution. An app can singlehandedly be used to fulfil all these necessities.
An app gives you an edge over your competitors. With making services and functions so convenient for your customers, they will be willingly choosing you over all other competitors. This is the thing with being technologically advanced, your institution or hospital will attract more customers. Your customers will not have to queue up at your clinic or hospital for long hours in order to get their treatment done. All they must do is book an appointment with their preferred doctor, on the app and reach the clinic as per the time given to them. This is very essential for the doctors as well because they do not have to manage huge crowds of patients queuing up outside the clinic. It saves time and effort on both the ends.
Apps are always readily available to all it's customers since they are installed on the phone. Healthcare industry must make sure that they give their patients the correct treatment in time. An important tool that can aid the process has to be mobile apps. If hospitals and clinics choose to make a website for themselves, it will not solve the purpose of urgency since websites are usually accessed on computers. With apps, the patient can just book an appointment on the phone without wasting much time and putting much effort. Apps can also be used when an app user is offline. It does not always need the internet to function. This feature of an app can surely be of some use to the healthcare industry.
Bringing about apps in the health care industry will fight the barrier of disconnection and will help doctors get closely connected to their patients. Don't we use our mobile devices to keep in touch with family and friends? Why not utilize mobile technology to connect patients and doctors? Isn't that a great idea! Now patients do not have to worry about being assigned to multiple doctors. They will be handled only by the one they are most comfortable with. With medical apps, doctors can receive real-time patient updates about medication, fluctuations in temperature, dietary needs, and reactions to treatments. Having access to this kind of health information can reduce the frequency of post-surgery check-ins and other follow-up appointments. With bettering the services, patients will get a better treatment that will add on to the greater good of both, doctors and patients. A patient once satisfied with your service will opt to come back to you each time which will eventually better your reputation.
Mobile Apps Making HealthCare Management Easy
Making an app for the healthcare industry has now become the need of the hour. This article contains all the reasons which justify the same. If you want to give making an app for your hospital or clinic a try, start now with ON AIR App Builder.