Mobile apps have created a different world for people. From news alerts to live cricket scores, mobile apps wouldn't let us miss anything. The establishment of mobile apps has definitely created a new avenue in the media and entertainment industry. As a result, the media and entertainment sector has already witnessed the rapid transformation of a more focused consumer base.
According to a report by the android developers at google I/O, there are around 8 lakh apps that have been developed by 1.5 lakh developers. Mobile apps have become like our communication hub, entertainment portal, and gateway to essential and necessary information. The entertainment and media industry has changed rapidly in the past few years, and mobile apps have played a considerable role.
With entertainment apps becoming very popular it has brought business along with customer engagement. Social media apps like Facebook, Instagram are prime examples of entertainment apps.
Do you know? The most search app category on the play store is music apps. This talks a lot about the share the music sector has acquired in the entertainment mobile apps industry.
Apart from these gaming apps also occupy a strong position in the industry. The movie industry has also revolutionized to a great extent. All the movies are now being shown on these mobile apps, helping them maintain their box office collection. Apps like Netflix,  amazon prime have done massive business for the entertainment sector.
What is the need for mobile apps in the entertainment industry?
You must have noticed that there is no single entertainment sector who don't have their own app. This revolution is because of the new age technology that's changing how we see the world. The entertainment industry has recognized that the internet has overgrown and their audience does prefer mobile devices rather than surfing on laptops and tv.
Mobile apps are great for any type of business and have the following advantages-
Mobile apps help in maintaining customer loyalty and build client relationships.
Promoting the brand and creating brand recognition is easy with mobile apps.
Helps in enhancing the visibility of the brand
Improved social networking strategies
Helps in customer retention
How do entertainment apps make money?
As we all know, most of the apps on the play store are free but do you know how these free apps earn profits?
They have the feature of in-app purchases. Here at start apps will allow their users to use basic elements and in order to unlock premium features, users have to pay money.
Many paid apps are available on the play store. The user has to pay if he wants to enjoy the features of the app. This will help the developers make money. This is more relevant for apps that are popular and unique. For apps that have just entered the market, this might be risky as other apps might be delivering the same content for free. Therefore, a thorough review of the market needs to be done before implementing the strategy.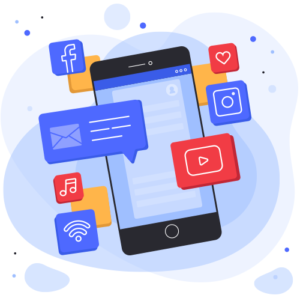 Features of entertainment mobile apps
The app providers must provide such services and features that make the user's life hassle-free and convenient. People use entertainment mobile apps to get away from those day-to-day difficulties. With a variety of accessible sources for online entertainment, users have plenty of options to select the most valuable app.
Now take a quick look at the features which can boost your mobile app brand visibility.
The slow app, buffering features, transaction delays, slow loading can be roadblocks for your business. Apps related to news, movies, games, even live videos, all need responsiveness and high performance. If you are not providing services at the user's fingertips or hassle-free then the user will choose another app above you. In order to define app performance and future growth, app clarity and features accountability play a very important role.
Entertainment mobile apps should be independent of any operating system and web browser. The resolution of your application should fit in every mobile device so as to deny any accessibility issues. This could expand the number of users for your app.
Push messages can really boost the overall audience involvement for your app. Content flow is very important. Else, your app will become just another app in a device's application gallery.
How do mobile apps revolutionalize the entertainment industry?
Mobility is the future of the entertainment industry. On the other hand, the entertainment industry cannot ignore emerging technologies such as IoT, wearable devices, etc. Technologies like AR & VR are making the entertainment sector richer and more engaging.
Previously it was quite difficult to understand or keep up with the trends but today with mobile apps and the internet everything is at our fingertips. Collecting information is not a big task anymore. Users can check everything from the latest news to the life hacks on these apps. Apps like Facebook, Instagram, and Twitter help in sharing the information and data related to anything. Users can share their photos, videos, and information in any manner they like.
There are so many apps with great features but they still do not do well in the market. This happens due to a lack of direction in terms of marketing and strategy. If your mobile app is not attracting the right audience then it will not be of any use. Let's see if you are planning to make an entertainment app using a mobile app builder then how can you attract users.
Simplifying the registration process.
The experience of the user with the app should be seamless and without any errors. 
Sharing apps through social media integrations.
Entertainment is now just a click away. With the advent of mobile apps, the entertainment industry has transformed magically.
Mobile Apps are creating a major market in the entertainment industry
Create an app with ON AIR App builder from intuitive user experience to impeccable design to make your business app a leading way of getting entertainment. Start Now!