Mobile app development is important for any business irrespective of its scale and size. Both the platforms, iOS and Android registered a jump of almost 15% year over year. Hence, apps for small business owners are becoming more of a need than a choice.
With so many advantages of creating mobile apps for small businesses, the actual process of mobile app development can be overwhelming. After considering and planning the time and budget constraints, the benefits of mobile apps will surpass the cost. According to the report, 57% of total digital media usage comes from mobile apps. So, imagine what it will do to your business if you could tap this huge audience with ease and efficiency.
With the beginning of mobile phone transformation to smartphones, the very aspect of reaching out to your customer has changed. With the likes of push buttons and geolocation technology, engaging with consumers has never been so easy.
Why do you need an app for small business?
With an app, your customers will never have to wait. They will be able to explore your products, review the latest offerings, and make purchases at the earliest of their convenience. Push notifications will inform you about any request or query from the customers which you can attend without wasting any time.
2. Direct sales channels:
So, apps are the direct channel of sales which are becoming more and more common among businesses every day. It puts your customer directly in your contact and removes the need for any middlemen.
Apps are great marketing tools. Because you can use organic app marketing or app store optimization to make your app and brand more recognizable.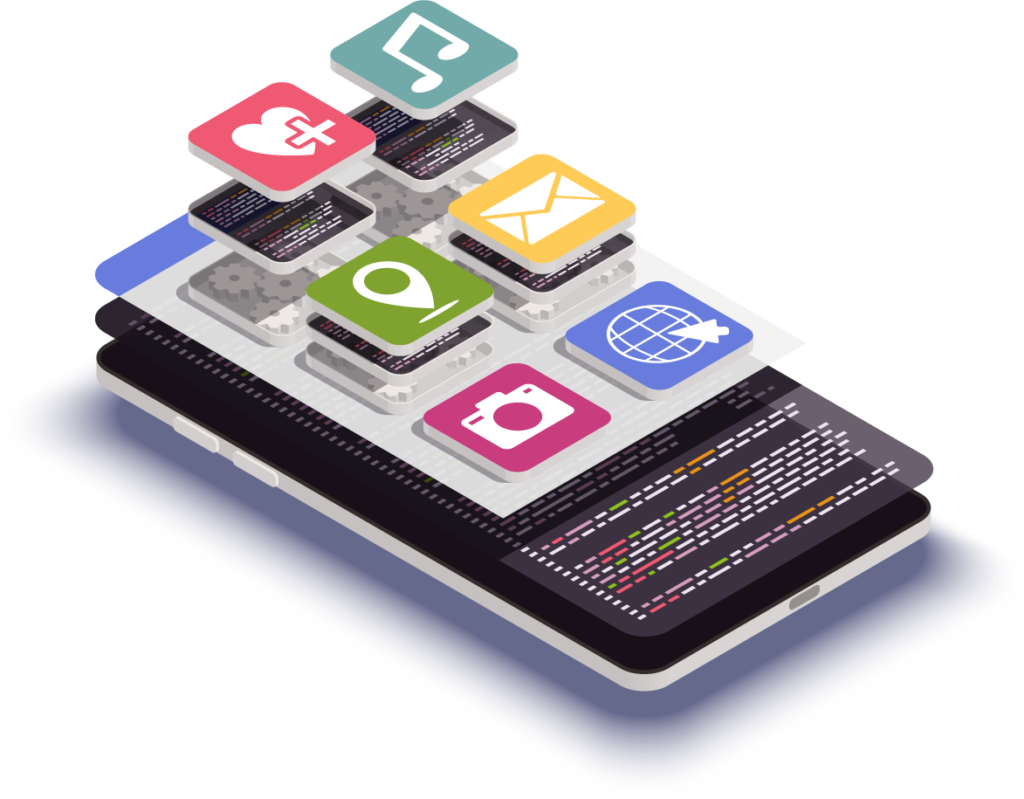 Also, apps are a great medium to connect with your users and create a community to support our product. So, you can share blogs, forums, and other media talk about your products, vision, values, and future.
Apps offer various methods of effective customer engagement without raising any extra cost. Higher customer engagement will help you to understand the target audience better and plan accordingly.
6. Enhance brand visibility:
You can boost your brand visibility via various campaigns spearheaded through your app. For example, you can create special offers and discounts depending, run a contest, or offer a reward.
Let's see some key insights that we gathered during our research on how small businesses around the world are adapting to mobile app development.
How to build a mobile app for small businesses?
From the very idea to have an app to its design, and from rolling it in the market to working on the customer's feedback, everything has its value. It depends on how small business owners manage to bind all these aspects together.
Figure out all the internal goals you are going to achieve with your app. Because outlining the goals of a small business application will help you track your progress and finish your project fast. So, be realistic with your goals, and don't overburden yourself.
Once you have a clear idea about your app for small businesses, it's time to get into the plan of action. Deciding on the platform to use, the timing of a launch, the process of building and supporting the app, the budget of the app are important.
Finding the right and skilled developer within small or startup budget can be tough. Hence, we suggest you try the online app maker for mobile app development. ON AIR App Builder will definitely help you to create a basic app in 3 simple steps.
Now, as the mobile app for small businesses is ready, the review of the submission guidelines of various app stores will be in order. Because every app, be it a large or small business application, needs to go through the submission process, and more importantly, both iOS and Android have strict guidelines in place.
5. Focus on App Store Optimization:
ASO is much like content optimization that let the app rank higher and ultimately increases the mobile app downloads. A small business, of course, needs visibility and reach. So, if the app is optimized smartly, it will help small businesses to reach beyond conversational boundaries.
Once your app is published, you have to promote your app to the target audience, as it will help get more downloads and engage more users.
Mobile App Development for Small Business
Building an app for small businesses does require time and expense, and may grind you before returning your investment. But if you plan your steps carefully, and make use of the ON AIR App Builder to create a result driven app, way under your budget. Start Now!