Mobile application is something that has become an integral part of mobile phones and our lives. From morning alarm notification to grocery reminder, from enrooting destination guidelines to movie suggestions. Yes! There is a mobile app on your phone for every mundane task.
Global Mobile App Market Size
In 2018, the global mobile application market size was USD 106.27 billion, and in 2026, it is expected to hit USD 407.31 billion. The CAGR is rising at a rate of 18.4%. The mobile application development industry is growing frantically. Especially post the COVID effect, people are more into their web apps.
The rise of the global mobile app market is a result of heightened investments in digitization. Also, technologies like IoT, AR/VR, Beacons, etc., are adhering to the growth. Due to the enticing deals on eCommerce platforms, numerous discounts, and the production sector, mobile apps are on the high side.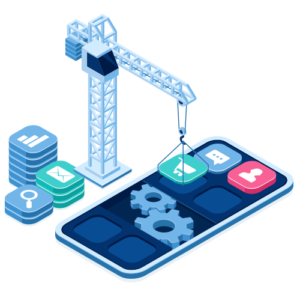 Some out-of-the-box trends witnessed in the mobile app markets:
Increase of 75% in banking and finance applications.
Online food delivery apps have grown over 150% compared to the last few years.
On-demand car/taxi service apps have witnessed a 25% growth.
Mobile shopping grew by over 75% in the USA over last year.
Why does your business need a mobile app?
Investing in a mobile app for your company is the obvious choice if you want to take your business to the next frontier. Ideally, all your prospects are using smartphones The easiest way to reach them is via mobile app.
But let's dig deeper and see some valid reasons for creating a mobile application for your business.
Lead generation funnel beings with exposure. Having a mobile app will definitely help your business in being exposed. This presence works unconsciously in your user's mind and makes your brand visible. And the cycle begins. Exposure leads to influence, engagement, and they make an action. This way, visibility leads you to customer loyalty. Moreover, you can also add promotions to your mobile app to keep users engaged.
2. Cultivate customer loyalty
Compare to social media ads, email marketing, or roadside banners mobile applications impact your customer behavior far better. The app can be the easiest way to direct communication with your customer. Also, purchasing or navigation process is better on the app in comparison to the website. So, it becomes easier for customers to make a thorough decision.
3. Better brand recognition
A mobile app enables you to make your customers more aware of your brand. Sure, you want your brand to be the first thought in your customer's mind whenever thinking about your product or service. To make that happen, including all the useful features in your mobile app that your customers love. Additionally, you can add promotions, offers, and in-app purchases depending upon your customer's choices.
4. Direct Marketing Channel
In this digital world, old-school marketing techniques are not that effective for retaining or attracting users. The push notification and reminders help your customers to be pinned about your brand activities and events.
You must be thinking app creation is itself a costly process and it will take a whole lot of time to recover that cost. But that's not the case when you choose the smart option! With an online app maker, you can build a mobile app within less time and man effort. Building a fully functional mobile app is as easy as ordering a pizza with the ON AIR App builder.
A fully functioning mobile app serves your customers rightly, and a satisfied customer increases your sales.
6. To Increase Accessibility
Gone are the days when you and your marketing team would travel cities and across borders to market your channels and brand. A mobile app enables you to instantly market your ideas across a huge crowd. Any discount or sale will reach across all your customers just by a single push notification on every device holding your business app.
7. Better Customer Service
Customers love you if you solve their queries. Instead of 24*7 customer support, you can enable AI chatbots for your mobile app customer support. This move can be a game-changer by taking your customer service to the next level.
Well apart from all these advantages, you will also get better visibility on the Google SERP by having a mobile app.
When you are not thinking about having a mobile application "Customer" is what you lose. Today everyone prefers surfing through mobile phones rather than browsing it on websites using laptops. Mobile is the handy go-to device that serves human needs.
I'm sure you don't want your customers to trouble to find you, right? A Google survey has found that 74% of visitors revisit your website if it is mobile-friendly. 67% of users will purchase from your website if it is mobile-friendly. And 61% of users will quit your website if it is not supported for mobile.
So, can you imagine your game will completely change once you launch a mobile application for your business?
Is Your Business Contributing to the Global Mobile Application Market?
With a clear depiction of the global mobile app market scenario, now you know how important it is to have a mobile application. So, build a mobile app to achieve your business goals using ON AIR App builder. What are you waiting for? Start Now!