As soon as the Covid-19 crisis hit the world, the Delivery App became essential for every business. If we think from the point of view of our consumers like senior citizens, young children and pregnant ladies these on-demand delivery apps are nothing but a savior.
In recent times most of us are also using on-demand apps to get the regular supplies such as clothes, groceries, etc. at our doorsteps without going to the actual stores. From lattes to lunches, there's a record demand for pickup and delivery services right now!
As human beings make themselves more and more scarce outside where it's unsafe, there is only one category of workers still brave enough to hit the road. It's the delivery crew.
Not only Amazon or Walmart but other delivery apps are jumping to grab a slice of this market. So, if you also want to be part of this change let's take a look at why you need an On-Demand Delivery app for your business and how you can make an app using ON-AIR App Builder!
Before you start with creating your app it is very important to understand your niche. For example; if you run a pharmacy business then your app should consist of everything that your offline store does. A delivery app for pharmacy business should allow the customers to order medicines in seconds and have them delivered to their doorsteps. You can also add a section where you can connect and communicate with your customers directly. This will eventually help you in generating brand awareness and slowly building brand loyalty. Hence, always important to select your niche before creating a delivery app.
On-Demand Delivery App in just Simple 3 Steps with ON AIR App Builder!
Step1: Choose an enticing design
In order to create On-Demand Delivery App you don't need prior knowledge with coding. But you can use On-Demand Delivery App Maker such as ON AIR App builder. Where you can choose the personalized look and feel for your app by selecting the modules, colors, pictures and fonts. This way you can create the design of your Delivery App
Step2: Drop the desired app content
Add any app content – from texts, pictures, tables to videos, almost everything is possible with the ON AIR App Builder.
Step3: Test and publish your Delivery App to Play store and Apple Store
With the ON AIR Previewer App for iOS or Android you can test your app directly on your device at any time during the design process. Allow users to leverage the benefits of your app.
Important features to include in your Deliver App:
Live Tracking: Needless to say, live tracking is very important for your On-Demand Delivery App. So, your customers can track the order easily.
Registration/Login: Registration process can be easy, by giving the choice of login from any social media platforms to your users. This makes the entire login process quicker and also gives you valuable data that can be used to refine your product.
Secure Payment Method: Not only is it about the money that is changing hands, but also sensitive information. It is your job to ensure that you provide a secure payment gateway.
Review & Rating: By providing this review and rating option to the users is a great way to garner feedback as company and gain brand loyalty.
Admin Panel: It's a must have feature as it offers bigger picture to your delivery business. This feature helps you in managing the overall functionality of your app.
Push Notifications: Reach out to your customers with just a tap and give them timely updates of their order status. Push notifications are the most effective when it comes to communicating with the app users.
Navigation: Navigation feature gives the delivery personnel step-by-step directions to the app user's address so that they can easily locate the delivery address and complete the delivery.
Two main Domains of an On-Demand Delivery App
Customer app: The ordering app that your customer will install is known as the customer app. This app lets customers browse through items available in the app.
Personnel app: This app will update the Delivery personnel with deliveries to be made and navigate them to the addresses of customers.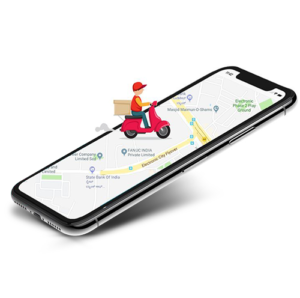 Reasons you should create an On-Demand Delivery App
Understand Customer Expectations:
On Demand Delivery app helps you with stronger customer communication. It also helps in providing evolved user experience. In fact, chances of converting app users into paying customers are considerably higher as compared to those on other channels.
A mobile app lets users order items right from their phones and delivery personnel can easily deliver the items while keeping a track of their orders. Hence providing convenience to both customers and business owners.
Presents business opportunity:
The apps offer businesses with an opportunity to provide highly customized services to the target customers and reach the top of your own business niche. Whether you are building an on-demand delivery app for taxi booking, food delivery or any unique business idea you have an on-demand delivery app will help you make the most of any business opportunity.
There are more than 5.33 billion unique mobile phone users in the world today and this is the size of audience you can have for your business, just by building a mobile app for your on-demand delivery business.
Create App with the ON AIR Appbuilder
For all the businesses out there thinking about digital transformation but not knowing how to build a delivery app, this is it! just get on to ON AIR App Builder and discover the easiest ways to create a flawless app for your business. Start Now!