Beauty services app might sound off, but the beauty industry is growing day-by-day. Newer beauty tools have been introduced in the market. Ever thought of having your beauty to-go app? It's easy to build a beauty app that you can take on the go to satisfy all your needs.
In a time where people prefer everything online, building an on-demand beauty app is the perfect solution to recover all the revenue they lost during this difficult time. Through a beauty mobile app, customers can access all their beauty needs in one place.
With your beauty services app, you can allow users to book services as salon services, hairdressers, makeup artists, and stylists. With mobile apps, the location can't be your obstacle anymore. Your client will expand once people know about your app.
 You should decide whether the user can use your app as a client or as a professional. If the user logs in as a client, he will have the option to sign up, register, and log in with the required information. They will also gain access to a navigation map that will showcase nearby services such as salons, stores, etc.
A search bar to find specific professionals catered for user's requirements. Alongside these features, the user will also find convenient and detailed information regarding professionals and their prices and the types of services they offer.
Users can book any services of their choice and create an appointment for any date and time available. Payment button is another useful feature you can add to your app
You can use push notifications about special offers and discounts. This modern and comfortable definitely will be appreciated by your customers. User review and rating features should be included so that new users can learn genuine feedback on various services and businesses.
Lastly, your users will be informed daily on the latest updates and promotions. These various kinds of features are useful for users that want to choose to be client on your beauty mobile app.
Now, if users decide to be a client instead, they will have the option to sign up/ sign in to create a profile for their business. They will also get a chance to create an in-depth user profile. where they can list services along with their prices. They can also open an online chat room with a potential client that may have questions for their business.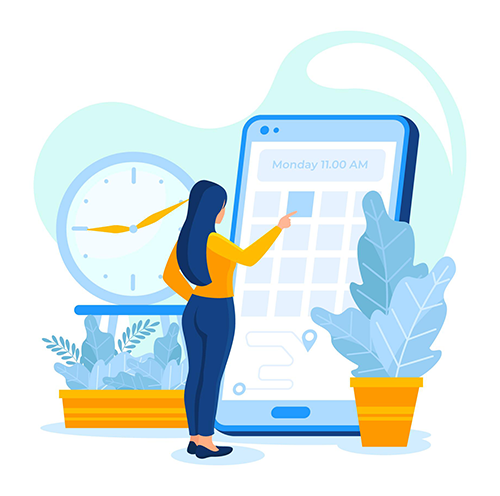 Advantages of building beauty services app
An appointment calendar, as well as a list of bookings, will be made available to the professional. They can check if their new potential customer is clashing with other bookings.
The advantage of creating your beauty services app is breaking the tradition of seeking and hunting down beauty services. And having all the details for a business one click away on your cell phone device.
The app will increase competition between beauty services. But will allow users a more comfortable approach to achieving the beauty services they want. Your beauty app will attract more professionals working in the area as well as larger client/customer base looking to find last-time services or any services.
This app will save a lot of time for both customers and clients. Also, saves the process of calling, booking, scheduling, and canceling the appointment. Businesses will profit by gaining a larger customer base. with the help of online chat, ratings, and reviews you can even develop a relationship with their customers.
Now, to build a beauty services app you will need an interface, wireframing, various tools, and templates, UI/UX interfaces, and a coding team. No! let us burst your bubble.  Create an app in just 3 simple steps with ON AIR App Builder.
The growth and success depend on time sensitivity, choosing the right platform to build the app. Also, if you are building a beauty services app and don't want to invest too much choose No-code app platform. You can start with the basic booking appointment feature and later on upgrade your app.
How to Build an OnDemand Beauty Services App
In this difficult time staying indoor is mandatory but so is grooming and self-care. So, now is the time to build a beauty services app with ON AIR App Builder and give your customers access to all the beauty needs from the comfort of their homes. So, what are you waiting for? Start now!