Task management apps are becoming important than ever! With the Covid-19 outbreak trend of working from home is catching up well. This trend has impacted a lot of businesses. While some could easily manage the WFH situation, some businesses are still struggling to get used to this. But with task management apps it has become easy.
What is Task Management App?
It's basically a web-based platform. That allows users and businesses to manage the To-Do list in the most efficient manner. These apps provide you with tools to create, assign, collaborate, and track tasks within the given time frame. 
With Slack, Asana, Evernote, Todoist, and many more such task management apps, handling day-to-day jobs has become easy. Task management app helps you in becoming systematic with your approach towards your work on a daily basis.
According to reports by 2022 annual mobile app survey, mobile app downloads are estimated to reach 258 billion of which roughly 30% would be in the form of some or the other task managing app or productivity solution. 
Also, these apps are not only important or useful in the corporate sector but all other industry divisions can use task management app for hassle-free days.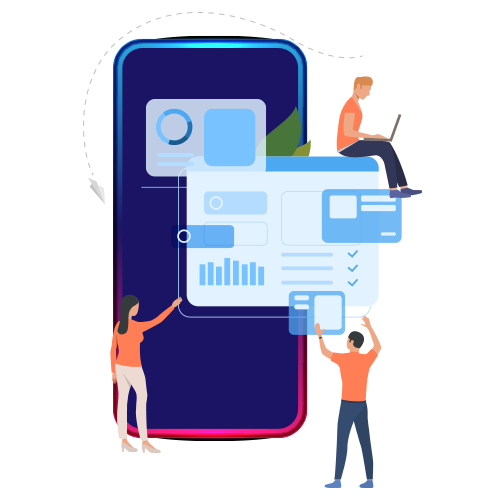 Importance of Task Management App
With task managing apps different members of the team can identify, monitor various activities in an organized manner. Apart from only the daily task list these apps also help in planning resources, new projects, project timeline, and distribution of function, etc. Consequently, they help in quality control, By comparing the actual performance with set standards and thus finding out deviations, if any.
Task management apps have many advantages let's take a look at them in detail
Task managing app can keep everything together and everyone in a loop. And works as a central platform regardless of you having a single product or multiple product business. 'Everything under a single umbrella' and thereby providing a programmatic framework for proper functioning. Also, the task Management app eliminates the risk of losing any sensitive information or missing deadlines, which are very crucial factors for small businesses.
Task prioritization is very important for any business. Not only it helps in achieving the deadline but improves the focus on the task. Setting precedence to various jobs using a task managing app can help in the efficient delivery of projects to clients. So, if you want to achieve the proper functioning of your team member then prioritization of task is very crucial.
When the enterprise handles a complex task and it is necessary to make a plan outside the office & business persons or managers should have seamless access to data. Task management apps can work wonders by giving access to the company's database anywhere and anytime.
Small businesses or startups need to monitor tasks closely because, in a project, many tasks and subtasks need to be completed at once. Tracking the tasks of every employee and measure their performance is a tedious and time-tacking task. The task management tool can handle task tracking efficiently and help project managers identify the problem points.
Productivity matters the most for businesses to thrive. Suppose your employee spends too much time finding which task to be done and where the resources are. That they have less time to do the actual job. That's where task management apps come into the picture. It helps the entire team locate their tasks easily and saves valuable time.
Collaboration issue happens mostly with big businesses. Because they have big teams and more work to do. It becomes tedious to check on every member's activity and performance. Task managing apps can help you improve this collaboration situation irrespective of the number of team members.
Task management app and automation
Automation and technology dictate the way of life conducted by humans. Be it artificial intelligence, big data, machine learning. Every new technology is being funded and innovated just so that it can automate the usual manual work. And the same has touched the task management apps too. 
Task management app can offer the easiest and most convenient way to manage tasks in businesses of all sizes. Small business owners can keep track of various tasks and prioritize them with ease using the task management apps. All they need to input the priority tasks and a time frame. So, employees can check the day's work through such a list. So, the tool also enables small businesses to manage resources in a better way so that time and money can be utilized for an optimum outcome.
How task managing made easy with Mobile Apps
Time and efforts directed in the right direction are important for a successful business. So, create a task management app for your own business with ON AIR App Builder in three simple steps. Start Now!