The transformation of the fashion or online retail shopping industry with mobile apps is remarkable. With technological advancement, new concepts and ideas are making an improved future.
Keeping up with the fashion world is a big task in itself. It changes every day. What we call trend today somehow will become old-fashioned tomorrow, so you need to keep up and stay up-to-date. According to a study, nearly 63% of customers are now shopping online through their mobile devices. Also, around 49% of retailers use mobile phones to enhance their business and develop the customer experience. We can say that with mobile apps fashion industry has reached a new level and has accomplished several targets.
We all know that fashion apps are becoming popular, and every day there is a new fashion app on the app store. This blog will see what exactly influences the fashion industry to embrace mobile apps.
Convenience and shopping are binds together. An inconvenience and the person will not buy or sell. Hence, convenience is one of the reasons why people choose a mobile application. When it comes to offline or store shopping, you'll buy jeans from one shop, a t-shirt from another shop, and accessories from a different shop. But with online shopping, you get a vivid variety of clothes and accessories from famous brands in one place – Your mobile. It all has happened because mobile apps have focused on the convenience of the user.
Moreover, technological integration has made the workings of the apps more relaxed and has more potential for business growth. By forming a virtual world where users can purchase or sell, purchase, try on clothes, exchange, window shopping, and many more factors. The usage of a mobile app is almost effortless, so anyone can use a fashion app and still love it.
Mobile applications have helped industries to increase brand awareness. To reach out to millions of the audience in a few periods can only be possible with mobile apps. The fashion industry observes and knows how to expand its audience with mobile apps. It also helps the audience to engage with the audience in a friendly and unique way.
Creating a brand identity is possible with mobile apps. Several fashion companies have already embraced it and witnessed the outcomes. So, they can even make changes as per the user demand and spread the brand to the best. Things like different layouts, concepts, colors, and many other factors put more detailing into the mobile apps to draw more customers and establish themselves apart.
Another reason for people to use a mobile app instead of an offline store is – attractive filters. The filter's feature is a beneficial option for the user to find clothes, accessories, or whatever they are searching for. The filters have options like colors, size, price range, feedback, reviews, brands, and many others. But sometimes, this many options can be overwhelming, and there are high chances that the users spent more than usual on your app to decide.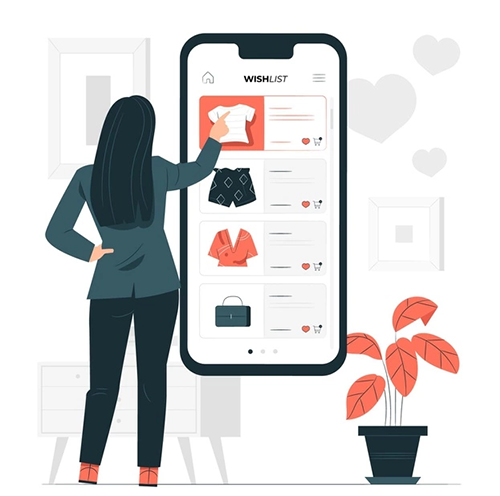 The virtual trial room has to be one of the significant reasons why fashion apps are growing. As we all know, mobile app development has adopted augmented reality. In fashion apps, augmented reality will help people try on virtually and see how they look. So, all users have to do is select the product and try it on them virtually. Because of Covid-19 outbreak, this feature is used by many sectors of the fashion industry, and jewellery apps are at the top.
By this method, the users know about online shopping and decide to purchase it. The virtual trial room gives a surreal experience to the users and simplifies their shopping experiences.
5. More benefits for consumers:
Mobile apps are the right platform for the fashion industry to give the user more benefit and gain their trust. It's a winning situation for companies and customers, as both will receive several advantages. Because multiple mobile apps provide offers, discounts, rewards, cash back, and many more. Also from a marketing point of view, it is a method that attracts the customer most and expands the traffic. Customers feel special when they get discounts for utilizing the fashion company's app. And your mobile app gets more through the mobile app.
In fashion terms, "In vogue" means something which is in fashion. Earlier, to follow the latest trend or to buy the latest collection, people have to wait for that particular collection to come to their nearest store. But now, with the popularity of mobile shopping, everything has become instant and agile. Different fashion brands can showcase their new outlook through fashion apps and grow a trend overnight. Users urge to buy products that have to consider as the latest trends.

Also, ensure you update your mobile app regularly as the trends keep on changing. To stay ahead in the game of fashion you have to follow the industry, be it trends, colors of the season.
How Mobile Apps Are Helping The Fashion Industry?
After adopting mobile apps, consumers have started taking more interest in the fashion industry and wish to be part of it more effectively. So, if you are an aspiring fashion student or you want to create an app that will help the audience to become more aware of the fashion industry, then create an app with ON AIR App Builder in just 3 simple steps. Start Now!