Apps are an important part of our lives today. Most functions can be fulfilled digitally buy the use of an app. You can every other task by a click of a button on an app. Technology has taken over the world for the better and apps are helping people live a comfortable life. The digital world has helped people lead a completely different life which would not have been possible without apps and technology. Apps are such a boon to people that they make searching for jobs easy as well. In this article we will talk about how job search apps can find you a job.
Apps are essential for every business today. Businesses can benefit heavily from an app for their brand. Even job search apps are doing extremely well on the web. The days of running around with your CV from company to company are gone. You can find yourself a job at a click of a button with a job search app.
The boom of technology has made a lot of changes in the corporate world. Recruiters no longer print an article about a position in the newspaper. Job vacancies are posted on the app which hardly takes any time. Job search apps have made life easy for both, recruiters and job seekers. People who are looking out for a job in a company can simply open the company's app and check whether they have any vacancies or not. Apps have made the job searching process very easy and convenient.
Let us get into the details of how job search apps can find you a job. Let's get started!
Why are Job Search Apps Important?
There is high population of people around the world who uses a smartphone. Everything is evolving and getting digitalized each day. With the upcoming technology, every other function is being fulfilled with an app. This is why, it is important to have a job search app as well Since there are so many smartphone users all around the world, the job searching process for job seekers will get a lot easier with a job search app.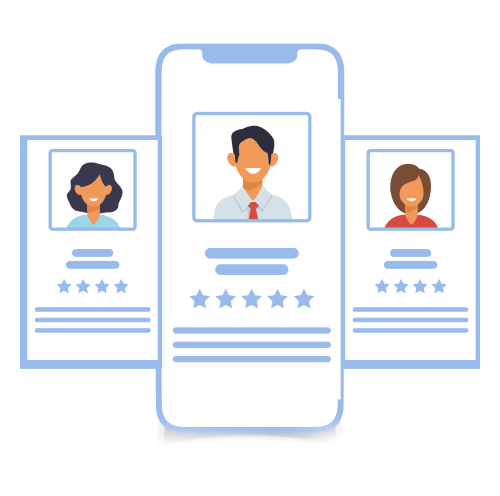 There is a high number of job seekers who use online means to look for jobs. As we mentioned, gone are the days when job seekers used to go running from one company to another with their CVs. All a job seeker needs to do today is upload their CV on the job search app and they will be contacted by recruiters who are interested in their profile. Looking for a job with a job search app has become extremely easy.
Recruiters will know exactly where to look for candidates when there are any job vacancies available in their organisation. Instead of giving ads in local newspapers, it will get extremely convenient for recruiters to look for candidates on a single platform. They can punch in the profile of the candidate that they require and get multiple choices of candidates looking for a job for the same profile. They can then go through the candidate's profile and see whether they want to choose the candidate for a personal interview or not.
A Job Search app gives job seekers and recruiters a shared platform to solve both the purposes. A job seeker can get on to the job search app to find themselves a job. The same way, a recruiter can get on to the job search app to find the best suited candidate for a position in their organisation. This way, a job seeker gets a job and a recruiter gets a candidate on the same platform. The process will be super hassle free, quick an convenient.
Advantages of having a job search app
Searching for a job in the real world is a hectic task. A job search app can redeem the job seeker from the tedious task and make the job application process easy with a job search app. All a job seeker has to do is, open the job search app, put in the position they are looking out for in the search bar and evaluate the options. There will be numerous options presented to the job seeker. They can choose op put on their application at all the places they like. This makes the process easy for both the parties- the job seeker and the recruiter.
With a job search app, you can take an interview any time, anywhere. You do not necessarily have to call your candidate to the office in order to give an interview. A job search app can solve the purpose by letting the candidate give a video interview. This can cut down on the barrier of distance since personal interviews get a lot more convenient. There need to be no place and time restrictions to take an interview on a job search app.
3. Evaluating Career precisely
Job search apps are the excellent tools to help candidates with their career evaluation and assessment. Job seekers can get the best out of these apps before they apply for the relevant job role or career opportunity. With the help of these apps, job seekers can go through the required assessments and have the results matched with the job roles that are suitable for them. With a job search app, it gets easier for a candidate to evaluate their career choices precisely.
How Job Search Apps Can Find You a Job