The use of educational apps is significantly increasing after pandemic situation. However, this offers an opportunity for mobile app development sectors in educational apps.
Since the dawn of mobile apps, having an app is important in many sectors. You name it; and there are mobile applications for it. Technology has totally revolutionized the education industry through E-Learning and M-Learning.
In order to reduce students' and teachers' burden lot for approaches and technologies have come into existence. And today students can learn their subject via iPad, laptop etc. through various mobile apps.
In the classroom and outside the classroom, apps are becoming fun and efficient learning platforms. These apps are beneficial for both the parties – students and educational institutes.
But let see what exactly are the advantages of using educational apps.
With educational mobile apps there is no limit to sources and knowledge. So, Information on such apps is beyond books. And that's the most important benefit of having app for education purpose.
Apps that allow you to do courses free of cost are the best. Where you are learning lot of things without joining any institute or coaching classes.
With engaging atmosphere available on educational apps, it allows students better grades, focus, and concentration. And if you having problems regarding any subject the solution is available at your fingertips. Be it initial preparations or test time it helps the student to boost their confidence.
Efficient communication between parents and teachers
Due to parents' and teachers' busy schedule, it has become almost impossible for both the parties to discuss about the performances of students. But now with educational apps, parents and teacher can communicate anytime. This fosters transparency about children's growth in school.
Better engagement for students
The majority of students claimed that they benefited from the mobile application for the education industry. Because textbook learning nowadays has become history, and students like to learn from the media and audio-video platforms. It lets students understand the concept at a faster speed.
Nowadays, technologies like AR and VR are growing at a rapid speed. And the education industry has leveraged its mobile applications. The impact of M-Learning is so significant that many educational institutes and schools have already begun to hire mobile application development companies.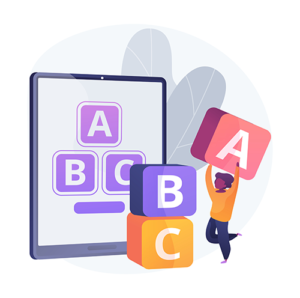 Mobile apps are available around the clock. E-Learning or M-learning is not a time bound learning but relaxing learning. And with advancement in technology, there are apps promote kid-friendly controls.
Mobile applications can be used to handle online payment related activities. This feature will save the effort of standing in a queue and paying fees for many activities at school. Also, attendance management applications maintain student attendance so that teachers can pay attention to students. 
Mobile apps for different users
There is definitely a hierarchy in school and every level requires different apps with different features. Hence, it is necessary to develop an app according to users need. For example; the principal should be able to check the work report of all the teachers. While the need for teachers' app would be totally different. So, it is very important to have an educational app with different functionality.
Too much involvement in television or filming can damage the child's concentration power. There are too many educational apps that provides interactive and gamified learning experience. So, students can explore fun things and be productive to learn more. Hence, e-learning or m-learning can be a good alternative to internet surfing.
Mobile learning applications are more sustainable than traditional learning methods, including paper, pencil, and pen. Also, this learning application allows students to obtain reference notes by merely downloading them quickly. Also, completing lessons on the mobile app is practical and simple. Finally, this will result in a reduction in the number of trees cut down each year.
Technology in the guise of applications helps those looking for something new in the world of learning. As well as a novelty feel, the app adds an element of fun and engagement to the learning process. Through games or other challenging tasks, application learning stimulates brain cells to metabolize input and release new perspectives actively.
Now that you know the benefits of educational apps let's see what types of apps you can create for better E-Learning Process.
Online tuition apps
Online school fee payment apps
Attendance management apps
Managing workbook & worksheet apps
Storytelling for kids apps
ERP software for colleges and colleges
School pee payment apps
Quiz and puzzle with answers apps
It is very important to include some common and basic features to your educational apps for convenience of users.
Student/parents login
Employee/teacher login
News management
ID card generation
Customization dashboards
Online examination & assignment
Fees management & online payment
Parent-teacher collaboration
Student attendance
Calendar and diary
Worksheet and report card
Push notification for events
Based on the above-mentioned advantages of mobile apps for education, it is clear why educational mobile apps are becoming this much popular among educational institutes and schools.
How Education Industry Benefited with Mobile Apps
If you are one of those searching for educational apps for your school or classes, then create one using ON AIR App Builder. Your educational apps are just 3 steps away. Start Now!