Mobile app is a perfect way to take your business online and give you successful results due to the ever-evolving technological world. The growth and success of a business depend on communication, smart marketing, customer engagement, and serving and managing strategies.
Mobile apps have made it easier for people like us to order anything online with one touch of a button. With the evolution of mobile apps, businesses around the world are changing drastically. And it is only one instance you need to hop onto the bandwagon.
From managing your calendar to managing your bank account, healthcare accessibility. Even pre-ordering new technology online from a completely different city, mobile apps have made everyone's life easier. A mobile app is one kind of playground for all the businesses from all sectors to thrive. Mobile apps not only help you in growing your online business but also helps you in establishing a direct connection with your customer.
Customer growth and management
The customer drives business, but it's your responsibility to help your customers drive your business through feedback and comments. Businesses also need to implement a proper marketing plan to engage and drive potential customers to products and services. You can develop a mobile app in such a way that your customers will remain engaged with your business through all hours of the day.
They will also give your customers a chance to make an immediate purchase or ask questions if they are not near a tablet or desktop. Your business will also grow in client visibility because your app will allow potential customers to test your product virtually. Also, with an app customer service will become easy. With a mobile app, your business will acquire more customers, and serve value to a larger customer base as the field is open to interact with your potential clients.
Your business will be strengthened through the introduction of a mobile app. You can enhance your business to a mass extent with a mobile app. Just remember, enhancing your brand recognition is equally important as enhancing your business itself. But if potential customers are not accustomed to your business, they will be less inclined to support your business with you.
Your app needs to have several eye-catching features besides your unique logo and slogan to help the customer remember your brand. Your business needs to be recognized amongst 20 other businesses. With a mobile app, you are allowing your clients a much more personal interaction than other businesses might. A mobile app with enriched information about your business will attract a larger customer demographic as well as increase brand recognition on the market.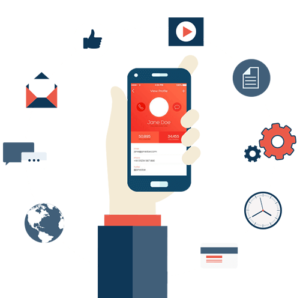 Another benefit of building a mobile app is that you can use it as a direct marketing tool to boost your business's sales. Your mobile app will work dual as a marketing tool as it gives your business access to all the social media platforms such as Facebook, Instagram, and Twitter, etc. This will allow your consumers to share your mobile app with their network, giving your business free publicity and access to a larger, newer customer demographic. Your mobile app should most definitely use push notifications and other means of marketing emails, offers, promotions, and more to appeal to all customer prospects.
Want your business to grow and develop, expand on the market, and engage your customers uniquely and effectively? investing in creating a mobile app will prove beneficial. App helps your business stand out from other businesses in the long term. And given the current situation, taking your business online is the answer to long-term growth and success.
Everyone is using mobile apps for their business, irrespective of where they stand in their business journey. Building a mobile app is not just for the big corporations but small to medium-sized businesses are also catching up!
Today, customers of every niche have come to expect a mobile app to buy any product or service they need.
Apart from the above-mentioned ways, you can grow your business with a mobile app using the below tactics. 
New sale generation

Enhanced customer retention

Increased operational efficiency

Reduction in operational cost

Earn through the in-app purchase

Build on-demand marketplace

Easy-to-access content and navigation

Boost shopping frequency

Use Push-notifications to promote discounts and offers
We at ON AIR App Builder aim for perfection and success for all businesses when it comes to building an app without coding a single line. We thrive off tireless effort and maintaining well-established relationships with all our customers. 
How Can I Grow My Business With A Mobile App?
Consumers prefer apps over websites, and we all have a fair idea of why. So, if your business involves selling things online or even in physical stores, building a mobile app can effectively increase the brand visibility and eventually shopping frequency which finally contributes to the growth in revenue. With ON AIR App Builder you can create basic app without any technical knowledge. Start now!