Businesses today are turning to mobile apps to expand their strategies to tap a higher customer base. With a large share, Android OS dominates the mobile app development market. Leveraging the benefits of Android app development is, therefore, a necessity for organizations. It is expected to surge even further in the coming years.
It is common for people to hold a smartphone these days. Public utilize of mobile apps for multipurpose and now that has become a major part of the E-business industry. A simple mobile app can make you comfortably grow your business. You might be far away from progress in your business but through a mobile app you can take your business graph up. Android app development has become the need of the hour for most businesses these days. They will get a large avenue of new opportunities with android app development for their businesses.
Businesses from all corners of the world, offering a ridiculous range of products, have begun migrating from the physical world of handing out leaflets, printing advertisements, and hanging billboards, to the mobile realm. And you should too.
Android app development offers tremendous strategic and operational benefits. Therefore, regardless of their size, businesses are leveraging android app development to grow their business and improve their revenues. But before you jump the mobile app bandwagon for your business, it is a good idea to step back and review what exactly you require and aspire to achieve from the app. Understanding the many benefits of business mobile app development is the best way to approach this. The next step is to weed out the unnecessary and shortlist the ones that are suitable for your business. And finally, exploit these benefits to further marketing and achieve specific business goals.
In this article, we will be talking about how android app development can take your business to the next level. We will give you a few reasons why android app development can do really well for your business. Read further to know more: –
1. Increased Recognition Builds Customer Loyalty
Building customer loyalty is a critical and tricky aspect of marketing a business. Business apps help smoothen this road by developing a connection between the customer and the brand through constant reminders and notifications. These reminders create awareness about the products and services that are offered and encourage the customers to make the purchase. This is how android app development can immensely help your business.
Further, it also increases brand recognition. So, when an app-user requires a product/service offered by the business in the future, chances are the customer will choose the now-familiar app over its competitors.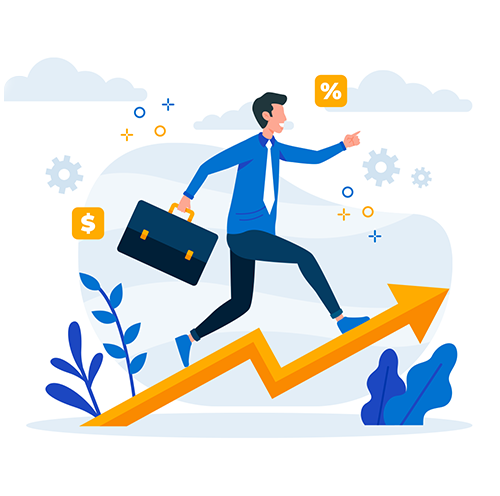 Companies constantly need to expand and grow. This means there is a possibility that the company apps may need to handle more complex tasks and provide more features. In this scenario, Android app development can lend a helping hand. The Android apps are highly flexible and can be scaled easily using new features designed according to market needs.
Java is used to develop android apps, which is one of the most widespread programming languages in the developer world. Any Java programmer can easily customize and make adjustments to the Android app whenever deemed necessary. The freshly announced programming language Kotlin is also comparable to Java and is actually easier to learn. This means that companies can find small-time developers to make changes create updates and customize their Android apps whenever necessary.
3. Build Brand Recognition
Whether your business is new or rebranding, you can enhance its recognition using a mobile app. Android app development with likeable features and you will mesmerize your audiences. Instead of putting up an expensive billboard, construct a functional app. After all, not everyone actually pays attention to or heeds the messages displayed on billboards.
Find a way to get your clients involved in your app regularly. The more often they interact with it, the more they will actually like the products or services it sells. This rule of the thumb in advertising is called effective frequency. It states that if customers see the brand more than 20 times, then it is truly noticed.
These days, mobile apps come with a sharing option where users can share your communication with their friends. It is like a friend telling you about a great service or product he or she bought somewhere. Studies indicate that referrals and third-party sales are among the most valuable marketing strategies.
4. A Great Tool for Customer Engagement
While business-to-customer communication is important for marketing, a reverse communication is equally important to maintain customer loyalty. Customers love it when their concerns and complaints are heard out and resolved with minimal lag time and this, in turn, helps businesses build brand loyalty. This is where apps come into the picture. They help to maintain this critical relationship through the online help desk and support systems. The increased accessibility to products/services combined with reduced cost is the cherry on the cake in terms of customer engagement.
5. Helps You Stand Out from The Crowd
The importance of an android app development in getting your business to stand out from your competitors cannot be emphasised enough. At this point, apps are still a rare thing and by having one for your business, you can grab the attention of potential customers and capture a large part of the market share. By the time your competitors catch on, you would have by then, hopefully, effectively managed customer engagement and built strong customer loyalty.
How Android App Development Can Take your Business to the Next Level
Want to see your business soar to newer heights? It's high time you indulge in android app development with ON AIR App Builder today! Start now!