Over the course of the last two decades, organizations the world over began to realize that without a sufficient presence on the web, chances of business success diminished significantly. As time has gone on, the extent of that web presence has broadened. Social media profiles, optimized pages, and mobile-responsive websites have all become commonplace and, some would say, necessary to conduct business in the modern age. Add now to that list the mobile business application, or the "app." Most people have started to realise how important it to bring in Android app development for their business.
Mobile application development has rapidly increased taking over the use of websites or web applications. Several mobile applications for businesses including on-demand, health, and education apps have been introduced in the app market lately.
Mobile applications have made lives easier and only with a few simple clicks on the mobile screen people can obtain vital information related to their daily life services, without a doubt. The demand for mobile applications has increased and to attract users, businesses have to  hire mobile app developers  to bring professional applications with the latest trends and technologies. Android app development has become a key aspect for most businesses today.
Top tier companies can easily create good apps for their businesses. With their large capital, they can invest in innovative development tools and round up extensive workforces of leading talent to use them—which matters, especially amid an ongoing developer problem. Meanwhile, companies lacking these privileges must make do with a leaner toolset and smaller, less cherry-picked workforce—which is not to say that they don't make smart, creative use of what's available to them, but that they deserve to play ball on a more equal playing field.
Unfortunately, the pandemic compounded this issue, at times bringing even higher advantages for the giants in the field and overcome what some consider a trend of software elitism, efforts have been made to accelerate the pace of application architecture for all. Employing no-code will help the smaller businesses to compete. 
Let's get deeper into understanding what is the future of android mobile app development in the year 2021 and ho you as a brand can keep up with it.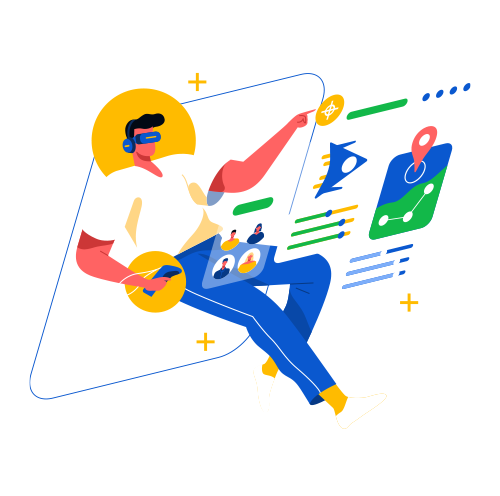 Building up industry knowledge
This point is especially crucial. Each industry has its specific skills to learn and refine. For example, if you are building a stock, foreign exchange, future or options market app, you will have to understand the  WebSocket  protocol, which lets you transfer as much data as you like without incurring the overhead associated with traditional HTTP requests. Your android app development process should include up to date knowledge about the industry.
For the streaming media industry, possessing experience with live streaming protocols such as  HLS ,  RTMP ,  WebRTC  will be a must to deal with streaming related apps.
These industry skills can really make you stand out, and adds on another layer of expertise to your already pretty impressive mobile engineer title, making you more valuable in the job market.
The future of mobile app development will be shaped by how businesses harness mobile technology to solve people's everyday problems.
Don't try to fight the irresistible trend, see how you can surf the trend! Exposing yourself or trying to get a job in the field mentioned below will absolutely give you more opportunities as a mobile developer. So, what are the trends for mobile app development?
1. Artificial Intelligence
Since long Artificial Intelligence (AI) is a part of the app development industry. AI reduces the human effort and introduces robots in the form of virtual agents such as SIRI and bots. 
It helps to save time and money both. When this technology was introduced, only top companies like Apple were able to leverage its benefits but now it is considered as the future of app development. With this technology, developers are empowered to turn the apps into smart mobile applications.
It is the blend of five major parts which include virtual assistants, robotic process automation, natural language, and computer vision. Artificial Intelligence has raised the standard of mobile applications and allow developers to integrate robotic feature to it like SIRI.  This technology helps companies to offer advanced generation experience to the users and exclude human efforts by introducing a robotic feature that acts as human and works for 24*7. With the help of AI, the entire business can be run on the app and it helps to save a huge cost of the physical store. Along with this, this technology is expanding its features and turning more beneficial and offering advanced and modern features. This technology can dominate the industry for the next years. 
Augmented Reality is not just present but, also the future of mobile app design and development. Augmented Reality has transformed mobile application experience. It has created a huge impact in the gaming industry. Augmented Reality has replaced traditional games and offers next generation and real-time experience to the players. Augmented Reality has the ability to enhance the real-world environment. 
Presently, this technology has been introduced in many sectors, including healthcare and real estate and it is transforming diverse industries. Both Google and Apple have launched kits for this technology ARCore and AR Kit respectively which helps developers to bring advanced AR mobile applications for the users. 
Future of Android App Development in 2021