In this digital age, convenience is key. People want everything in their fingertips and technology has made that possible.
Virtually everything is available online. And the business that cracks the code of convenience is on a winning path.
In recent times, grocery items are topping the list of products that are sold online. The demand is expected to increase exponentially and spur the market to higher growth.
Thus, it's only natural that grocery delivery apps have become quite popular. This trend also paves a great opportunity for startups, traditional grocery stores, and tech companies to invest in developing a grocery-delivering app.
So if you're one of the enthusiastic business owners or start-ups looking to venture into the world of app development, specifically groceries, read the below information that will help you get a clear picture of what's in store for you.
Before starting a business in any industry, it is essential to learn about its business model to determine the right approach. When it comes to online grocery delivery apps, the model is quite simple:
With an app, you can charge fees on every order a grocery store gets on your portal. Additionally, you can make a profit by providing delivery services.
You can also benefit by adding a promotional feature that allows grocery stores to promote themselves. You can charge them for this service as per the market standards.
If you want to cut out the middleman, then you can start your own business and procure goods directly from the source. You can list the same in your online app and generate revenue by charging a delivery fee from the customers.
Now that you have an idea of the business model, let's take a look at some of the basic features that will help your grocery delivery app easily accessible to the masses.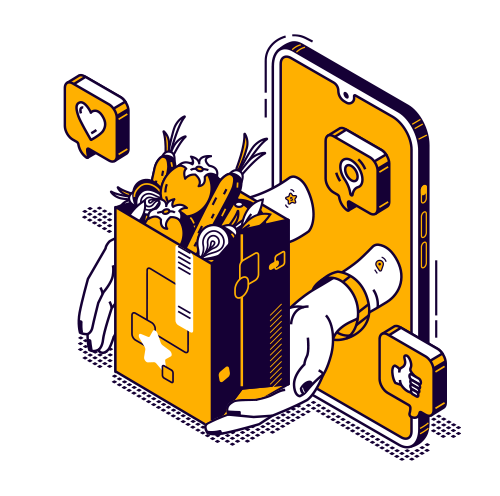 We know that no one likes to put effort to register to an app, but it's essential that your customers be registered, as it will help you provide personalized service. You can enable registration using social media logins to make the process user-friendly.
You need to have a clear display of all the stores that you have a tie-up with. Additionally, you can customize this option with a favorite or bookmark button to let the customers access their favorite stores easily.
As we mentioned earlier, convenience is key to the game. Your customers shouldn't have to put effort to browse and explore all the categories in your grocery app. Better the UI/UX, smoother the customer experience, and more the sales. You should aim to give the customers a bug-free experience.
The payment step is one of the most crucial parts of any online shopping experience. It must be free of any technical error that makes a customer lose trust in you.
If you want repeat customers and higher customer retention, you need to set up a dedicated customer care service in place that'll help the customers reach out to you and help you build a trustworthy relationship. No amount of branding can get you that.
The best way to maintain a connection with your customers is to utilize push notifications. They are alert-style messages that let you deliver relevant and personalized content to your customers at appropriate moments.
Real-time tracking allows the customers to track their orders and get live tracking updates to their mobile phones. This ensures the timely delivery of the goods and notifies the customers of any delay in delivery.
Another effective way to boost brand loyalty is to employ loyalty programs that include memberships, gift cards, vouchers, rewards, etc. Such programs will help you consistently engage with your customers.
People don't trust brands, they trust reviews. It's imperative that you display reviews and ratings in your delivery app that will help the customers with their purchase decisions.
Often times, people prefer to buy the same list of things numerous times. With a re-ordering functionality, customers can reorder the same things without having to search for them again.
Recommending similar types of items that a user was searching or browsing on your grocery delivery app can help you provide a great user-experience. This will encourage people to visit the app again and thereby improve sales.
Voice searching is the future. By having voice assistance or a voice search option, you are giving the users flexibility to do their shopping just via voice commands. It's simple but quite effective.
Developing a flawless grocery delivery app isn't complicated. You just need to have a basic business model and an unbridled enthusiasm.
Everything You Need To Know About Developing a Grocery Delivery App
Are you looking to create a competitive grocery delivery app? Get on to ON AIR App Builder and create an app for your business today! Start now!