Businesses today need essential elements interactive app to scale their businesses to newer heights. In order to earn higher sales and revenues, businesses have to be up to date and keep up with the ever-evolving technology needs. To begin with, apps are a good way through which businesses can achieve a better position on the scale to success.
Most businesses are switching to selling their products and services via apps. The popularity of apps is increasing with each passing day. Lives have become a lot easier with apps coming into the picture. For example, we previously had to physically get out of our houses, go to a grocery store and fill in huge baskets with our groceries to cook the dinner for the day.
Nowadays, all you have to do is open the grocery store app on your smartphones, select the items you want to purchase, pay for it online and the package will get delivered to you at your doorstep. This is a classic example to prove that apps have completely changed the way we function today.
However, when you are making an app for your business, you need to make sure that your app is absolutely engaging and user friendly. Smartphones are the only means of communication between a business and its customers. This is why, you need to make an enticing app to attract more and more customers. There is a lot that goes on with a good business app. In this article we will talk about the essential elements to include in your app for users to engage with it more.
You need to add a few essential elements to make your app super engaging and user friendly. Theses essential elements are various functionalities in your app which can relate with the backend and frontend of your app making it better to use.
Here is a list of a few essential elements to include in your app to make your app highly interactive:-
Provide a link to all your business social media handles on your business app. This is very helpful because having social media handles across all social media channels speaks volumes about your brand. The beauty of social media lies in having the most well-optimised apps. With social media, app users can engage and interact more with your brand which will increase the relatability quotient.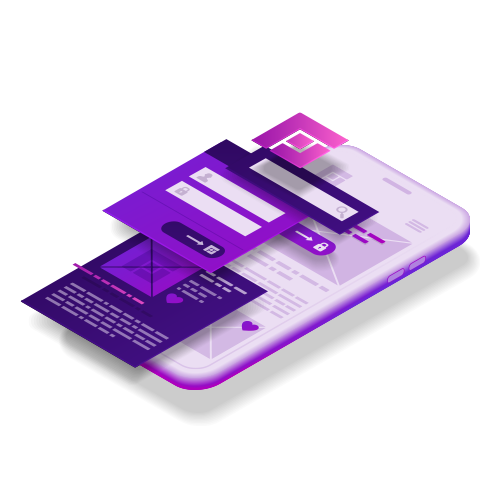 Providing other means of interaction to your app users improves user experience to a great degree. The functionality of your business increases too because your app users will get to communicate with your brand one on one via social media. This is one of the essential app elements that you must include in your app.
Always include an exit button on your app. However funny this app element may sound it is going to increase your app's functionality to a great extent.
As app developers, business owners always focus on comforting their app user only while welcoming them to use the app. They put all their efforts in making the entry on the app a big hit. It is very important to have an exit button for app users to exit too. No user wants to go through the struggles of having to close all tabs in order to exit the app. It is super frustrating and the user will end up uninstalling the app. Essential element interactive app includes having an exit button on the app to avoid the mess.
Push notifications is an essential element to include in your app. Push notifications solve many purposes for a business owner instantly. With Push notifications you can make your app users feel extremely important by sending them personalised messages. You can also remind them about making purchases on your app. This practice will increase your sales and revenues to no bounds.
Push notifications are often used to send in messages about offers and discounts to customers persuading them to shop on your app. A recent study states that push notifications manage to increase sales instantly. If you want your business app to do well, you must include the push notifications feature as it is an essential element.
Have a link to your business website mentioned on your business app. This helps a lot in increasing engagement on the website. From the business app the traffic gets diverted to the website and gives the brand more recognition.
Putting a link to your website on your business app is an essential element because it shows the amount of leads that have the intention of buying products and services from the business. It also provides vital SEO by acting as an indirect backlink for Google.
5. Privacy Policy and Terms of Use
Your business' privacy policy and terms of use is an essential element that you must include in your app. Never forget to add it to your apps. You might not think much about it but it can save you a lot of time in customer queries.
Not including privacy policy and terms of use can also turn into a legal hassle if you're not careful. It's better to avoid such controversies and just include it in your app from the get-go. An added advantage is that concerned users can just go into your app and find the information they need. Privacy policy and terms of use is one of the most essential app elements.
Essential Elements to Include in Your App