With increase in mobile app development and technology making their way into our life, smartphones have become our constant companion. Because of this, more mobile app development tends are emerging and materializing along the way.
Both users and app developers hit the jackpot in this scenario. These trends made our lives simpler in many ways. On the other hand, it also brought more tools into the developer's arsenal.
The future of mobile apps indeed looks brighter than ever. In 2021, many innovative mobile app development trends will see daylight and simplify our lives.
Why we need mobile app development trends?
At first all these trends excite our imagination and the next thing that we know we are experiencing them in their entirety.  Functionally they are highly advantageous. But from a business perspective, they are also highly productive. 
businesses invest in these trends to develop mobile app ideas. The trends make the lives of users easier. Inevitably more users will jump on the bandwagon. Thereby businesses strengthen their user base.
That is precisely what these mobile app development trends promise. So, let's take a closer look at these trends.
Internet of Things (IoT) is taking technology market by storm. provided users with a convenient environment for connecting in real-time to various IoT-enabled gadgets. Not only our home or office, in the future, but we can also control almost everything by using IoT systems.
IoT products like Amazon Dash button, Philips's lighting system, August doorbell cam, August smart lock, etc. are already winning users over.
Artificial Intelligence & Machine Learning
When we say artificial intelligence on smartphones it means we are talking about virtual assistance like siri, google assistant, etc.
But in 2021, AI will also play a more active role in our lives. Besides the enhancement of existing applications, many other tools like AI-based cameras, voice translations, user predictions, etc will find a new home in smartphones.
Combination AI and ML can be really useful in complex activities like mobile app development. Be it Android app development or iOS app development; it can learn the development process from previous data, detect problems, and fix them in real-time.
So, the next time we shop online, the app itself guides you to your desired products without having to browse them. 
Augmented reality & Virtual reality
Till 2017, AR & VR were popular only in gaming app sector. Best example of it is Pokémon Go! However, we also saw surge in VR devices such as Samsung Gear VR, Google Cardboard. In 2021, we can see many AR based mobile apps. Such apps will be immensely beneficial for healthcare, tourism, education, retail and marketing sector.
Mixed reality will revolutionize our social media experience as well. Facebook had already introduced Facebook spaces to interact with our friends through VR. Instagram now allows us to create our own augmented reality filters. 
In 2021, cryptocurrencies and smart contracts are already the talk of the town. People are curious about blockchain and how it works but also people are trying to find how they can incorporate it in their apps.
Blockchain offers complete security for all our sensitive information. Be it our transactions or data exchanges or documents; nobody can track that info. It's by far the best solution for cybersecurity. 
Accelerated Mobile Pages (AMP)
Google's Accelerated Mobile Pages makes the mobile pages light, resulting in quicker loading time. This is a development among developers as complex websites design into a responsive interface that suits all mobile devices. AMP is among the fast-rising mobile app development trends that implement a strategy to improve the visibility in searches. AMP websites have a loading time four times faster than normal sites. Thus, Google encourages these websites and drives traffic to those. 
Cloud technology never ceases to amaze us with its endless benefits and possibilities. What once started as a hosting service has grown beyond its initial applications. 
It's the most reliable platform to securely store and access our data in a seamless and faster way. 
But cloud technology hasn't stepped into mobile app development to that extent. But in 2021, there will be many cloud-integrated mobile apps.
Cloud integrated mobile apps run directly on the cloud. That way, it takes the pressure off our smartphone's internal memory. So, we don't have to worry about our phone crashing while running these apps.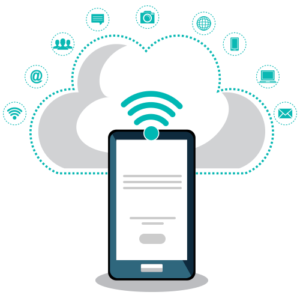 The unexpected situation created by pandemic and people's trials to adapt to the situation resulted in them embracing e-commerce solutions like never before. We saw a significant fall in the retail sector and witnessed many retail owners preparing to venture into mobile apps.
According to Statista, in 2021, m-commerce would make up for 72.9% of global e-commerce sales and generate $3.5 trillion in revenue. 
That's not it! There are too many trends in 2021 that you need to check for mobile app development. With the arrival of 5G technology and innovative mobile app development trends, everything is going to be a hundred times better, faster, and simpler in 2021.
Integrating these trends into our phones is a big leap. 
Embracing Mobile App Development Trends In 2021 Leading the Tech Market
What the future has in store for in mobile app development is very exciting. Creating an app is easier than ever with ON AIR App builder. So, don't wait long to update your business according to trends. Start Now!