It is the 21st century and it is all about mobile apps, new trends, technologies, & digitization that will make a drastic change in education sector. The widespread reach and access to the internet has started a new era of digitization in every spectrum. The speedy and easy accessibility of the internet has made it possible to reach out from the most developed cities to the remotest villages in the world with the same information.
While technology is taking over the world, apps have to be its prime weapon. From business to entertainment, everything can be accessed with an app. The education field too is now using apps in the most beneficial way possible. Apps for education have now started emerging as one of the greatest tools to teach kids. Teaching kids on an app has made the entire process of teaching a lot easier. With easy navigation and accessibility, a child can be taught concepts even better digitally. The digital demonstration of concepts gives kids a better understanding of their syllabus.
Education field has seen massive changes in the past decade. From giving students a fully classroom environment to inculcating the digital aspect of teaching, the educational field has changed a lot. With educational apps coming into the picture, students of all ages are taking interest in studying and are getting encouraged to learn better.
The eLearning industry has grown immensely in the past two decades and it continues to grow with better accessibility and improved education apps that cater to the requirements of students of all ages. While many of these educational mobile apps provide services which you can pay for, others are free and aim at making money mostly from the ads that are displayed there.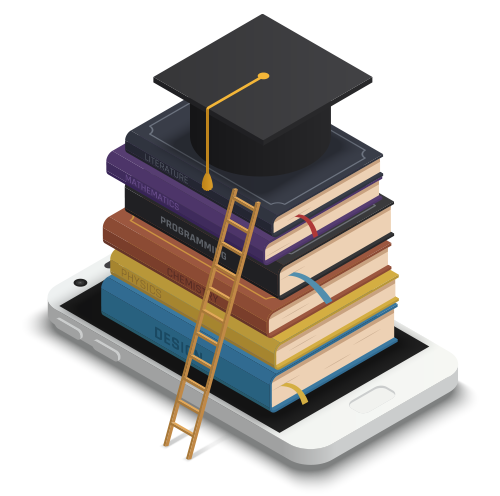 The ever growing influence of mobile apps on the educational sector is highly strong and effective. The world is facing a pandemic and kids are not being able to go to school in order to not catch the infection. During such times when classroom studies are not being possible, the internet and educational apps are the only saviours. Educational apps have helped students' study thoroughly even without having to go to school. Students can attend video lectures, submit assignments, give tests and get assessed on the same, all of it, on their educational apps. Teachers can also give their students personal attention and a tinge of classroom studies by giving their students video lectures. The world came at a standstill because of the coronavirus pandemic but the education sector was still thriving around the world. This was only made possible because of Educational apps which help students and teachers connect with each other despite of sitting in their own homes. They do not have to meet physically at a common place. All they have to do is connect via their phone screens and the teaching process can be comfortably conducted.
We have a few more reasons as to why we think that educational apps are the way ahead for the education field. They are: –
There can be several reasons that students or educators may not be available to learn and educate respectively. These mobile apps have been designed in such a way that they are not bounded with time and place. These educational apps can be used at any given time to learn. Some students may feel hesitant to ask anything between the lectures so they can clear their doubts and can watch the recording of their lecture again on these apps. The importance of educational apps is not limited to creative learning only. These apps can be used according to the student's convenience while the length of the lectures can be concisely managed since long lecture for both students and teachers.
Better and more creative learning
Students and teachers are now getting bored with the same old way of learning and teaching. The use of mobile apps in education can improvise the learning and teaching pattern with creative and intuitive digital tools. Mobile apps will allow them to learn new things with more ease because they don't have to go to the library for books. They can use the e-learning mobile app where they can get all the important data. Students can also revisit saved data such as lectures and assignments for better understanding. Now that education apps are currently booming, you can find millions of educational apps on the app store and google play store for ios and android devices respectively. These apps offer an intuitive and interesting way of learning with different modules of videos and texts altogether.
Apps have made it easier for students to access their study material. Since study material is not always just a piece of paper but a massive lot of information, a student can access it on an app in just a click. This is the one-stop solution for students to get their study material without going anywhere. They can get every book online along with short notes and study material which makes it easier for them to understand things easily. It can be counted as one of the key benefits of mobile devices in education as looking for an exclusive book in the market can be a very tedious process and the advent of technology has made it way easier.
 Another benefit of mobile applications in education sector is that it can track the performance and progress of the students instantly. Teachers do not have to run around without bundles of exam papers to access their students, they just have to check the progress of their students on the app. With the test modules, parents can track the progress of their students for any individual subjects. This feature is one of the most beneficial features for using apps for educational purposes.
Educational Apps. The way ahead.
With the world moving towards the era of digitalization, the educational sector should not be left behind. Apps have changed the way students can learn for the better. If you are someone who is trying to make an educational app, you can try making it on ON AIR App Builder in 3 simple steps. Start Now!