App marketing is one of the best forms of marketing to sell your product in today's technology driven world. There is an app for most products and services in the world. All apps have done is made life a lot easier for us due to its quick and effortless results. If you are someone who is looking out to sell a product or a service, sell it via an app because apps give an array of services to reach out to your customers better. You can increase your revenue by driving instant sales via the push notifications feature on your app.
There is an app for almost everything these days. We use the phrase "there may be an app for it" a lot of times in today's data driven and fast paced world. Take advantage of the fact that there is a huge crowd of people who consume data on the internet in order to sell your product or service. Make a convenient, engaging and user-friendly app for online users to grab their attention towards what you are selling.
A great way to get your user's attention on the internet is by sending push notifications to your online customers via an app. Push notification is an amazing feature to get people to notice your brand and it is also a great way to keep users engaged.
In this article, let's get into the details of how your brand can increase its revenue by driving instant sales via push notifications. Read the article further to know more!
1. Giving Discounts and Offers
Give discounts and offers to your customers with the push notifications feature on your app. This feature is very essential if you want to make a strong and loyal customer base for your brand. When you are selling a product or a service on an app you can always entice your customers with various discounts and offers. Every customer gets excited looking at discounts and this could work well in your favour. You can send in push notifications to your app user about discounts and offers and derive higher sales. Your brand offers should be pretty appealing to attract a higher number of app users. This will increase sales instantly.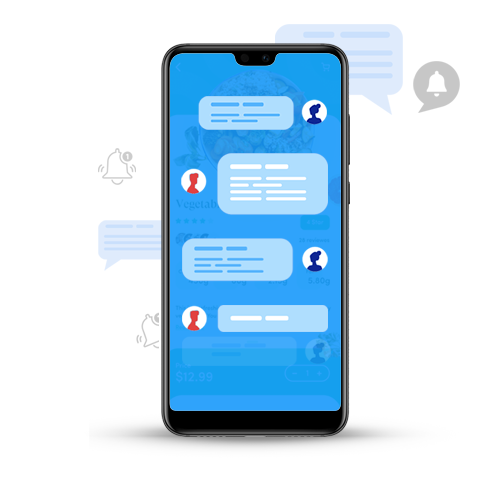 Call to action is the very action an app user takes after seeing a marketing initiative from your brand. Call to action is one of the most important aspects of having an advertisement on the internet. With the push notifications feature on your brand's app, you can send in links and buttons for app users to take a call to action towards your product or service.
Push notifications can grab a user's attention within seconds. This is why, it is very important to link a call to action to get higher sales for your brand. Most businesses swear by push notifications in terms of call to action. This is because app users instantly click on the push notification and take the call to action they are supposed to take.
3. Touch of Personalisation
Every customer wants to feel important. Push notifications can be personalised to suit the customer and to make them feel important for the brand. You can have your customer's name written on every push notification you send to them. That is how customisable and personalised the push notification feature on your brand's app can get.
A touch of personalisation has a great chance of impressing your app user to the fullest. You can send the push notifications on the basis of what they like and would want to buy. This way, you could increase your brand's sales instantly with push notifications.
When a push notification is segmented according to gender, age, interest, region. It creates a powerful impact on the mind of a user. As it contains the products or services that are prior needs of a user. When a user is directed to these products or services, a need for urgency is created that mostly ends up in a sale. This is how your brand can enjoy higher sales.
4. Cross-selling and Up-selling
You can use push notifications for up-selling. You can motivate a customer to buy additional products. These products can be in the form of accessories for past products or upgradations. Up-selling is a great way to drive instant sales via push notifications.
With cross-selling, you can use push notifications to suggest a different product to customers. There was a very recent study on the same topic which stated that, it is shown that there is around 70% probability that the customer will go for a purchase. This will help you to bring more sales to your platform. Cross-selling is a massive thing that big companies invest in. The push notifications feature on your business app allows you to cross-sell instantly.
Use the push notifications feature on your business app to send reminders to your customers. While shopping online, sometimes app users add products to their digital shopping cart and do not end up purchasing it. Push notifications can help you remind customers about their abandoned carts which they might have forgotten. This can give your brand a lot more sales.
The push notifications feature is extremely handy in such situations. You can always encourage your app users to complete their purchase and earn your bucks the right way. This in turn is a way where you make the most out of lost opportunities.
Driving Instant Sales via Push Notifications
Push notifications provide a high number of benefits to a brand which is selling online. If you do not have an app for your business yet, get onto ON AIR App Builder and make yourself and app today. Start now!