Expense tracking app has become crucial for many businesses. In the world of technology, everything seems easier now but managing finance is still a tedious task. It's better to build an app to fulfill your finance tracking requirement.
By this time, we all are familiar with blockchain technology. Blockchain is offering more security to mobile app development and the finance sector. Making it easier for people who want to handle their earnings and expenses efficiently.
Businessmen find it tedious since their income varies each month, which is why it becomes more crucial to handle a budget.
An expense tracking app can help track receipts, keep income records, make a budget, handle taxes, track income vs. expenses, sync cards, and do more with total security. Many people are already using the expense tracking app as it makes a tough job easier.
Not only startups or big corporation needs expense tracking app but every individual looking for a way to track their monthly expenses can use it. Let's see how an expense tracking app can help you with your spending.
1. Prevent data losses and frauds:
If you own a business, then checking every small transaction is not possible. And because of this very reason, many businesses and people are prone to fraud. But with the expense tracking app workflow of money and transactions is automated. This not just prevents fraudulence but also makes the procedure more accurate and transparent.
When it comes to handling budgets and finances, you can't make a small mistake. But we as a human, tend to make mistakes due to misunderstanding, carelessness, and negligence. But with an expense tracking app, you can lower the rate of human error.
3. Offers precise and faster analytics
Analytics and human engagement possibility of error are there. Analyzing expenses using a spreadsheet might seems easy but doesn't have advanced functionality like any basic expense tracking app. You don't have to do much on the data side. All the information available on the app helps you in finding the data you are looking for with just one click.
So, it is best to build a business expense tracker app that carries out prediction analysis and helps you in making efficient business decisions.
Crucial features to add to your expense tracking app
It is important to understand the requirements and functionalities you want in your app before building it. Having a brief detail and not complete information, workflow about the app will work.
Here's a list of essential features that you should add if you want to develop an expense tracking app.
1. Track and arrange receipts:
In case you forget about some cost or miss out on some transaction this particular might help you understand it better. You only require clicking an image of the receipt every time you create or get cash or online payment.
This feature will allow businesses or people to streamline the receipts properly. So, you can retrieve those whenever you need them.
2. Approves invoices and payments
You can also add the feature of allowing bank transfers, debit and credit card transactions, net banking, and UPI payment access. With this feature, you will be able to handle all the activities within the app.
3. Streamline TAX deduction
Feature where you can import your TAX documents. It will help you streamline all expenses and income into tax categories. If you include this feature it will help you understand more of what you earn.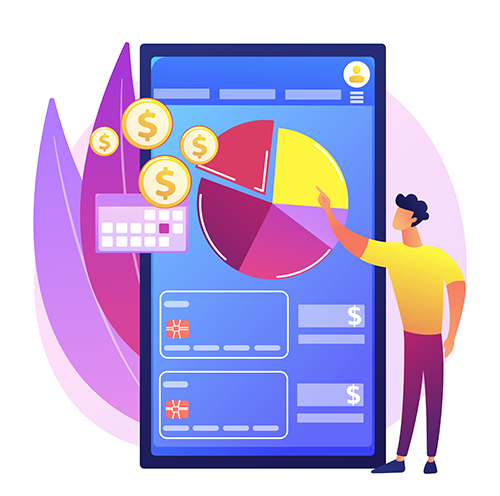 Security and expense tracking app (Fintech app) goes hand in hand. So, when you develop an expense tracking app, remember to include security measures constantly. Moreover, it can restore users' accounts in case their devices get lost or stolen.
5. Analytics and insights
This feature helps you get ready-made reports that have comprehensible visuals, charts, and graphs. It can be utilized for assessing and building insights. You can prepare this function as your app's in-build analysis tool. To simply understand how properly their businesses are functioning.
6. Track stocks and sales
You don't need to develop an exceptional app for handling your inventory. You can create an expense tracking app with a feature to track goods and their expenses and give notifications if stock runs low. Your app can work as an eCommerce solution. With the integration of this feature, you can connect to eCommerce API.
Include a feature where your business can run & create reports of expenses, loss & profits, balance sheet, revenues. In case you need the advance reports, you can create them using the app.
Chatbots are engaging and the best messaging interfaces. You don't require learning the ways of using other applications. You can simply talk to the bots like you do with others. Chatbots are equipped to understand all your requirements and questions. This feature of an expense tracking app helps monitor your account balance seamlessly.
AI knows your finance, expense behavior, and it will predict your further purchases. Also, depending on the account analysis it will provide unique information about how to save money.
Handling all aspects of finance alone might be difficult. Through an app, you can give secure access to users, also you can put restrictions on the functionalities of that particular user as per his role.
So, these are crucial features to add to an tracking app. In case if you feel the need for any other features to make your app different go ahead, do research, and add the features.
Developing an Expense Tracking App – Must-Have Features Your App Needs
Building an expense tracking app helps you maintain your expenditure and profit with ease. And with ON AIR App Builder, creating an app is as easy as managing your finance with an expense tracking app. Start Now!