In terms of communication, the smartphone with all its functions has long ago overtaken the computer. Of course, your club members also use numerous apps. Therefore, wouldn't it be great if you as an association could also provide an app, would it? For most clubs this idea fails due to an insufficient budget. An app developing agency is expensive. In general, an app costs an average of 30,000 euros. Have you ever thought about developing an app yourself? It's a breeze with our ON AIR app builder. Free of charge and without any coding.
Advantages of an app for a club
An app is a valuable service and communication tool. It also helps simplify internal processes and communication with groups of interest such as members, fans, sponsors and the public.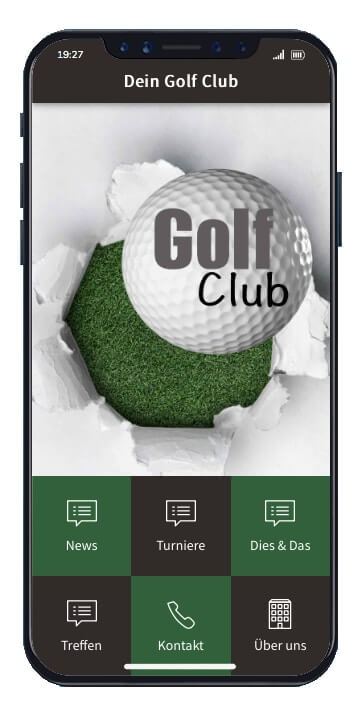 With your own app for the club all members, supporters, fans and friends stay up to date. A coach has dropped out at short notice, so the training is cancelled? The competition results of the weekend are finally online? Or new events are set? Push messages inform all users immediately about current news.
News can be integrated via social networks like Facebook, Twitter or YouTube. Alternatively, the news can be directly inserted into the app. Of course, on the way else!
Present all your members with pictures and videos. It's also perfect for showing your sponsors or to win new sponsors.
You can ensure a quick contact for your guests, for example, with a direct call or a link to your social media channels. And thanks to the integrated navigation via map your users will find you super-fast.
Conclusion: develop an app for your club or association
An app for your club offers many advantages. With it, the users are always informed about the latest news. In addition, sponsors and members can be presented in the app. But also failures or changes of time and place are communicated fast by push message. In addition, the authorities can be contacted directly by clicking.
Develop your own app for your club or association
You want to develop your own club app? This is possible with the ON AIR App Builder. There are so many options available to make the app revolutionary. And all without any coding. Start now!
Regardless of whether golf club, dance club, classic car club or shooting club – in our App Builder you will find the right design templates for each club. Of course, you can adjust these to your liking.