Apps are everywhere. There is an app for everything. Isn't that true? Imagining our lives without technology and apps seems like a nightmare today whereas previously that was how life used to be. Customers are relying heavily on apps to get their job done. Basic things in our day to day lives are getting easier to do because of the existence of these digital applications. Technology has left no industry untouched and transformed each of them for a profitable front. The wedding planning business is not alien to the app concept. Creating a wedding planning app makes the entire process a lot easier.
Doing business today is not very straightforward. You need to research and get with the times along with its pacing technology. Being in the wedding planning industry, you have got to have a mobile app to manage all the functions.
There is a lot that goes into wedding planning. A wedding planner needs to keep dealers, guests, associates, everybody in check. There are plenty things that need to be taken care of. A wedding planning app can solve all of these functions on one platform. A wedding planning can manage all the functions and the numerous people involved only at a click of a button. Isn't that insane?
Think about it, the numerous things that a wedding planner needs to keep track of can be managed on a single app interface. It will make work so much easier.
If you are someone who still does not have an app for your wedding business, read on about why you need one desperately and what all you can add to it to attract customers: –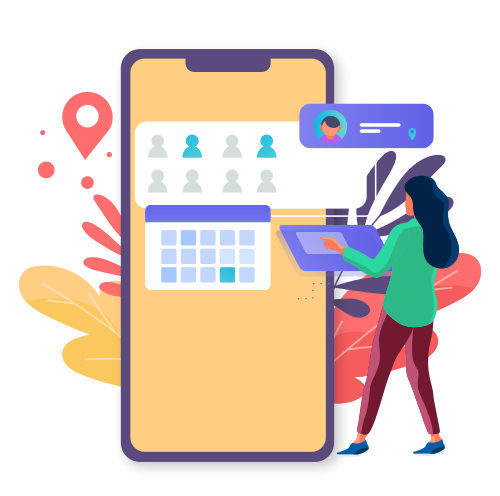 1. Connecting Clients and Vendors
Make your app the go-to for all your clients by solving their purpose at every step. Your app can have a feature wherein it can act as a third party to you client and vendor relationship. Instead of making your clients run through local markets, connect them to vendors directly via an app.
Be it the DJ, the designer, the decorator or the photographer, get your clients connected to each vendor directly and save them some time. This will help you attract a massive number of clients. During a wedding, people are already in a rush to get things done. At times like these, an app with a 'direct connection with vendors' feature can do wonders.
Weddings are a big deal with lots and lots of guests. Missing out on a single one of them can be an absolute bummer, isn't it? A Wedding planning app can save you the trouble. Managing the guest list on a wedding planning app is a piece of cake. 
many people to the wedding as they want. That will not work for you at all. With a wedding planning app, you can tell your guests that they are invited at the wedding party with a plus one. They can then show their invite at the venue and get entry. Its just that simple!
A calendar feature on your app is an absolute must. While you are planning a wedding, there are so many people you need to coordinate with and there are so many things to manage that you might lose track about. Here is where your calendar feature can be a saviour! You can mention your meeting date-wise on your calendar instead of keeping a mental note of it. This feature will help you be aware of the meetings you have kept or the places you have to visit for the wedding. It is one of the best and the most necessary feature that an app should have.
You will not need your clients to note things down manually because they will have a digital note of it. Each time you have something to do, add to your calendar and it will send you a reminder accordingly.
One of the first things that have to be sorted during a wedding is the venue. Selecting a venue is a tedious task. Once that is done, the other things just magically start falling into place.
Physically going to each venue to check them out can be extremely time consuming when you want to rush things up. On a wedding planning app, you can have a feature wherein you can choose your favourite venue looking at the picture of the venues available fitting your budget and guest list. You can just keep swiping and make the best choice. Isn't that the best use of technology? Saves a massive amount of time at its best.
As we all know, wedding is not a cheap affair. There is a lot of money that goes into the D-Day celebrations. As a wedding planner, you will have many clients with different budgets and remembering all of that is not the easiest thing. A wedding planning app will help you manage your budgets to the fullest. You can take a budget with your client and keep a digital note of how much money you are spending and where, for the wedding. This practice will not only help you stay within your client's budget, but you will also be a lot more organised. Keeping an exact record of money during wedding planning is a very important practice.
Creating A Wedding Planning App
Have a wedding planning business? Make an app for it today on ON AIR App Builder. Just 3 simple steps and your organised and manageable Wedding planning app is ready! Try Now!